legumes
(Update posted January 2011:) I've updated this recipe for classic tsubu-an or "chunky" style sweet azuki bean paste, originally posted back in June 2006, once again. In March 2010 I added instructions for making it with a pressure cooker - the way I've been making tsubu-an for the last couple of years. Since this was originally posted, I've received a number of comments from people who had trouble with their beans getting soft enough. After some experimentation, I've found that if the beans are fresh you can just add the sugar while cooking without much trouble, but if the beans are a bit old - which is the case more often than not unfortunately - you may run into problems. So, in this latest edit, I've revised the instructions so that people having problems with the (possibly old) beans getting soft enough, will have more success.
A lot of Japanese sweets are based on beans that are cooked with a ton of sugar to a paste-like consistency. Red azuki (adzuki) beans are the most popular kind of beans to use in sweets, and sweet azuki bean paste is called an (餡) or azuki-an (小豆あん).
I've updated this recipe for classic tsubu-an or "chunky" style sweet azuki bean paste, originally posted back in 2006, with instructions for making it with a pressure cooker.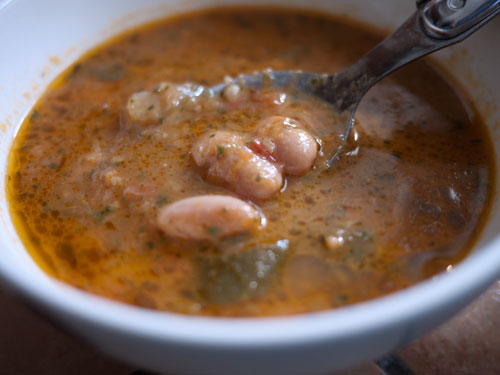 Recipes abound in print and online for Soupe au Pistou, a bean and vegetable soup that is a Provençal classic. Mine is not much different from the rest, but it's here because I love it so much. It reminds me of why I wanted to move here in the first place. When a pot of Soupe au Pistou is simmering away on our crappy hotplate (yes, it can be made on a hotplate) it makes my continuing kitchenless state somewhat tolerable. A big bowl warms me up when the temperature drops to the single digits celsius, and the chill seeps into this old stone house from all the gaping gaps in the doorways and windows and walls.
I make it around this time of year with fresh, undried beans - coco blanc and coco rouge - that we can buy at the markets here. They are so gorgeous, before and after shelling. However, it's probably a lot easier for most people to get a hold of dry beans so the recipe calls for them. If you can get fresh beans, just use a tad more - 3 cups total - and skip the soaking and pre-cooking part.
For the first time on Just Hungry, I've included a Japanese version of the recipe too. This is mainly for my mom and aunt to read, but take a look if you are studying Japanese - or point your Japanese friends to it. It is not a translation of the English, but a version specifically for making this soup in Japan.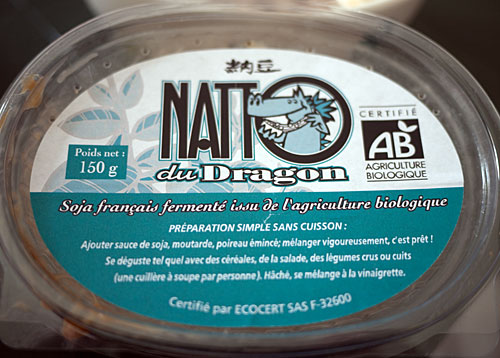 As I slowly settle in to my new life here in France, I'm finding out about quite a lot of interesting local suppliers of the things that I want to eat, wear, sit on, or otherwise use. But I never thought that I'd find this: French natto, as in natto made right here in my region of France!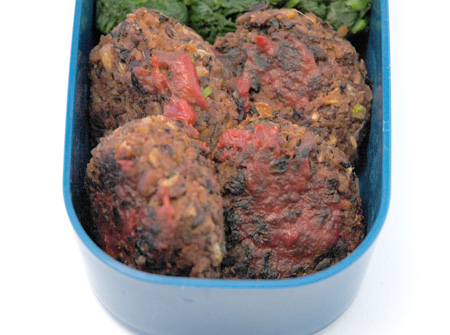 From the archives. This is terrific freshy made and hot, but is even better cold, so it's great for bentos. Originally published in November 2007.
Over the past couple of years as I've pursued largely vegetarian eating, I've gradually accumulated a small arsenal of small, round bean patties or balls, which are great as snacks, for bento boxes, and just for dinner, in my regular rotation. This one was inspired by one of the first beany-round thing I made, the samosa-like lentil snacks from The Hungry Tiger, and a Japanese vegan cooking book called Saisai Gohan (Vegetable Meals) by Yumiko Kano. (Yumiko Kano is currently my favorite cookbook author in any language, and I'll talk more about her down the line.) I've adjusted a few things to make them gluten-free.
These have the earthy, deep flavor of the black beans that is enhanced by the spices and the sauce, and they are delicious hot or at room temperature. Even diehard carnivores like them. They're really perfect for bento lunches, and I've used it in the all-vegan Bento no. 5 on Just Bento. I also used them as a pita-sandwich filling in Bento no. 6.
I have described two methods of cooking these: in the oven, which is good for making them in quantity, and in a frying pan, which is perfect for making a few at a time.
[From the archives: Today (September 23rd) is the first day of the fall o-higan (お彼岸), when ohagi or botamochi are offered to ones ancestors, as well as oneself! My mother and my grandmother always made these at home around this time of year - I love their not-too-sweet stickiness. O-higan ends on the 26th, so if you like wagashi, why not give these a try? Originally published March 2007.]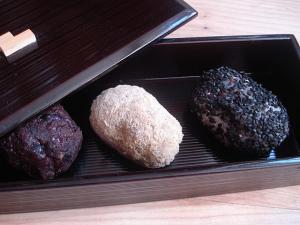 The seven days centered around the bi-annual days of the vernal equinox is a Buddhist festival period known as higan (or o-higan for the honorific term) in Japan. The fall (autumn) higan is aki no higan, and the spring higan is haru no higan. Since the day of the spring equinox is March 21, we're about to enter the haru no ohigan period.
During haru no higan, a sweet confection called botamochi is eaten. The mochi part means sticky, pounded rice, and the bota part comes from botan, or the tree peony. Botamochi is supposed to ressemble a tree peony flower.
During the autumn equinox (aki no higan or simply (o)higan)) period, a very similar confection called ohagi is eaten. This is supposed to look like a hagi or bush clover flower (Latin: Lespedeza thunbergii). Botamochi and o-hagi look the same to me, even though a hagi flower looks nothing like a tree peony flower, but the good old ancestors were probably a lot more imaginative than I am.
Botamochi and o-hagi are made of sticky rice and sweet tsubuan, 'chunky-style' sweet azuki bean paste. They are a bit fiddly to make but not difficult, especially if you use one of my favorite cooking helpers, plastic cling film. Since these are best eaten freshly made, it's well worth the effort to make them at home if you like bean-based Japanese sweets. You can adjust the amount of sugar in the tsubuan to your taste. Here I have made three variations: coated with black sesame seeds; coated with kinako (toasted soy bean powder); and the most traditional form with the rice cake wrapped in a layer of the tsubuan.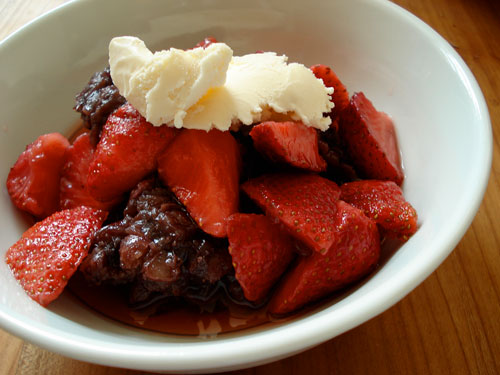 There are some food combinations that you think just shouldn't belong together, but do so well. Strawberries with sweet beans? Surely not, you think, until you taste an ichigo daifuku - a strawberry wrapped in some azuki an and thin gyuuhi, a dough made of rice. I've had ichigo daifuku on my mind lately but have been too lazy to make the dumplings. This is a very easy alternative. Arguably it's even better.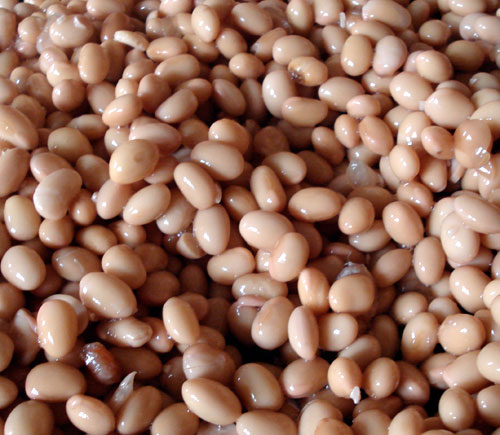 Until fairly recently I had a blind spot when it came to the humble soybean. I regularly consume soy products like soy milk, tofu and okara, not to mention fermented soybean products like natto and tempeh. And green soybeans or edamame are always a great snack.
But for some reason, I didn't really get into eating the whole dried (and cooked) soybean. It's not that they are that much harder to cook than other dried beans either.
In any case, I've rectified that situation and now I cook up a batch of soybeans quite regularly and store them in the freezer. Plain boiled soybeans are amazingly delicious, and just packed with nutrition. The cooking liquid is so rich that it can be used as a very nutritious stock or dashi for making soups and such.
There are a couple of points to watch out for when cooking whole soybeans, which are noted below in copious detail.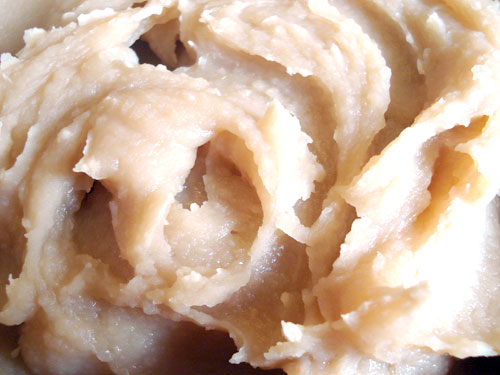 Usually when I put a recipe up here, it's something that's been fully resolved: that is, I've tried it out for myself (in most cases several times over), and I know that it works. This one is a bit different, but I thought I'd write about it in-progress, as it were, anyway.
I was not going to talk about natto as part of my Odd Japanese food that may help you lose weight(OJFTMHYLW) series this week. But coincidentally, natto as a diet aid has been in the news big time in Japan, with claims that a 'magical' substance in this sticky food helps people to effortlessly lose weight.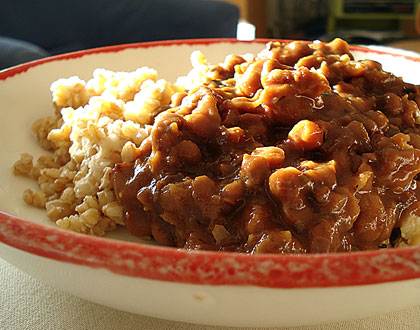 I often think of a day like a pie. I wish the pie could be bigger, but it's always the same size, 24 hours. Cutting down on the portion for "Sleep" never really works, so the other portions get re-arranged according to priorities at a given time.