dessert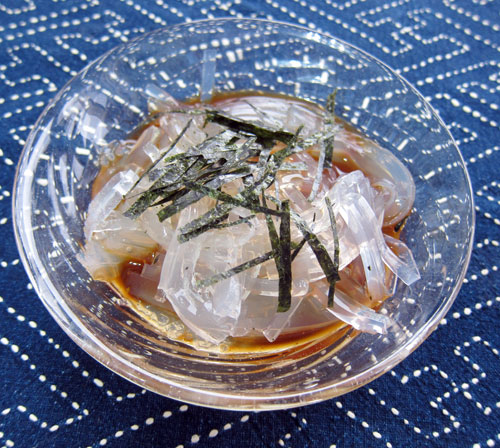 About the difference between kanten and agar, plus cool, slippery glassy noodles.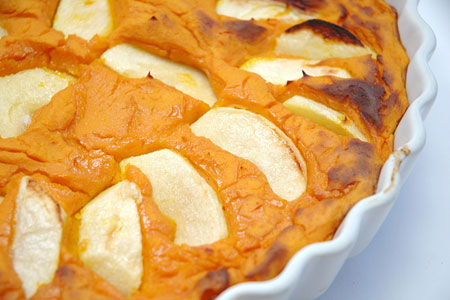 (The 10 year anniversary of JustHungry is at the end of this month. To commemorate this event I'm highlighting some of my favorite posts from the archives. This very healthy squash pudding or crustless pie would make a very good side dish for Thanksgiving dinner. It's vegan, so anyone can enjoy it without worry! It is not that sweet - probably less sweet than many traditional side dishes. I hope you give it a try! Originally on published November 19, 2007, and tweaked a bit since. If you want this to be gluten-free, choose an appropriate type of miso. The miso adds a small but critical bit of umami and richness.)
You know how certain diehard carnivores react to words like 'vegan' 'no dairy' and, gasp, 'tofu in a sweet dish'. There's no reason to tell them that all of these phrases are applicable to this smooth, creamy baked squash pudding, until they've actually eaten and enjoyed. It even is devoid of white sugar, though it is sweetened with maple syrup. The simple combination of creamy squash pudding, flavored and sweetened with real maple syrup with the pure sweetness of the squash shining through, and sweet-sourness of the apples works perfectly together. (The tofu merely adds the creamy texture; you don't taste it at all.) It's rich, but rests very lightly on your stomach - not a bad thing after a heavy main course.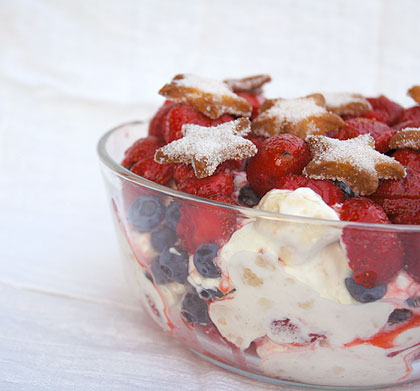 (From the archives. If you're planning a big Fourth of July party, consider this very colorful, cool dessert, which I made for a party several years ago. There are a lot of steps involved, but you can cut corners with storebought meringue and sugar cookies if you prefer. Originally published in July 2006 (!))
I love outdoor parties in the summer, especially when it means a barbeque. July the 4th barbeque parties are the best, and I miss them sorely when I am not in the U.S. This year though, we are going to have a July the 4th party on Sunday (since the 4th is not a holiday here), complete with grilled hamburgers, wurst, and chicken. Someone else is going to do all that grilling, so I am making the dessert.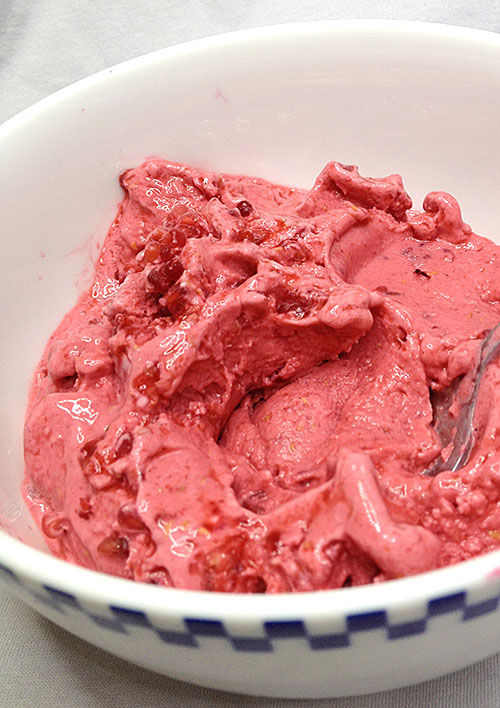 A recipe that's almost too easy to write about.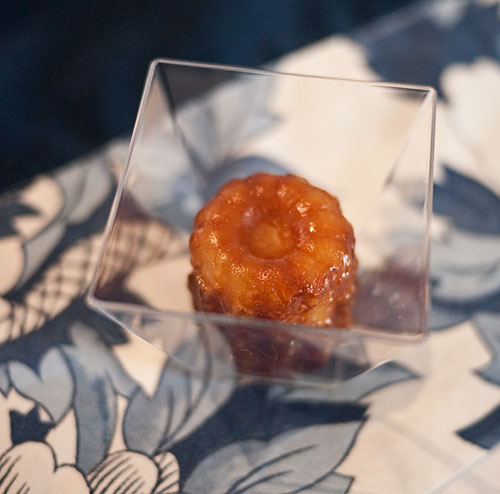 A delicious, tiny morsel from a most elegant French hotel.
(Update posted January 2011:) I've updated this recipe for classic tsubu-an or "chunky" style sweet azuki bean paste, originally posted back in June 2006, once again. In March 2010 I added instructions for making it with a pressure cooker - the way I've been making tsubu-an for the last couple of years. Since this was originally posted, I've received a number of comments from people who had trouble with their beans getting soft enough. After some experimentation, I've found that if the beans are fresh you can just add the sugar while cooking without much trouble, but if the beans are a bit old - which is the case more often than not unfortunately - you may run into problems. So, in this latest edit, I've revised the instructions so that people having problems with the (possibly old) beans getting soft enough, will have more success.
A lot of Japanese sweets are based on beans that are cooked with a ton of sugar to a paste-like consistency. Red azuki (adzuki) beans are the most popular kind of beans to use in sweets, and sweet azuki bean paste is called an (餡) or azuki-an (小豆あん).
I've updated this recipe for classic tsubu-an or "chunky" style sweet azuki bean paste, originally posted back in 2006, with instructions for making it with a pressure cooker.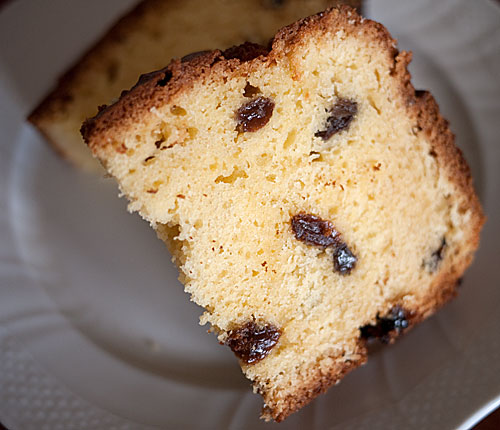 A recipe for a very simple yet delicious cake, suitable for the holidays or any time of the year.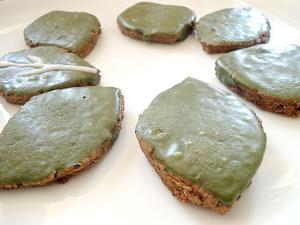 [From the archives. These sesame cookies with matcha icing look and taste quite dramatic. In leaf shapes they are rather spring-like, but try simple rounds or squares for year-round appeal. Originally published in April 2007.]
Flavor wise black sesame seeds aren't that different, if at all, from white or brown sesame seeds. But there is something about their dramatic black-to-grey color that is quite exciting. At the moment I'm quite enamored with black sesame seeds, and have been using them instead of the regular brown ones in everything from sauces to salads.
These leaf shaped cookies contain toasted and ground black sesame seeds, dark brown muscovado sugar, and whole wheat flour, and are decorated with matcha (powdered tea) royal icing. The sweetness is quite restrained, both in the cookie and in the icing. You are first hit by the tea-flavored, very slightly bitter icing, followed by the nutty darkness of the cookie. It's an intriguing combination. They are a wonderful accompaniment to tea, black or green, hot or iced. If the ultimate cookie to you means something very sweet and gooey you may not like these. They are quite adult cookies.
I had to shoot the pictures in a hurry, because they were disappearing faster than almost any other cookie I've made recently.
Since I don't have a leaf shaped cookie cutter, I just made a simple paper template and cut the leaves out with a knife. You can cut them out into any shape you'd like of course, though given the coloring leaves seem appropriate. Quite spring-like, in fact.
From the archives. The very iffy photo shows that it is from the very early days of Just Hungry! I look back at this with nostalgia, because not only have my photography skills improved somewhat, it reflects a time in my life when I was into a far more complicated kind of cooking than I am now. I no longer bake things like this, but if you want a pretty spectacular chocolate dessert for Valentine's Day, and have the time and patience, I do highly recommend this rich yet feathery light little confection. I've edited it slightly to be more accurate (what the heck did I mean by 'small container of cream' anyhow). Originally published on February 13, 2004.