party food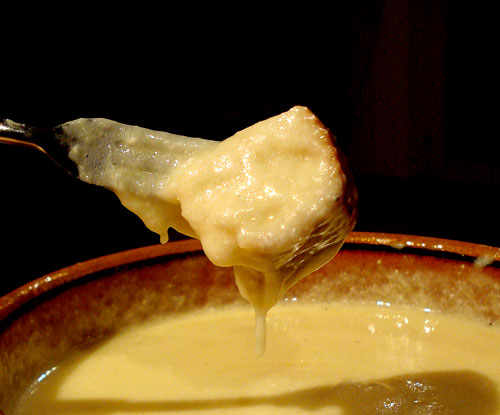 (The 10 year anniversary of JustHungry is at the end of this month. To commemorate this pretty big birthday for the site, I'm highlighting some of my favorite posts from the archives. This recipe is for an authentic Swiss cheese fondue. It was my late mother in law Martha's recipe. It's perfect for a chilly evening. Originally published on December 26, 2008, one year after Martha passed away.)
Martha passed away on the 26th of December, 2007. When she was still healthy, we shared many a pot of cheese fondue with her during the cold winter months. Her fondue was without question, the best I've ever had anywhere. So in her memory, we made a proper cheese fondue.
I've already posted Martha's fondue recipe 5 years ago (she was still making them then), but since it was one of the very early posts here on Just Hungry, it has no relevant picture to accompany the recipe or anything. To rectify that, here again is Martha's proper Swiss fondue, with many photos and detailed instructions.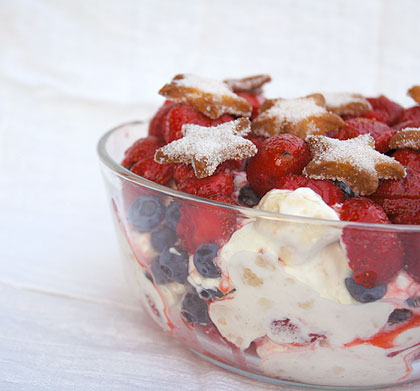 (From the archives. If you're planning a big Fourth of July party, consider this very colorful, cool dessert, which I made for a party several years ago. There are a lot of steps involved, but you can cut corners with storebought meringue and sugar cookies if you prefer. Originally published in July 2006 (!))
I love outdoor parties in the summer, especially when it means a barbeque. July the 4th barbeque parties are the best, and I miss them sorely when I am not in the U.S. This year though, we are going to have a July the 4th party on Sunday (since the 4th is not a holiday here), complete with grilled hamburgers, wurst, and chicken. Someone else is going to do all that grilling, so I am making the dessert.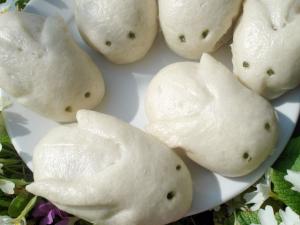 [From the archives: Easter bunny bao! One of the most successful recipes on JustHungry, these little light savory steamed buns are perfect for Easter. Originally published in April 2007.]
For a planned Easter lunch, I wanted to do something in the brunch realm, but with an Easter theme. Brunch purists may insist on eggs and pancakes and croissants and champagne for brunch, but for me 'brunch' means an early lunch feast after little or no breakfast, and so dim sum is my favorite kind of brunch.
Putting Easter and dim sum together, I devised these bunny shaped bao, or steamed buns. (The inspiration for the shape came from a pair of fluffy white bunny slippers I saw at a flea market last summer.) They are quite simple really: tender steamed bun dough is filled and formed into an oval, and the ears are cut with scissors. The faces are optional - for a minimalist bunny, you could just leave them blank and unadorned. Or, you could go all-out and add whiskers with slivered green onion, or whatever strikes your fancy.
The bunny bao could be stuffed with any kind of steamed bun filling (see my roast pork filled steamed buns), but keeping with the brunch theme, I've filled these with an egg, bacon and chive mixture. It all makes sense - eggs, and ham, and bunnies, plus spring chives. So very Easter.
You could of course omit the bunny-shaping part if you want to avoid the cuteness.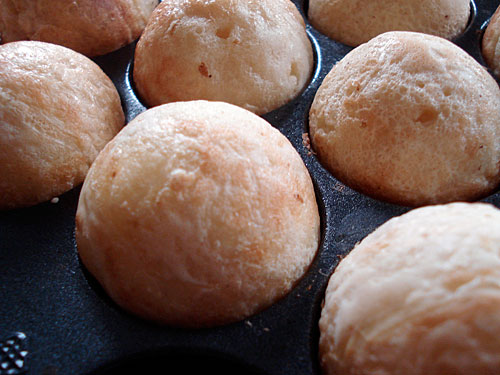 [Note: I am reposting this article from the archives because of this paragraph. Several people have said in the comments that a Danish Æbleskiver or ebleskiver pan would be a good substitute for a takoyaki pan. You also see this mentioned on other sites. I finally got a chance to hold a real ebleskiver pan in my hands, and the bad news is that I am not sure it really would make a good substitute. The pan makes round cakes shaped similarly to takoyaki, for sure, but they are maybe 5 to 6 times the size of a takoyaki. So what you'd end up with are huge dumplings, which would need to be cooked a lot longer than takoyaki do. One of the main features of a takoyaki is the contrast between the slightly crispy outside which gradually softens under the sauce, and the just-cooked, piping hot creamy interior. I really don't think you can get that with a huge er, ball. But if you have tried it for yourself, please let me know.
Another note: The video I mention below that was so great has been withdrawn due to copyright violation from YouTube. I'll replace it with more complete instructions as soon as I can, but in the meantime you can still make takoyaki from the recipe.
This was originally published in July 2007.]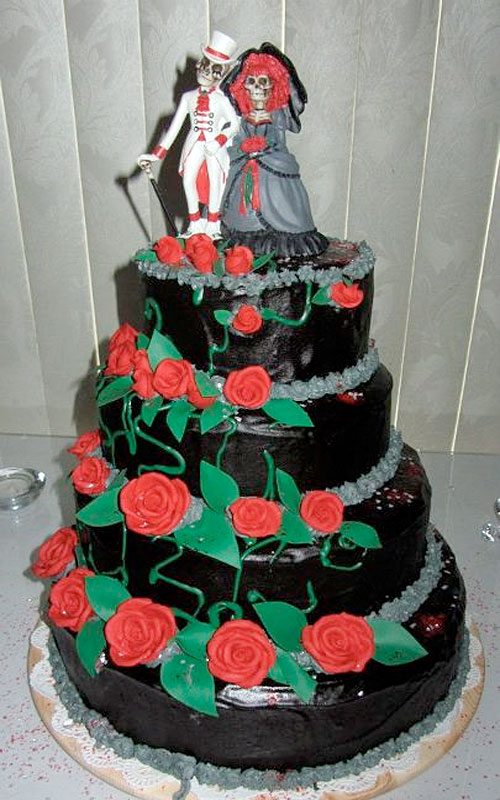 My sister is a pretty amazing pastry chef.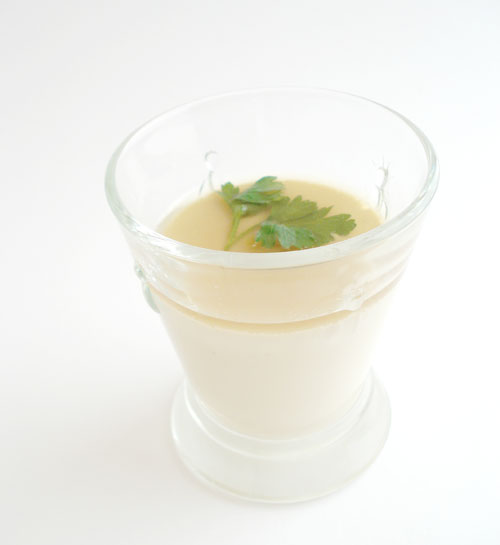 (From the archives - something cool and easy, perfect for the summer. Originally published in July 2008.)
Previously, I explained how some dishes that are not tofu are called -tofu, because of the shape, texture or both. This is the case with tamago dofu, a smooth savory egg custard that's served cold.
You can make it in a square mold, to make it look tofu-like. But I prefer to keep it a lot simpler by cooking the tamago dofu in the serving container it will be served in. This can be anything as long as it's heat-proof. Here I have used some sturdy glass cups made of pressed glass, but I've also used little pudding molds, tiny glass bowls made for holding ingredients while you're cooking, and even coffee cups.
There are very few ingredients in a tamago dofu: dashi or soup stock, eggs, and a few flavorings. Because of this, each component should be of top quality, because you'll taste each one quite clearly. Traditionally the soup component is dashi, but I don't really like the fish flavor of dashi when it's cold. So I prefer to make a simple vegetable stock instead.
Tamago dofu should be served ice cold. It's a great appetizer for a summer meal, or an interesting and soothing snack. I have been guilty of making 4 cups and 'hiding' them so I can eat them all by myself.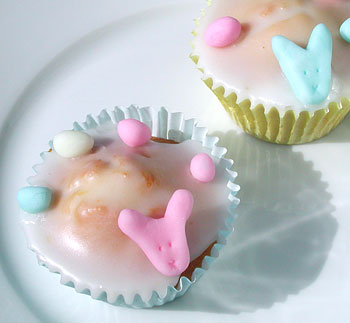 It seems that quite a few people have been trying out the kasutera/castella recipe recently, and running into problems. Castella is not an easy cake. So, since it's Easter, I thought I'd haul this out of the archives attic. These little 'rich tea cakes' are much easier to make, and while they have an entirely different texture they are really quite delicious. I hope you'll give them a try! The fondant is not too hard if you can get a hold of the glycerin, but alternatively you could use store bought Easter themed cake decorations. Originally published in March 2005, as part of the late lamented Is My Blog Burning food blog event.
From the archives, originally posted March 2, 2007. These delicately colored sushi are a great way to use usuyaki tamago. I know I've been re-posting things from the archives a lot lately, but I hope you'll forgive me - I'm moving tomorrow! In any case, I hope you'll give these delicate sushi a try, especially if you have daughters or granddaughters.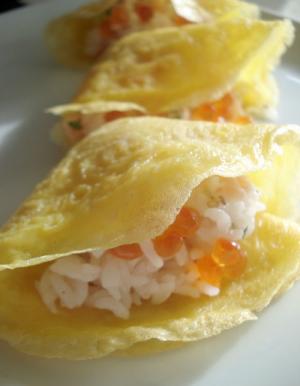 The 3rd of March is Momo no sekku or Peach Day in Japan. Peach blossoms usually start blooming around this time, signifying the coming of spring. It's also the day for hina matsuri, the Doll Festival or Girls' Festival. Households with daughters display hina ningyou-, traditional dolls that represent a princess's wedding procession. This is because the ultimate happiness expected for a girl was for her to make a fruitful and comfortable marriage. Nowadays girls may be expected to do other things besides become happy wives, but on this day at least traditions still hold strong.
In Japan there is a long standing stereotype that girls and women like very sweet things, while manly men like less sweet and bitter things. So, for Hina Matsuri the guests are served sweet things like amazake (a very thick non-alcoholic hot drink made from the lees of sake, rather like eggnog in color and cloying sweetness), hishimochi (tri-colored mochi cake) and okoshi (colored sweetened puffed rice). Although there were three girls in our house, none of us liked amazake at all. However, my mother often made some kind of sushi for Hina Matsuri, which we really loved.
Here are two kinds of very pretty, girlie sushi in feminine pink, yellow and white with a touch of green. These colors fit the theme of Hina Matsuri perfectly: the traditional hishimochi is colored white, pink (or light red) and green.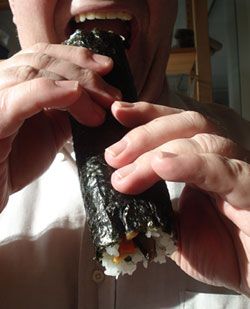 This year, setsubun no hi (節分の日) falls on the 3rd of February (some years it's on the 4th). It marks the start of the spring season or risshun (立春) in Japan according to the old lunar calendar. It's not an official national holiday, but it is celebrated in ways all meant to drive away bad luck and bring in new, good luck. Most of the traditional rituals revolve around beans, because beans are considered to be very lucky. But there is another way of celebrating setsubun no hi, and that's with a big, long, uncut sushi roll called ehou-maki.
I grew up in and around the Kanto region, which is the area around Tokyo, so I didn't know about ehou-maki ((恵方巻き)growing up, because it's a Kansai region (the area around Osaka and Kyoto) custom for setsubun no hi. Nowadays though the ehou-maki tradition has become popular nationwide. They are sold everywhere, especially at convenience stores, who take this as an opportunity to get people to celebrate, buy and eat in that awkward gap in between New Year's feasting and Valentine's Day chocolate gorging.
[Edit: ehou is pronounced eh-hoe by the way, not ee-h aw.]
So, what makes an ehou-maki different from a regular sushi roll? There are basically three rules:
It must contain seven ingredients, because seven is a lucky number.
It must not be cut, because it might cut (off) your luck.
You have to eat it while facing the lucky direction, which changes every year! This year's lucky directly is hinoe (丙 (ひのえ)), which is a little bit to the south of south-south-east on a regular compass. If you can read kanji, this page has a good chart.
Finally, you must eat the whole roll in total silence.
A seven-ingredient sushi roll is basically a futomaki, or fat sushi roll, and that is what the directions are for. I've suggested several filling variations.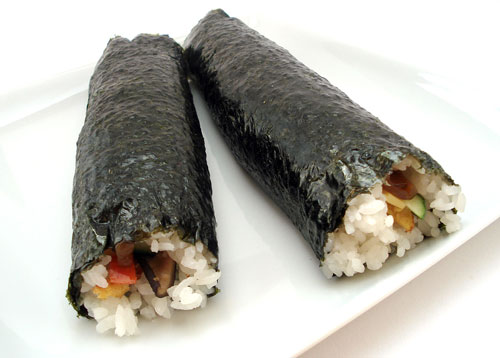 Last year, the Superbowl fell right on Setsubun no hi, so there's a New York-Boston filling combo below. This year, I guess the Cardinals were out of luck, ehou-maki wise. (What would have been a good Pittsburgh-themed sushi roll filling?)
You can of course order a regular futomaki from your favorite sushi takeout, and ask them to put in seven ingredients and to not cut it. Then on Sunday, face the right away, and solemnly eat your roll in total silence.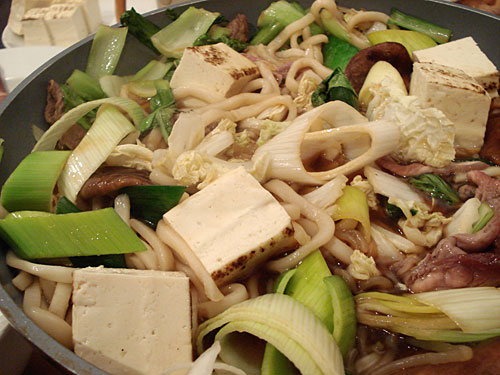 Sukiyaki (すき焼き)is a Japanese word that is widely known outside of Japan, but very few people have actually had the real thing unless they've been invited to a Japanese person's home for dinner - or gone to a traditional inn or ryoutei (high end traditional Japanese restaurant) where it is cooked for you at the table. This is because, like tori nabe, this is really another nabe that is cooked at the table, at home, rather than eaten at a restaurant. You may encounter 'sukiyaki' on some restaurant menus, but if it's been cooked in advance in the kitchen, it really isn't sukiyaki. (I'm not sure why there are dedicated shabu-shabu restaurants but no sukiyaki restaurants, but I think it's because sukiyaki is so strongly associated with home cooking.)
Unlike tori nabe, sukiyaki is not inexpensive, since you need top grade steak-quality meat. If you have access to a Japanese grocery store or a butcher that is familiar with the 'sukiyaki' cut, you can buy ready-cut meat there. (In New York, I used to get sukiyaki meat from Schaller and Weber on the Upper East Side). If you can't get sukiyaki meat, get a piece of sirloin with a good amount of marbling and a thick piece of fat attached. Allow for about 100 grams / 3 1/2 ounces of meat per person. You do not need to use wagyuu or Kobe beef - that would be overkill. In Japan, sukiyaki is the quintessential gochisou (御馳走) - feast or treat, because good beef is the most expensive kind of meat. It's what you have for a special occasion, or just after payday.
Sukiyaki can be enjoyed at any time of the year, but any kind of nabe seems to be best suited to the winter, when the family can gather around the dining table helping themselves from a fragant, steaming pan of food.
There are two basic methods of making sukiyaki: Kanto, or Tokyo-area style, and Kansai, or Kyoto/Osaka area style. Since I'm from the Tokyo area I'll show you how to do the Tokyo style, with a recipe for the Kyoto method below.