bento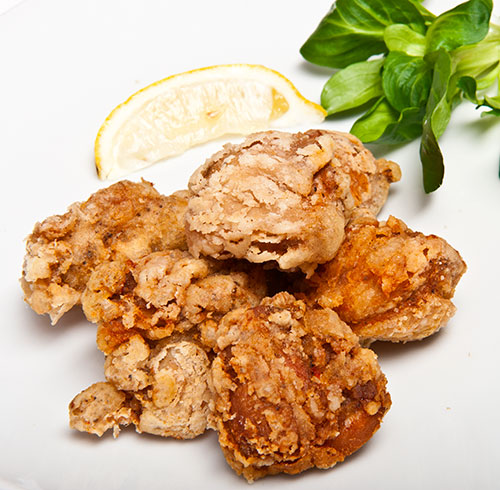 This is a gluten and soy-free version of a classic recipe, that's just as tasty as the original.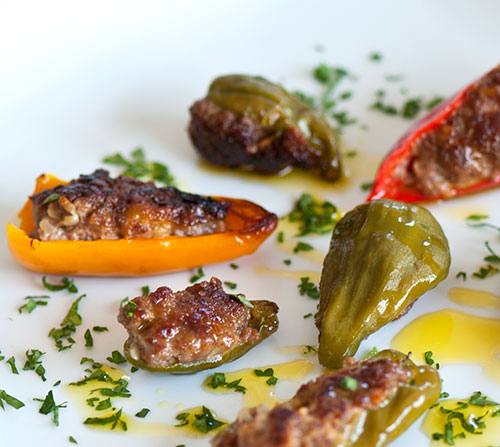 A mini-version of the usual stuffed peppers.
From the archives, originally posted March 2, 2007. These delicately colored sushi are a great way to use usuyaki tamago. I know I've been re-posting things from the archives a lot lately, but I hope you'll forgive me - I'm moving tomorrow! In any case, I hope you'll give these delicate sushi a try, especially if you have daughters or granddaughters.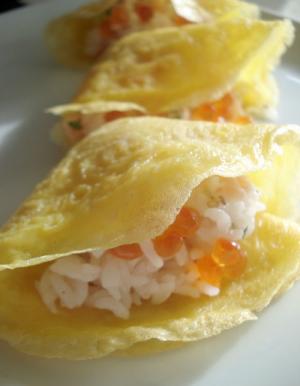 The 3rd of March is Momo no sekku or Peach Day in Japan. Peach blossoms usually start blooming around this time, signifying the coming of spring. It's also the day for hina matsuri, the Doll Festival or Girls' Festival. Households with daughters display hina ningyou-, traditional dolls that represent a princess's wedding procession. This is because the ultimate happiness expected for a girl was for her to make a fruitful and comfortable marriage. Nowadays girls may be expected to do other things besides become happy wives, but on this day at least traditions still hold strong.
In Japan there is a long standing stereotype that girls and women like very sweet things, while manly men like less sweet and bitter things. So, for Hina Matsuri the guests are served sweet things like amazake (a very thick non-alcoholic hot drink made from the lees of sake, rather like eggnog in color and cloying sweetness), hishimochi (tri-colored mochi cake) and okoshi (colored sweetened puffed rice). Although there were three girls in our house, none of us liked amazake at all. However, my mother often made some kind of sushi for Hina Matsuri, which we really loved.
Here are two kinds of very pretty, girlie sushi in feminine pink, yellow and white with a touch of green. These colors fit the theme of Hina Matsuri perfectly: the traditional hishimochi is colored white, pink (or light red) and green.
Just Bento, my new brand site dedicated to the making of bento box meals, is now officially open! It will have bento-specific recipes, tutorials and tips galore. While the majority of the bento box examples will be Japanese or Japanese-style bentos (geared and adapted for people who don't live in Japan), there will be foods and recipes from many other cuisines too, just as on Just Hungry.
The focus is on bento lunches for busy adults, especially those who are looking to using bento lunches to regulate healthy eating habits and/or lose weight. Why? Because that's how I use bento lunches. Late last year I made a resolution to try to lose some weight in 2007. While a lot of things I attempted in order to achieve that goal fell by the wayside, one of the things that 'stuck' was making bento lunches at least 2 to 3 times a week, if not more. So far, I have very slowly lost about 30 pounds (15 kg), and plan to keep going! I occasionally indulge in more luxurious and/or time-consuming bentos too, but that's all part of keeping things fun and loose.
Time is of the essence in the morning, so every bento example will be presented with a graphical timeline besides step-by-step instructions. (See Bento no. 1 for an example). Most bentos will be take less than 30 minutes to make, and the majority will clock in at 20 minutes or under.
There are already several articles up on the site. And no, Just Hungry will not be neglected; there'll be a lot of cross-referencing of tips, recipes and more between the sites.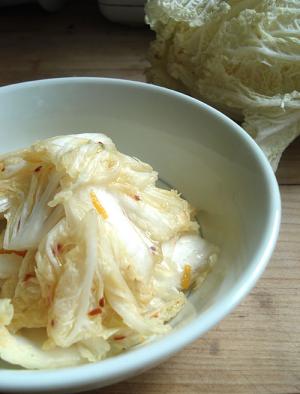 This has to be one of the easiest and tastiest ways of preparing Chinese or napa cabbage (hakusai) that I know of. All you taste is the fresh essence of the cabbage, with the heat of the red pepper and the slight twist of the orange zest.
Did I say easy? Wash and chop up the leaves, mix together the flavoring ingredients, dump all in a plastic bag, shake then massage. That's it. It's ready to eat right away, though the flavors to meld a bit better if you can manage to keep it in the fridge for at least an hour before eating.
I've used ingredients that anyone should have, even if you aren't stocked up on typical Japanese ingredients. Adjust the amount of red pepper flakes up or down to your taste.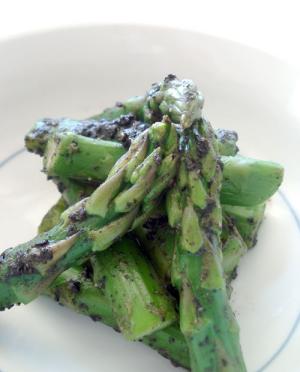 We're starting to see asparagus at reasonable prices again in the stores, which I'm really happy about. The ones available now come from California and Mexico, so they aren't very food-miles-correct, but I still can't resist buying a bunch or two. In a few weeks we'll start seeing asparagus from a a bit closer places like Spain and France, not to mention fat white asparagus from Germany.
This is aspagarus with a ground sesame sauce, which would be called aemono (as explained in the broccoli ae recipe) if made with white sesame seeds, but since this version is made with black sesame seeds it's called gomayogoshi, or "dirtied with sesame". I don't think it looks dirty - I really like the contrast of the bright green asparagus with the black sesame sauce. You can, of course, use regular white (brown) sesame seeds instead, in which case it would be called asparagasu no goma ae. The sweet nutty sauce compliments the asparagus quite well.
I've included step by step instructions for grinding sesame seeds in a suribachi. You can grind up the sesame seeds in a plain mortar and pestle instead. You may be able to buy pre-ground sesame (surigoma), though that isn't nearly as fragrant as freshly ground sesame.
It makes a great side dish, as well as being great for your bento box.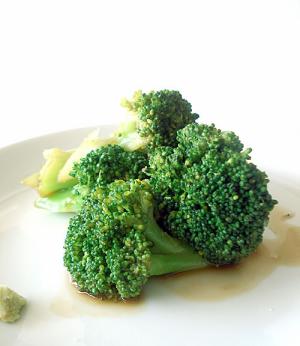 All hail the mighty broccoli. While it's always available in the produce section, it's one of the few fresh vegetables that haven't been shipped halfway around the world to reach people who live in many parts of the northern hemisphere during the colder months. In the spring we even get very locally grown broccoli and its relatives like romanesco.
Broccoli can be rather boring if it's just served steamed, boiled or, god forbid , raw. (I'm sorry, I don't really get raw broccoli. Raw cauliflower yes, but not raw broccoli.) A way to perk up broccoli without relying on those yummy yet caloric additions like mayonnaise, cheese sauce or garlic-and-olive-oil, is to make aemono or ohitashi with them. Ohitashi is basically vegetables that have been steamed or blanched/boiled served with a sauce that contains soy sauce, often but not always a little dashi stock, and sometimes a bit of sake or mirin and sugar. Aemono uses a similar sauce, with added ingredients like ground up sesame seeds. In this recipe, the sauce contains wasabi, so it's aemono.
As long as you have all the ingredients on hand it's very quick to make, and very tasty. The sinus-clearing qualities of the wasabi are softened by the other ingredients in the sauce, while still giving the broccoli a nice, bright flavor.
It makes a great side dish as part of a Japanese meal, or even a salad. It's also a very nice bento item (you may want to contain the sauce in a paper cup or its own container).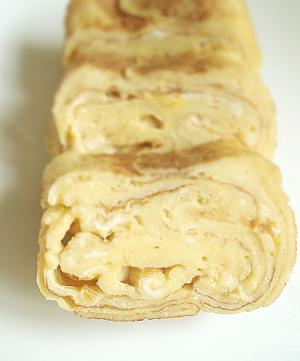 Tamagoyaki is such a integral part of Japanese food that I am rather kicking myself for not having posted a recipe for it before here. The name tamagoyaki means "fried egg", and the alternate name, atsuyaki tamago, means "thick fried egg". (Some books or restaurants erroneously called it just tamago, which just means "egg".) A slightly sweet, moist square-shaped egg concoction, tamagoyaki is a bento box staple, as well as being a popular sushi neta (topping). It's also great as a side dish for any meal.
You don't really need a special tamagoyaki pan for making this. A regular small non-stick frying pan will do. The one advantage of having a small tamagoyaki pan like this one is that the size is good for making small, thick tamagoyaki without using extra eggs. Conversely, a big square tamagoyaki/atsuyaki tamago pan is used for making those thick tamagoyaki served at better sushi restaurants. (Cheap sushi places use manufactured tamagoyaki, which is an abomination.) However, I'm assuming most people are likely to own a small frying pan, so that's what I've used for the photos here. The one I have is an ordinary (pretty cheap) Tefal model that I got at a sale somewhere.
Once you get the hang of making the multilayers of egg, it's very easy to do. A 2-egg tamagoyaki takes less than 5 minutes to cook, and a 4-egg one just a bit more. 4 eggs is the maximum that's practical to cook in a 20cm / 8 inch standard frying pan.
I prefer my tamagoyaki to not be too sweet so there isn't much sugar in this - I've seen recipes that add up to 3 tablespoons for 4 eggs. You can add more or less to your taste.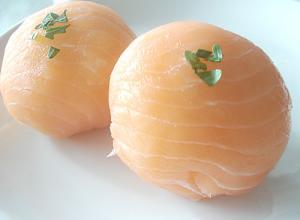 Following up on the previous recipe for shell shaped sushi, here is another kind of sushi that's great for parties. Temari are small cloth balls made from leftover scraps of kimono fabric, and temari zushi are meant to look like these colorful toys.
You can make temari zushi with any number of things, such as thinly sliced sashimi grade fish, boiled and butterflied shrimp, thinly sliced and cooked or uncooked vegetables, and even thin slices of cheese. You will likely never see temari zushi at a sushi restaurant - this is homey home-style sushi.
For these, I've used thinly cut slices of pale pink smoked salmon, with tiny amount of cream cheese inside, rather in the same vein as a New York Roll - quite non-traditional but it's a great combination. The key is to make the temari zushi on the small side since they are quite rich.