Pepper-Lemon Chicken Karaage: gluten and soy-free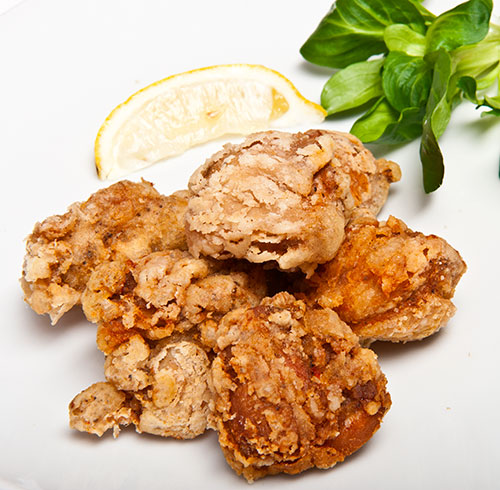 Happy New Year!
I had all kinds of plans for 2014, but at the moment my no. 1 priority is getting healthier. So, for the time being things on this site will be fairly low key. But I thought I would upload this alternate version of chicken karaage (Japanese-style fried chicken), which I've slowly been working on improving over the last few months.
This version is lighter in taste and color then the original, and it's totally wheat gluten and soy free. I originally made this for someone who is avoiding gluten, but being that I am me I needed it to be seriously tasty at the same time. The big difference compared to the original recipe is that it does not use any soy sauce in the marinade; the umami is added to the chicken instead by a rich chicken stock, and the saltiness is just pure salt. I have omitted the ginger too, and added a little lemon juice and a lot of black pepper. The result is still very tasty though. Since potato starch (katakuriko) or cornstarch are used to coat the chicken, as with the original, there's no wheat in this at all. We like this version so much that we've been having this more often than the original. If you find it hard to get the sake and soy sauce and so on called for in the original recipe, you may find this easier too.
The nuggets stay quite crispy when cold, so they're great for bentos.
I think karaage is juicier when made with dark meat, but you can use white meat too. Just cook it for a little less time.
Pepper-Lemon Chicken Karaage: Wheat, gluten and soy-free
This is a twist on classic Japanese chicken karaage, made without any soy sauce, flour or sake. The chicken is marinated in chicken stock to add umami.
Prep time: 10 min, plus marinating time (see directions) :: Cook time: 20 min :: Total time: 30 min plus marinating time
Yield: 10 to 12 pieces
Serving size: 3-4 pieces as part of a Japanese meal or in a bento
Ingredients:
10 oz (300g)

boneless chicken thigh meat or breast meat

1 1/2 US cups (about 350 ml)

Rich chicken stock

, homemade preferred (see Notes)

1 to 2 tablespoons.

Lemon juice

1/4 teaspoon

Finely grated lemon zest (the yellow part of the lemon only)

1 1/2 teaspoons

Salt (see notes)

Freshly ground black pepper

, to taste

1/2 cup (125 ml or so)

Potato starch (katakuriko) or cornstarch

, (enough to coat the chicken)

Oil

, (for deep frying)
Directions:
Cut up the chicken thighs into bite-sized pieces. You can take off the skin if you like, though it does make the chicken crispier. You can also use breast meat insteadd.
Combine the chicken stock, lemon juice, and grated lemon zest in a bowl. Add 1 teaspoon of salt and mix well. Taste - it should be fairly salty but not overwhelmingly so. Add a bit more salt if needed.
Put the chicken pieces in the bowl. Let marinate for a minimum of 30 minutes - an hour is ideal. If marinating for more than an hour (say, overnight), do not put salt in the marinade.
When you're ready to fry the chicken, take it out of the marinade and pat it dry. If you didn't add salt to the marinade, salt the chicken now and rub it in. Leave for a few minutes, and pat dry again. Grind a ton of black pepper on the chicken (it can stand a lot) .
Heat the oil; if using a temperature-controlled fryer or a thermometer, aim for 160°C / 355°F, a fairly low temperature. Toss enough potato or cornstarch into the marinated chicken so that each piece is completely coated. Fry the chicken pieces a few at a time at 160°C / 320°F until cooked through. The chicken will still be quite pale.
Take the chicken out of the oil, and drain off while you raise the temperature of the oil to 180°C / 355°F. When the oil is hot, re-add the chicken pieces and cook until a light golden brown - about 30 seconds to a minute. It won't get as dark in color as the soy-sauce marinated version. Don't overcook or the chicken will dry out.
Drain well on a rack, or old newspaper lined on top with paper towels.
Serve with lemon wedges, and even more pepper if you like.
Ingredient notes and substitutions
If you use chicken stock cubes or granules, it already has salt in it so be sure to taste your marinade before adding any more.
If you do use chicken stock cubes, don't marinate it for more than an hour or so (because of the salt).
The best version of this is to marinate the chicken in unsalted chicken stock with lemon juice and zest overnight in the refrigerator. Add the salt later, as per the directions. The chicken will be very flavorful and juicy.
Potato starch, or katakuriko, is standard for karaage in Japan. It creates a wonderfully light, crispy, greaseless surface. It's not that easy to get a hold of in many places though (look in a Japanese grocery store), so cornstarch(cornflour in the UK) is an acceptable substitute. If you must avoid gluten for medical reasons, be sure to use a cornstarch that is guaranteed to be gluten-free.
The lemon juice acts in a way like the sake in the original recipe, in that it eliminates some of the gaminess of the chicken. Adjust the amount to taste; I like to squeeze on more when I eat the karaage.
If you use white meat instead of dark, cook it for a bit less time or the chicken will dry out.
You can marinate a pound or more (or around 500g) of cut up chicken in this marinade. To marinate more, just increase the amount of marinade.
Try using yuzu juice and peel instead of the lemon if you can get them, and sprinkle with sansho pepper or shichimi tohgarashi (seven-ingredient chili pepper) instead of black pepper.
(metadata for this recipe:)
Author:

Makiko Itoh

Published:

January 14, 2014
Submitted by
maki
on 2014-01-14 19:05.
Filed under:
japanese
chicken
favorites
bento
gluten-free
washoku
chuuka
soy-free
variation