under10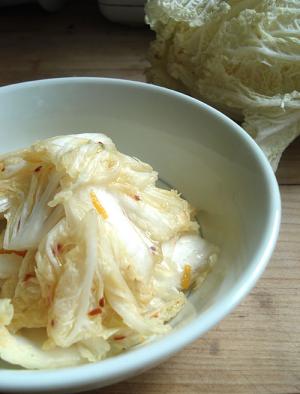 This has to be one of the easiest and tastiest ways of preparing Chinese or napa cabbage (hakusai) that I know of. All you taste is the fresh essence of the cabbage, with the heat of the red pepper and the slight twist of the orange zest.
Did I say easy? Wash and chop up the leaves, mix together the flavoring ingredients, dump all in a plastic bag, shake then massage. That's it. It's ready to eat right away, though the flavors to meld a bit better if you can manage to keep it in the fridge for at least an hour before eating.
I've used ingredients that anyone should have, even if you aren't stocked up on typical Japanese ingredients. Adjust the amount of red pepper flakes up or down to your taste.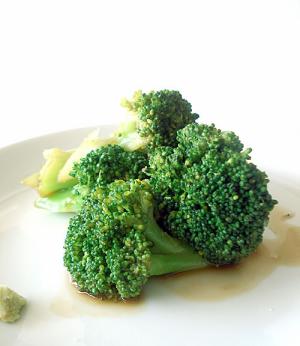 All hail the mighty broccoli. While it's always available in the produce section, it's one of the few fresh vegetables that haven't been shipped halfway around the world to reach people who live in many parts of the northern hemisphere during the colder months. In the spring we even get very locally grown broccoli and its relatives like romanesco.
Broccoli can be rather boring if it's just served steamed, boiled or, god forbid , raw. (I'm sorry, I don't really get raw broccoli. Raw cauliflower yes, but not raw broccoli.) A way to perk up broccoli without relying on those yummy yet caloric additions like mayonnaise, cheese sauce or garlic-and-olive-oil, is to make aemono or ohitashi with them. Ohitashi is basically vegetables that have been steamed or blanched/boiled served with a sauce that contains soy sauce, often but not always a little dashi stock, and sometimes a bit of sake or mirin and sugar. Aemono uses a similar sauce, with added ingredients like ground up sesame seeds. In this recipe, the sauce contains wasabi, so it's aemono.
As long as you have all the ingredients on hand it's very quick to make, and very tasty. The sinus-clearing qualities of the wasabi are softened by the other ingredients in the sauce, while still giving the broccoli a nice, bright flavor.
It makes a great side dish as part of a Japanese meal, or even a salad. It's also a very nice bento item (you may want to contain the sauce in a paper cup or its own container).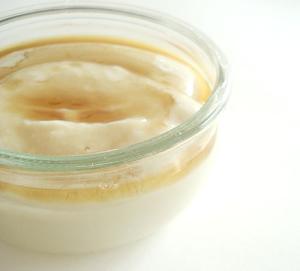 One of the things I like to do with tofu that didn't quite come together is to turn it into a pudding. Now I do not pretend to you that this tastes like a proper pudding or mousse made with cream and such, and if anyone tries to convince you that a tofu based dish like this is 'just as good/rich as the real thing' they are either lying or have no taste buds. It's different, but still good. It's a lightly sweet, cool and creamy dish that will quiet a sudden urge for Something Sweet. Since it's quite healthy it will leave you feeling righteous, thus the name.
It's also a dish that you can whip up in no time at all. I realize that many of the recipes here take a lot of time, effort or both, and I'm going to try to rectify that. Look for recipes with the quickcook or under 10 tags.