A Proper Swiss Cheese Fondue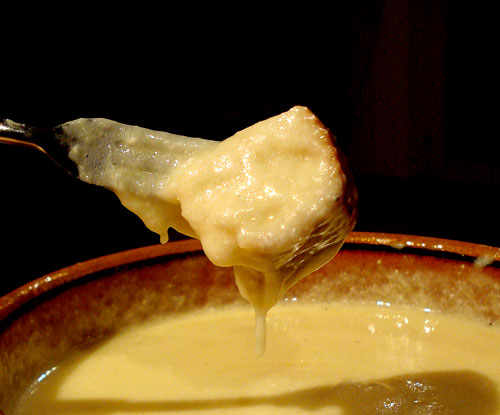 (The 10 year anniversary of JustHungry is at the end of this month. To commemorate this pretty big birthday for the site, I'm highlighting some of my favorite posts from the archives. This recipe is for an authentic Swiss cheese fondue. It was my late mother in law Martha's recipe. It's perfect for a chilly evening. Originally published on December 26, 2008, one year after Martha passed away.)
Martha passed away on the 26th of December last year. When she was still healthy, we shared many a pot of cheese fondue with her during the cold winter months. Her fondue was without question, the best I've ever had anywhere. So in her memory, we made a proper cheese fondue.
I've already posted Martha's fondue recipe 5 years ago (she was still making them then), but since it was one of the very early posts here on Just Hungry, it has no relevant picture to accompany the recipe or anything. To rectify that, here again is Martha's proper Swiss fondue, with many photos and detailed instructions.
In Switzerland, Fondue is Cheese Fondue
Cheese fondue is a traditional Swiss dish that originated in the Alps, mainly in and around the canton of Valais (French) / Wallis (German). Contrary to popular view outside of Switzerland, it did not originate as an après-ski snack; it's a hearty peasant dish, using ingredients that were available in the winter: cheese, wine, coarse peasant bread. And since it a traditional dish, it never went 'out of fashion' or 'died out', as you might think it did if you live in the UK or the US or any place that had the Great Fondue Craze of the '70s, when a fondue set was a ubiquitous wedding present.
In Switzerland, 'la fondue' means a cheese fondue and nothing else. Other types of dip-bits-of-food-in-a-communal-pot dishes are specifically called fondue-something, e.g. fondue bourgignonne (bits of beef filet fried in a pot of oil), fondue chinoise (thin slices of beef or other things cooked in a pot of broth), and so on. (You might be surprised to know that chocolate fondue isn't that popular in Switzerland. It may be served at touristy restaurants here, but is not a home cooking fixture by any means.)
Finally, fondue is always served as the main dish, not an appetizer or as part of a multicourse meal.
Equipment needed for a proper Swiss cheese fondue
So, what do you need for la fondue? First you need an appropriately shaped pot. The traditional shape is a fairly shallow, rounded ceramic pot with handle, like this one. The critical part is the rounded part, as we'll see later. This is one of the two pots we have.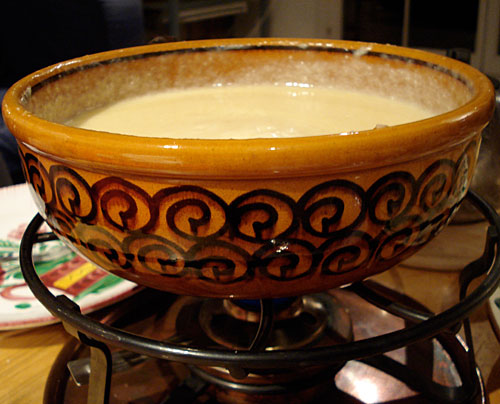 You also need something to keep the cheese warm. You actually cook the sauce on the stovetop, so you don't need a tabletop burner, though you can use one on a low flame. The ideal is a spirit burner, like this one. The pot is suspended over it on the iron frame.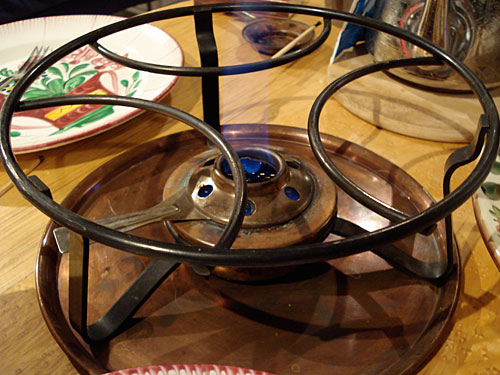 Finally you need fondue forks. Fondue forks are long and thin, perfect for skewering the bread. (Antique chipped hand-me-down plate is optional.)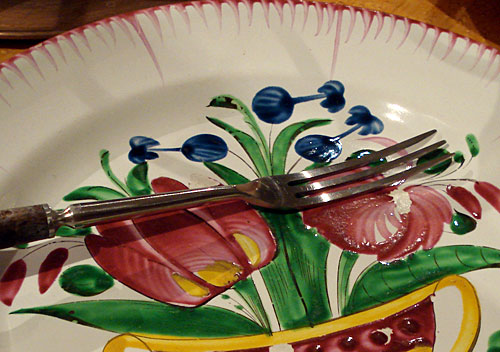 The cheeses and other things in the sauce
The cheese sauce is usually made up of 2 or more types of cheese. A good moderately aged Gruyère (aged at least 8 to 12 months) is usually one of them, since it has such great flavor.
Another popular cheese is Emmenthaler, the stereotypical 'Swiss cheese' with the big holes. Emmenthaler does make the sauce very stringy and somewhat gooey, which can make it a bit hard to handle.
Martha's preference was to use Vacherin Fribourgeois, which has a full, distinctive flavor and does not make the sauce stringy.
Her secret ingredient was one block of the 'spreadable cheese' that comes wrapped in foil triangles in a round cardboard box (e.g. Laughing Cow). The otherwise icky cheese helps all the cheeses melt together and stay together coherently.
The other important components in a fondue sauce are white wine and kirsch. Here in Switzerland, a young Chasselas Romand, aka Fendant, with a slight sourness is used. If you can't get hold of such a wine, a Sauvignon Blanc will do, perhaps with a squeeze of lemon juice. And kirsch just adds that extra kick.
The bread
In Switzerland, only bread is dipped into the cheese. Any kind of bread with a sturdy crust and a fairly robust crumb is good: a decent baguette, any kind of 'artisan' bread. Here we used a Weizenbrot, a hearty country bread. Notice all the pieces are cut so they each have a side with crust.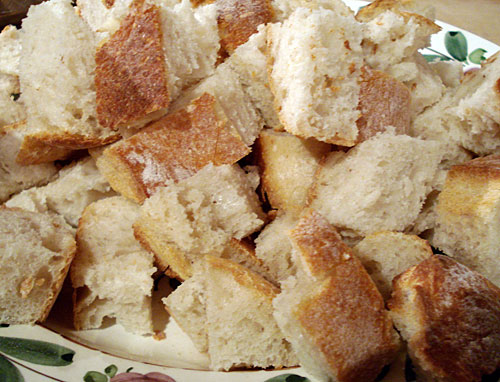 I guess you could dip other things, but you will still want to have a good quantity of bread. I know people like to dip things like raw or boiled vegetables, apple or pear slices and the like (in Japan they like to dip things like boiled quail eggs, wiener sausages and chikuwa (fish sausage-like things)...), but I think that if you need vegetable crudités or fruit, they are best served alongside the fondue, and to just dip bread in the sauce. (And if you get invited to a Swiss home for fondue, you'll only get bread in most cases.) If you are gluten-intolerant, use a gluten-free bread.
So, let's make fondue!
Recipe: Martha's Cheese Fondue Sauce
This amount of sauce will serve 4 people as the main course. If you only intend to have fondue as part of a bigger meal, adjust the amounts accordingly.
1 garlic clove
50ml / about 1/4 cup kirsh
2 tsp. cornstarch
400 g / a bit less than 1 lb Gruyère cheese (aged at least 8 to 12 months), shredded
400g / a bit less than 1 l Emmenthaler or Vacherin Fribourgeois cheese, shredded (Please use real Emmenthaler. A generic 'Swiss Cheese' will not do. Note that in Switzerland you can buy bags of pre-shredded mixed cheese called "Moitié-moitié", meaning 'half and half'.)
1 piece of 'spreadable' cheese, e.g. Laughing Cow/La Vache Qui Rit (not the mini-Babybel type, the triangular foil-wrapped soft gooey double-creme type)
3 dl / 1 1/4 US cups of young slightly sour white wine such as Chasselas or Sauvignon Blanc
Rub the inside of the fondue pot with the garlic clove. Discard the garlic. (This optional step adds a little extra flavor to the sauce.)
Dissolve the cornstarch in the kirsch. Set aside.
Put the fondue pot on a medium-heat. Add the wine and cheeses. Heat while stirring, until the cheeses melt. Add the kirsch and keep stirring until the sauce is smooth and bubbly. This takes about 20 minutes.
Now, set up your fondue pot stand and burner and transfer the pot to the stand. The burner flame (or tabletop cooker) should just be hot enough that the sauce stays how and just sort of seething on the surface. Any hotter and the cheese will burn on the bottom.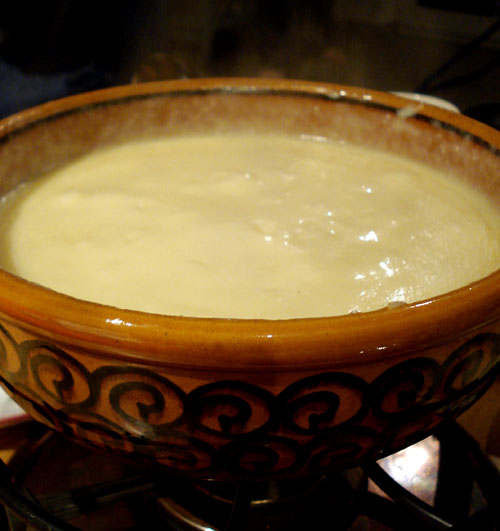 Take a piece of bread, and spear it firmly on the fork so that the crust is on the outside. You can optionally lightly dip it in kirsch at this stage.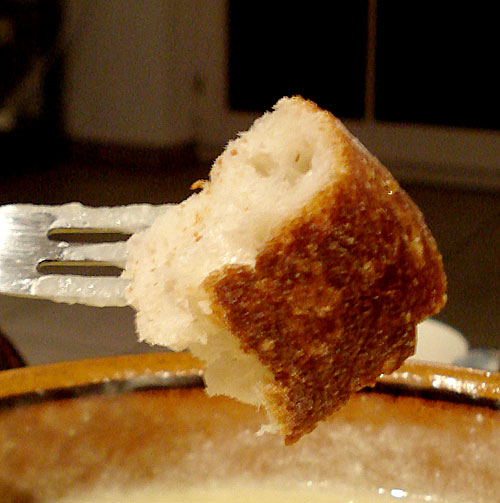 Take your speared-bread fork and stir it around in the cheese sauce. Each person should scrape the sides and the bottom of the pot at least once with each go. This prevents the cheese sauce from sticking or burning on the sides. None of that namby-pamby dip-and-go!
Here the bread being used to scrape off the cheese bits that stick to the surface of the pot. Now you see why a rounded-sides pot is ideal; a pot with sharp angles is much harder to scrape around properly.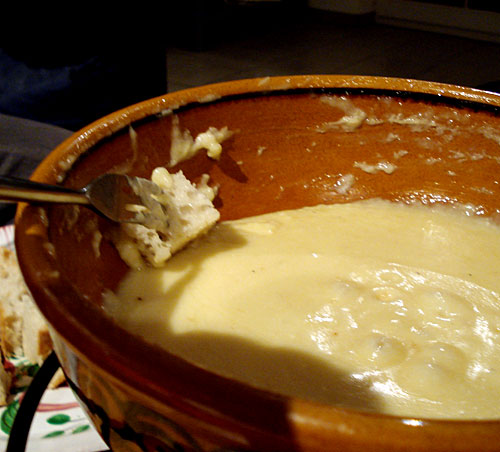 If you do insist on dipping other things into the sauce, you will just want to dip those lightly, but still use the bread for that stir-wipe action.
(A point of etiquette: Pull the bread off the fork with your teeth, trying not to touch the fork itself with your mouth. And absolutely no double-dipping!)
As the cheese sauce gets less and less, it will get thicker. It's important to keep stirring-wiping. You may gradually want to lower the flame's intensity if you can too.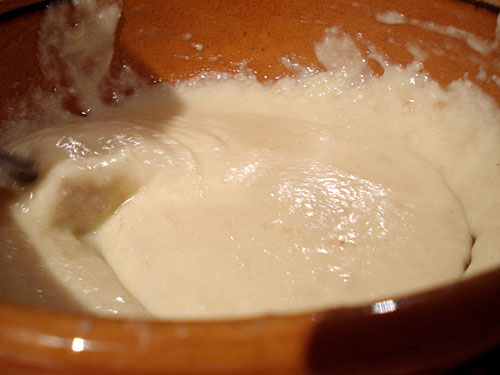 When there's just a little cheese left in the pot, turn off the heat. Keep scraping off the cheese. If you've done it right, you'll just be left with a small circle of burnt on cheese, which you can carefully pry off. (Note how the pot is scraped almost clean.)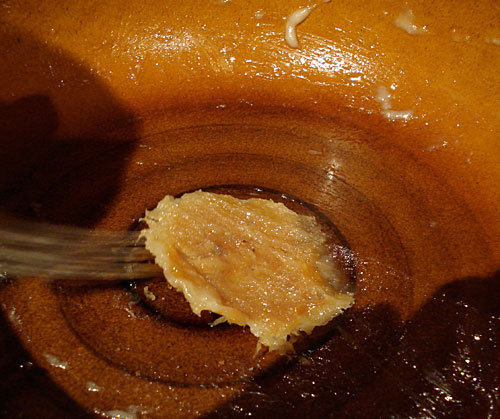 The burned bit is considered to be the final treat of a fondue. A generous cook may cut it up and share it, but a more selfish one (cough) will just pop the whole thing in her mouth.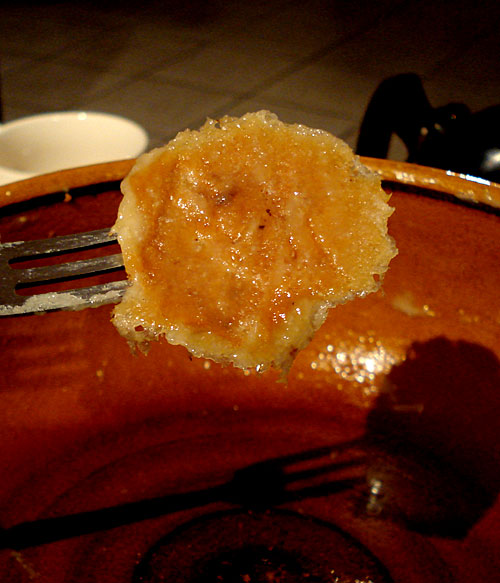 So, there you have it. A proper Swiss cheese fondue, eaten the Swiss way.
What to drink with a fondue, and what's for dessert
The same wine that you put into the fondue would be perfect. You could also have kirsch in shot glasses. Martha always served strong black tea, which served as a perfect palate cleanser to counteract the strong taste of the cheese sauce.
The winter fruit salad she also served as dessert (usually just whatever citrus fruits were available, like grapefruit, blood or regular orange, etc.) was a nice refreshing ending to the meal.
If you can't use alcohol for some reason
Do remember that this sauce is properly cooked on the stovetop, not just heated through until the cheese melts, so most of the alcohol content will evaporate. Swiss kids eat fondue along with the adults and grow up to be fine upstanding citizens. If you can't have alcohol for religious reasons and so on, this recipe may not be for you.
Submitted by
maki
on 2013-11-07 22:14.
Filed under:
cheese
party food
swiss
winter
favorites