Tamago dofu: Cold savory egg custard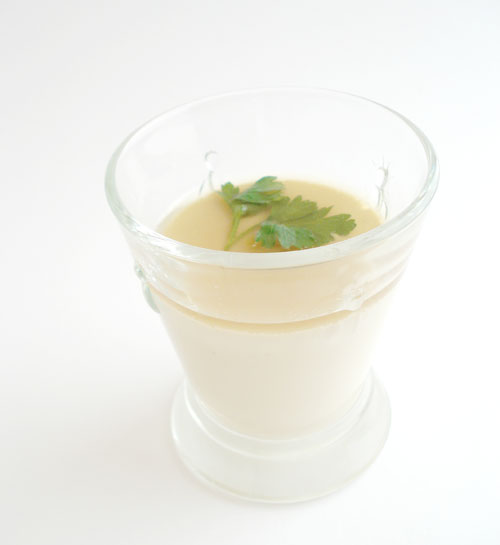 (From the archives - something cool and easy, perfect for the summer. Originally published in July 2008.)
Previously, I explained how some dishes that are not tofu are called -tofu, because of the shape, texture or both. This is the case with tamago dofu (卵豆腐), a smooth savory egg custard that's served cold.
You can make it in a square mold, to make it look tofu-like. But I prefer to keep it a lot simpler by cooking the tamago dofu in the serving container it will be served in. This can be anything as long as it's heat-proof. Here I have used some sturdy glass cups made of pressed glass, but I've also used little pudding molds, tiny glass bowls made for holding ingredients while you're cooking, and even coffee cups.
There are very few ingredients in a tamago dofu: dashi or soup stock, eggs, and a few flavorings. Because of this, each component should be of top quality, because you'll taste each one quite clearly. Traditionally the soup component is dashi, but I don't really like the fish flavor of dashi when it's cold. So I prefer to make a simple vegetable stock instead.
Tamago dofu should be served ice cold. It's a great appetizer for a summer meal, or an interesting and soothing snack. I have been guilty of making 4 cups and 'hiding' them so I can eat them all by myself.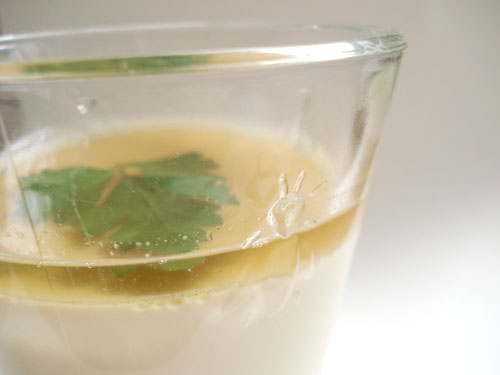 Recipe: Tamago dofu in a cup
Makes 4 servings of about 3/4 cups each
For the vegetable stock:
1 medium onion
1 celery stalk
1 small fennel bulb
1 bunch flat leaf parsley
1 bay leaf
1 piece of fresh ginger, about 1 inch / 2 cm square
1 piece of kombu seaweed about 15-20 cm / 6-7 inches long
Chop up the vegetables roughly. Put everything in a pot, and add enough cold water to cover. Bring up to a boil them simmer slowly for about 20 minutes. Strain out the vegetables. (This makes more stock than you will need for the recipe; use the rest in a soup, stew, etc.)
For the tamago dofu:
4 'large' eggs
2 cups / 440 ml vegetable stock or dashi
1 Tbs. soy sauce
1 tsp. salt
grated fresh ginger
parsley leaves for garnish
Equipment needed:
4 heat-proof molds or cups or glasses
a fine meshed sieve, or a tea strainer
a large pan or pot with a tight fitting lid
plastic wrap
a kettle or something to boil water
Boil some water in a kettle while you assemble the tamago dofu. (I use an electric kettle.) You'll need enough boiling water to come up at least halfway up the cups or molds you'll be using when placed in the large pan.
Mix the soy sauce and salt into the stock. Taste and add a little more salt if needed (remember when it's cool the flavors will dissipate a bit).
Beat the eggs with a fork or chopsticks, trying not to make it too foamy. Add 330 ml / 1 1/2 cups of the soup stock to the eggs, and mix thoroughly.
Strain the egg mixture through a fine meshed sieve. This smooths out the texture by getting rid of the bubbles and any bits of unincorporated egg white. You can skip this step if you can't be bothered - it won't affect the flavor, though the texture may not be as velvety smooth.
Pour the mixture slowly (so you don't make any bubbles) into the 4 containers. Cover each with plastic wrap, then punch a few holes in the plastic with a skewer or knife tip. (The plastic prevents water drops from falling into the egg custard, and the holes allow excess steam to escape).
Put the containers into the large pan. Very carefully (don't splash the water into the custard) pour boiling water into the pan so that the water comes at least halfway up the sides of the containers. Cover the pot with the tight fitting lid. Leave it there for 15 minutes.
At the end, the custard should be fairly firm and the color will have turned pale. It will still be wobbly. Very carefully remove the cups from the pot, take off the plastic film covers and slowly pour the rest of the stock evenly over the top of the custard. This prevents the surface from forming a film. Leave to cool to room temperature, then re-cover each cup with fresh plastic film and cool in the refrigerator until ice cold.
You can make this up to a day in advance. Serve with a little grated ginger and a parsley leaf garnish on top.
Notes
Normally tamago dofu is cooked in a steamer, or steam-cooled in a simmering water bath. Some people also make it in the microwave. For me, using any of these methods makes custard all bubbly and spongy instead of smooth. By leaving it in boiling water as specified the custard cooks all the way through but remains silky smooth. However, this method only works if you're making individual portions as I am here - if you make a large square of tamago dofu, you will need to add heat.
If you serve this hot with some added ingredients like shrimp, ginko nut, etc. in it and serve it piping hot, it becomes chawanmushi, a classic winter dish.
See also
Goma dofu, sesame 'tofu' made with ground sesame seeds or tahini and kuzu powder
Submitted by
maki
on 2010-07-01 17:17.
Filed under:
eggs
japanese
party food
summer