chinese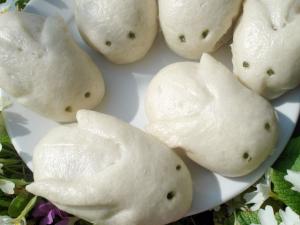 [From the archives: Easter bunny bao! One of the most successful recipes on JustHungry, these little light savory steamed buns are perfect for Easter. Originally published in April 2007.]
For a planned Easter lunch, I wanted to do something in the brunch realm, but with an Easter theme. Brunch purists may insist on eggs and pancakes and croissants and champagne for brunch, but for me 'brunch' means an early lunch feast after little or no breakfast, and so dim sum is my favorite kind of brunch.
Putting Easter and dim sum together, I devised these bunny shaped bao, or steamed buns. (The inspiration for the shape came from a pair of fluffy white bunny slippers I saw at a flea market last summer.) They are quite simple really: tender steamed bun dough is filled and formed into an oval, and the ears are cut with scissors. The faces are optional - for a minimalist bunny, you could just leave them blank and unadorned. Or, you could go all-out and add whiskers with slivered green onion, or whatever strikes your fancy.
The bunny bao could be stuffed with any kind of steamed bun filling (see my roast pork filled steamed buns), but keeping with the brunch theme, I've filled these with an egg, bacon and chive mixture. It all makes sense - eggs, and ham, and bunnies, plus spring chives. So very Easter.
You could of course omit the bunny-shaping part if you want to avoid the cuteness.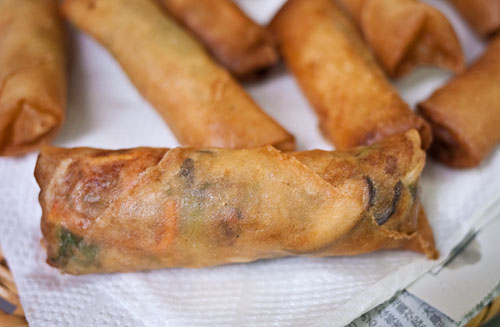 These crispy spring rolls or harumaki are authentically Japanese-Chinese (chuuka) style.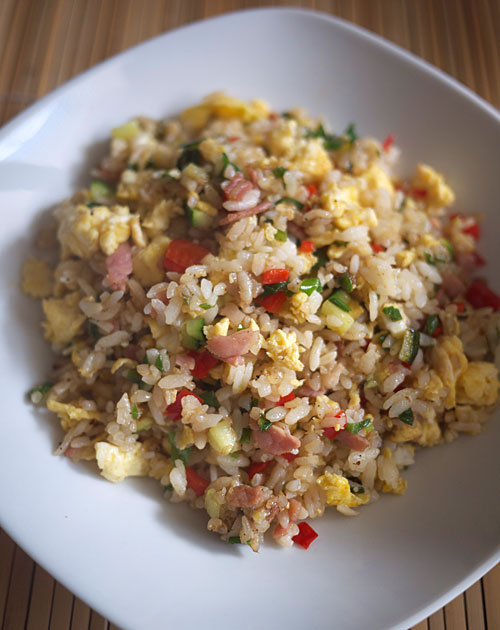 So you love fried rice, but don't have a wok, or even a gas range? Here's how to make great fried rice with a frying pan, even if it's on an electric hotplate. (Note: this is not a low carb dish.)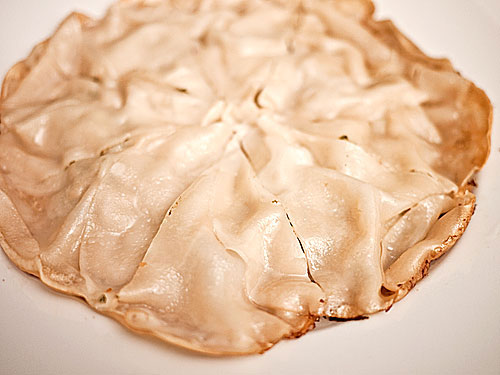 A quickie, deconstructed version of gyoza dumplings.
I've gotten a couple of emails from readers who had some trouble with the bunny bao. Just in case you plan to try these tomorrow or any time (why limit bunnies to just Easter?), here are a few key points to watch out for.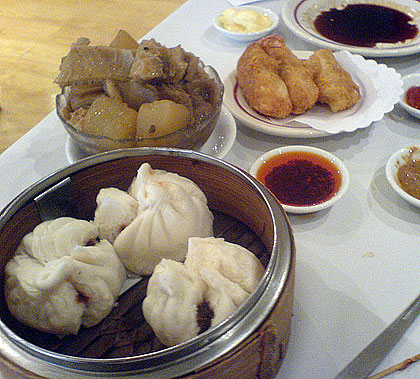 Dim Sum
I understand that there are supposedly better-quality places for dim sum in New York nowadays, but those gringo-run and/or uptown restaurants require bothersome things like reservations, and personally, making reservations for dim sum just seems wrong. Waiting for a table at a garishly lit noisy restaurant with cafeteria atmosphere is part of the fun. Besides, what non-Chinese-run dim sum palace would serve stewed tripe?