snack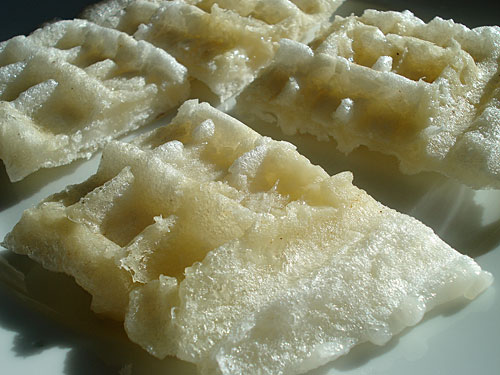 How to make moffles or mochi waffles, a relatively new but very popular snack in Japan, in a regular waffle maker.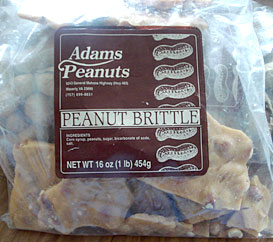 One of the (many) food obsessions I have is nut brittles. Peanut brittle, macademia nut brittle, almond brittle (which, when pulverized, turns into praline). I love that combination of caramel and nut flavor. Peanut brittle is the most handy kind to get a hold of, and make. I make it as often as my teeth and waistline allow.
But, I realized yesterday that I have never had truly good peanut brittle.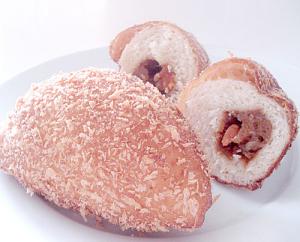 There's a whole category of breads in Japan called okazu pan. Okazu are the savory dishes that you eat with your bowl of rice at a typical meal, and okazu pan are little breads with savory fillings.
Since curry flavored anything is a hit in Japan, curry bread or kare- pan is one of the most popular okazu pan varieties. It's a bun made of slightly sweet dough, filled with a spoonful of curry, breaded and deep fried. I am not sure how curry bread originated, but I am guessing it was inspired by Russian piroshki (piroshiki is also a popular okazu pan, though in the Japanese version it often contains very non-Russian fillings like harusame, thin bean noodles). Curry bread is sold at bakeries and convenience stores throughout Japan.
Making curry bread is a bit tricky since it's deep-fried. It's easy to make an oily, soggy lump if you fry it too long or at too low a temperature, but if you don't fry it long enough the center part where the dough meets the filling may be raw. My solution for this is to fry it until it's puffed and crisped, then to finish it in the oven. The other trick is to roll out the dough as thinly as you can manage without making it so thin that the curry is going to burst through.
You also have to be careful about the consistency of the curry filling. It's most convenient to start out with some leftover curry, but it has to be reduced down to a very thick, paste-like consistency, otherwise it will run over the dough and make the dough hard to seal. If the dough is not sealed properly, the bun will burst in the oil, which ends up to be quite a mess (oil seeps in, filling seeps out).
All in all, I am not sure I would bother to make curry bread at all if I lived near a Japanese bakery, but I do on occasion get a craving for this very down to earth snack. Try it if you're up for a bit of a challenge. This recipe is adapted from one in an out-of-print Japanese bread book.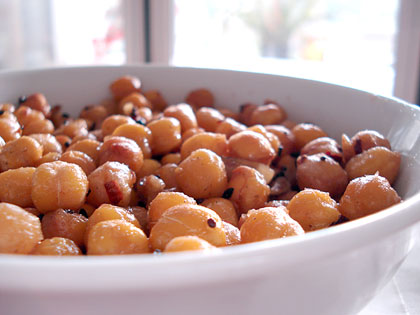 When I'm really into something, whether it's trying to debug some code or work out a design that won't gel, I forget about everything else, including eating. Then, hours later I raise my head out of the mire and I'm starving and ready to eat everything in sight - usually stuff like potato chips and cookies.
In my previous post about Japanese food, I talked about what makes up a typical Japanese meal, which applies to breakfast, lunch and dinner. There's a fourth meal that is very much a part of Japanese food life - oyatsu. Oyatsu is snack time, and it's usually eaten at 3 in the afternoon.
Regular readers of this site may wonder about the lack of recipes recently. Truth is, I haven't been doing much real cooking lately, as in taking out the pots and pans and turning on the heat. While summer here in Switzerland is quite tolerable due to cool mornings and evenings, during the day the temperature does reach the 30s celsius which isn't too nice since, as with most Swiss houses, we don't have air conditioning. Besides, even if you do have air conditioning or cool evenings, there are so many other things to do during the summer that cooking becomes a low priority, doesn't it?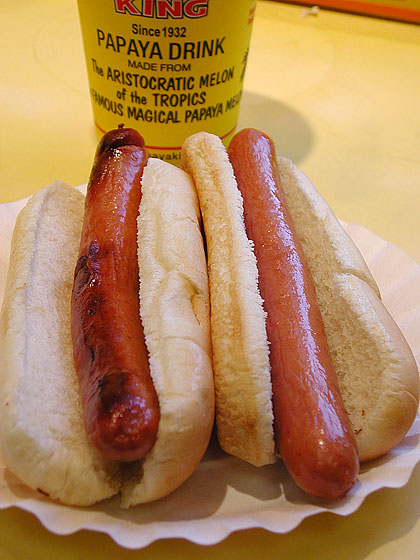 There is one food pilgrimage that I make without fail every time I'm in New York. It's not a visit to a famous, expensive restaurant. It's not even a bagel stop at my favorite bagel place (Ess-a-Bagel) or a trot around my favorite gourmet mega-mart (Fairway). It's a stop at the best hot dog joint in the city, if not the world, Papaya King.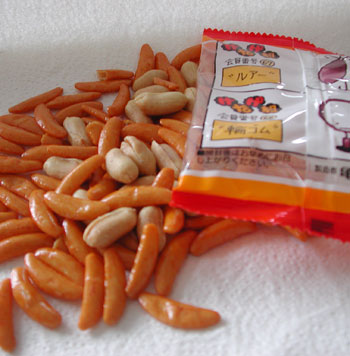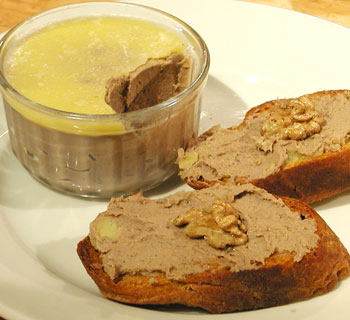 I am a week behind in posting this, but here we go. Day 20 of Masterchef brought us these ingredients: