curry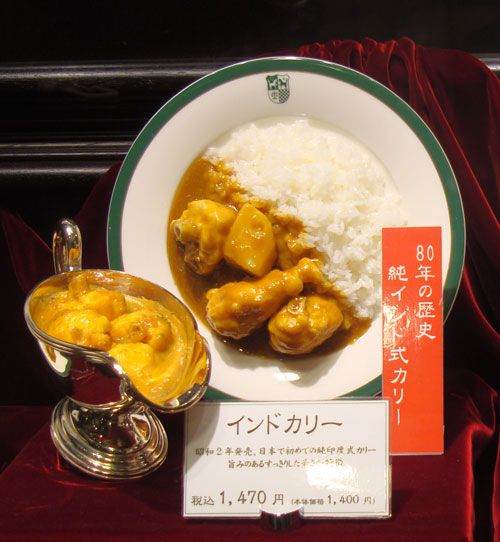 Japanese curry hotness levels, and my favorite childhood curry.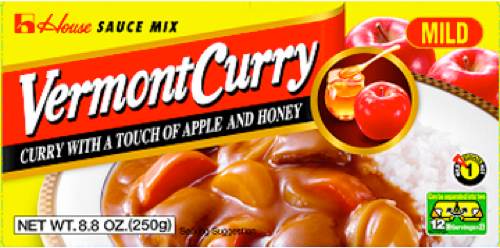 How a Japanese curry mix got to be named after a New England state not exactly known for curry.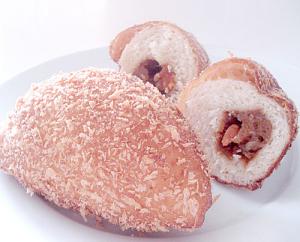 There's a whole category of breads in Japan called okazu pan. Okazu are the savory dishes that you eat with your bowl of rice at a typical meal, and okazu pan are little breads with savory fillings.
Since curry flavored anything is a hit in Japan, curry bread or kare- pan is one of the most popular okazu pan varieties. It's a bun made of slightly sweet dough, filled with a spoonful of curry, breaded and deep fried. I am not sure how curry bread originated, but I am guessing it was inspired by Russian piroshki (piroshiki is also a popular okazu pan, though in the Japanese version it often contains very non-Russian fillings like harusame, thin bean noodles). Curry bread is sold at bakeries and convenience stores throughout Japan.
Making curry bread is a bit tricky since it's deep-fried. It's easy to make an oily, soggy lump if you fry it too long or at too low a temperature, but if you don't fry it long enough the center part where the dough meets the filling may be raw. My solution for this is to fry it until it's puffed and crisped, then to finish it in the oven. The other trick is to roll out the dough as thinly as you can manage without making it so thin that the curry is going to burst through.
You also have to be careful about the consistency of the curry filling. It's most convenient to start out with some leftover curry, but it has to be reduced down to a very thick, paste-like consistency, otherwise it will run over the dough and make the dough hard to seal. If the dough is not sealed properly, the bun will burst in the oil, which ends up to be quite a mess (oil seeps in, filling seeps out).
All in all, I am not sure I would bother to make curry bread at all if I lived near a Japanese bakery, but I do on occasion get a craving for this very down to earth snack. Try it if you're up for a bit of a challenge. This recipe is adapted from one in an out-of-print Japanese bread book.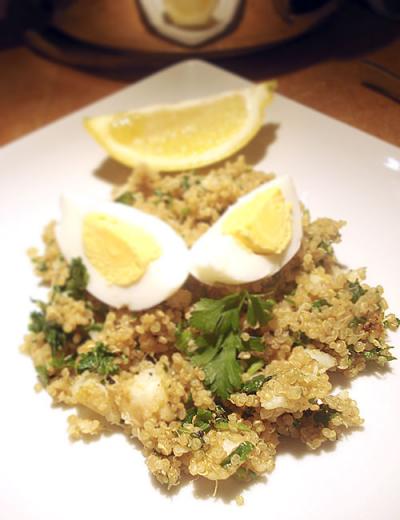 Here's another very easy 'dry' type curry dish that's a favorite in our house, though it's not Japanese. Kedgeree is a very British dish, that doesn't seem to be well known outside of the U.K. It was originally created by the British colonists in India, who took the spices and grain of the land they were in with the smoked haddock from their homeland. It used to be served for breakfast, but nowadays it's a supper dish.
This version of kedgeree uses quinoa as the grain (technically it's a seed but it's used as a grain in cooking, so that's what I'll call it). Quinoa has a unique bubbly texture and a neutral flavor that takes on any flavors added to it. It's also very filling, which makes it rather ideal when you're trying to watch the intake. It's very easy to cook, and never seems to go too watery and so on. I'm just a recent convert to quinoa, but I love it already and have it at least a couple of times a month.
I've used cod as the fish here but you can use any fish you like, even canned tuna or salmon. It doesn't taste 'fishy' in any way - the lemon and the curry take care of that. The key to making this kedgeree taste fresh and bright is to add tons of parsley (instead of the traditional coriander) and lemon juice. It turns into something that's like a warm, spicy dinner salad. To keep the whole healthy thing going I've used olive oil instead of butter.
Any leftovers store nicely in the fridge, and like the previous dry curry makes a great obento lunch too. It tastes fine cooled or at room temperature.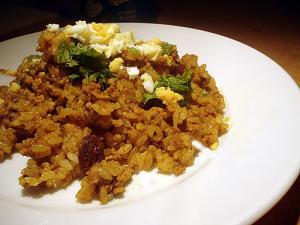 While the standard curry dish in Japan is a kind of curry stew served on plain rice, dry curry, which is a sort of fried rice with curry flavor, is almost as popular. And unlike the stew-type of Curry Rice it's very fast and easy to put together.
What makes it Japanese really is the use of japonica (medium-grain) rice. Dry curry made with Japanese rice makes a great obento lunch, tasty at room temperature or warmed up in the microwave. The stick-together moist quality of the rice keeps it edible where a dryer stay-apart rice like basmati might taste too dry. Dry curry also has the mixture of sweet and savory, which appears quite a lot in Japanese food, especially the kind that comes from the Kanto (Tokyo-area) region where my family is from.
As I wrote in the Beef Curry recipe, I don't make my own curry powder. Lomo asked in the comments about the "secret" 15 to 20 spices that make up curry powder. After poking around a bit on Japanese web sites, I came up with this page that describes what goes into S & B curry powders, the most popular brand by far in Japan. It's an official S & B page, so should be accurate, though as you can see the percentage given have a pretty wide range. I guess it's because the actual formulas are 'secret'. In any case it gives a starting point for any experimentation I think.
I've also included a recipe for making garam masala. Note that I make no claims whatsoever that these are authentic mixes for Indian or other curries, but I'm talking here about Japanese curry.