Japanese Dry Curry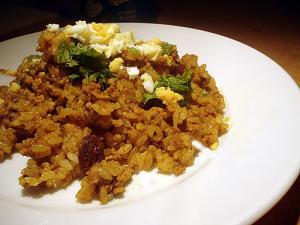 While the standard curry dish in Japan is a kind of curry stew served on plain rice, dry curry, which is a sort of fried rice with curry flavor, is almost as popular. And unlike the stew-type of curry rice or rice curry it's very fast and easy to put together.
What makes it Japanese really is the use of japonica (medium-grain) rice. Dry curry made with Japanese rice makes a great bento lunch, tasty at room temperature or warmed up in the microwave. The stick-together moist quality of the rice keeps it edible where a dryer stay-apart rice like basmati might taste too dry. Dry curry also has the mixture of sweet and savory, which appears quite a lot in Japanese food, especially the kind that comes from the Kanto (Tokyo-area) region where my family is from.
Japanese style dry curry
225g / 8 oz ground beef or other ground meat, or vegetarian substitute
1 medium onion, finely chopped
2 cloves garlic, finely chopped
1 small piece fresh ginger, finely chopped
1 Tbs. tomato paste
2 Tbs. raisins
Olive or vegetable oil
1-2 Tbs (or more, depending on how hot you want it) curry powder
Salt and pepper
4-5 cups cooked Japanese rice
Optional garnishes:
1 boiled egg, finely chopped
2 Tbs. finely chopped fresh coriander or parsley
Heat a little oil in a sauté pan or wok. Sauté the onions, garlic and ginger until the onion is translucent and a bit browned.
Add the meat, and brown.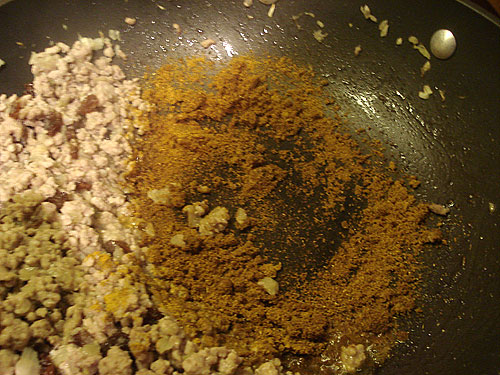 Push the meat and vegetables to one side of the pan. Put the curry powder in the empty part of the pan and stir-roast until darkened and fragrant.
Add 1/2 cup of water, raisins, and tomato paste. Simmer rapidly over high heat until the moisture is almost gone.
Add the hot rice to the pan and mix until thoroughly incorporated. Season with salt and pepper.
Serve with the garnishes on top.
Notes
If you're bringing this as an bento lunch, be sure to let it cool to room temperature before putting it in your bento box or plastic container. Pack the boiled egg, if you're adding it, separately, and crumble it on top of the curry rice just before eating.
Here I have used ground beef, but you can use any kind of ground meat - or, if going vegetarian, use your favorite vegetarian imitation-ground-meat. Crumbled firm tofu that's been slowly dried out over low heat in a pan should work well too.
See also
Submitted by
maki
on 2007-02-13 11:22.
Filed under:
japanese
rice
yohshoku
ground meat
curry
meat