ground meat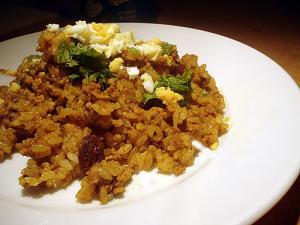 While the standard curry dish in Japan is a kind of curry stew served on plain rice, dry curry, which is a sort of fried rice with curry flavor, is almost as popular. And unlike the stew-type of Curry Rice it's very fast and easy to put together.
What makes it Japanese really is the use of japonica (medium-grain) rice. Dry curry made with Japanese rice makes a great obento lunch, tasty at room temperature or warmed up in the microwave. The stick-together moist quality of the rice keeps it edible where a dryer stay-apart rice like basmati might taste too dry. Dry curry also has the mixture of sweet and savory, which appears quite a lot in Japanese food, especially the kind that comes from the Kanto (Tokyo-area) region where my family is from.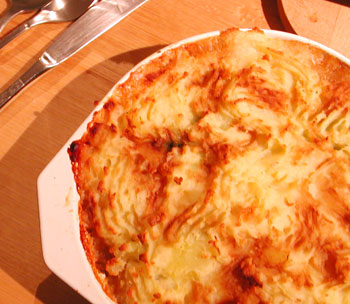 Having spent some of my growing-up years in England, I have a special place in my heart for shepherd's pie, otherwise known as cottage pie. It's definitely winter food though, because nothing is as warming as piping hot shepherd's pie straight out of the oven.