The "Indo Karii" at Nakamuraya in Shinjuku, Tokyo plus the three degrees of curry hotness
One more about curry! Since some of you asked for this, here's how to figure out which level of hotness a curry mix is, if you get one that has Japanese packaging. You'll also get to learn a few kanji characters!
This is amakuchi or "mild". It literally means "sweet mouth".
This one is chuukara or "medium hot".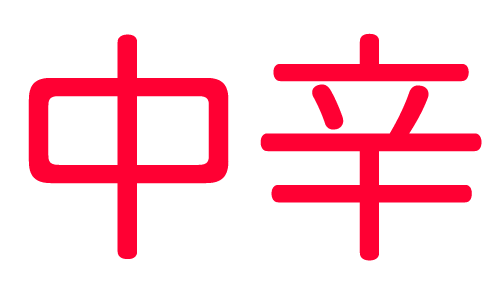 And this is karakuchi or "hot" - or, literally "hot (spicy) mouth". Notice that it uses the same kara 辛 kanji from chuukara and the kuchi kanji from amakuchi?
The above three are the standard levels of hotness. In recent years you may occasionally encounter the kanji below. Read gekikara (notice the 2nd kanji is kara for "hot" or "spicy" again), it means "extremely (or dramatically) hot". You can expect this to be very very spicy.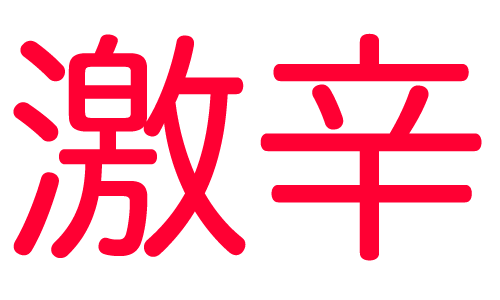 While we're at it, here's another kanji combo (not related to curry) you might see around Japan. Notice it uses the same 激 character as gekikara. Read gekiyasu, it means "extremely cheap" and denotes something that's on sale, or, well, being sold cheap (according to the seller).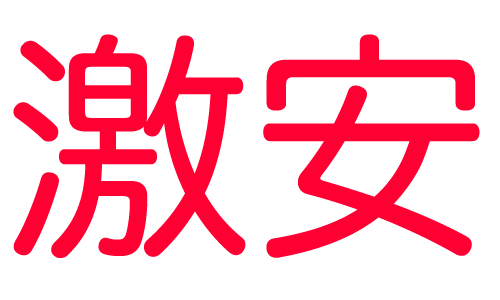 Nakamuraya's "Indo Karii"
By the way, my favorite restaurant curry in Japan is available at the venerable Shinjuku Nakamuyara main restaurant in Shinjuku, Tokyo. Like Taimeiken in Nihonbashi, Rupa in the main Shinjuku Nakamuraya building is a shinise yoshoku (Western style Japanese cuisine) restaurant (they also have some chuuka or Japanese-style Chinese dishes too), that has been in business for more than 80 years. Unlike Taimeiken though, whose operation is basically limited to 2 restaurants and a deli counter at the nearby Mitsukoshi, Shinjuku Nakamuraya has expanded considerably since its humble origins. The company now manufactures and sells snacks, baked and packaged goods via various department stores and other places, as well as operating 20 restaurants and bakeries. Their steamed buns (nikuman and anpan) are even more famous than their curry. While I think there are better manjuu to be had elsewhere, their curry remains a personal favorite after all these years.
The main Shinjuku Nakamuraya building, which houses 3 restaurants, a tea salon, a casual bakery, and a food boutique, has been open at the same address in busy Shinjuku since 1909. Here's their storefront. Most people head to Rupa, the retro-casual yet still elegant (white glove service) yoshoku/chuuka restaurant on the 2nd floor (1st floor for Europeans).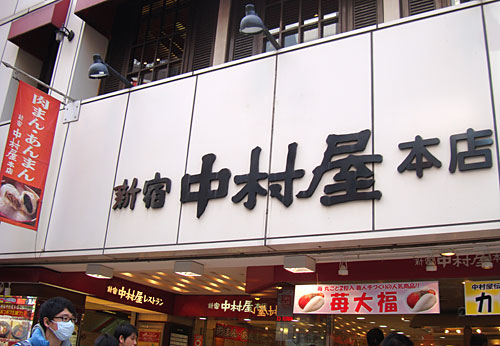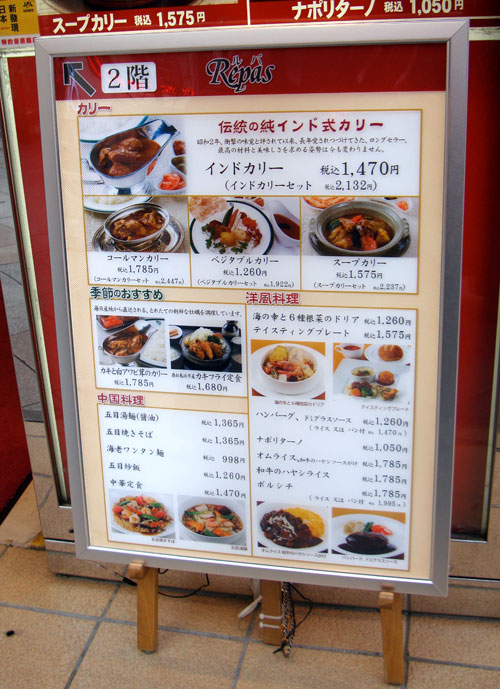 The walls right in front of the Rupa restaurant entrance are lined with velvet-lined, glass-front showcases that display family photographs and models of the food to be had within.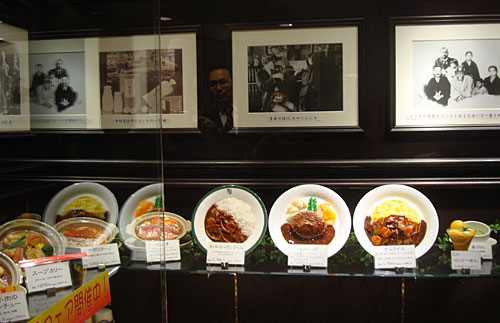 And this is their most famous dish, chicken indo karii (インド・カリー) You'll notice that the they write the 'curry' part as karii as opposed to the usual kareh. It turns out there's a reason for this. While 'rice curry' was initially called "karii" in Japan, it gradually changed to "kareh". But the Nakamuya founders were actually basing their curry recipe on one from India. One of their daughters married Rash Behari Bose, a leader of the Indian Independence Movement who was living in exile in Japan. Bose joined the Nakamuraya company as an executive and introduced 'real' Indian recipes to the family. They've stuck to the "karii" way of pronouncing "curry" ever since, probably to differentiate it from the increasingly European-style curry served elsewhere.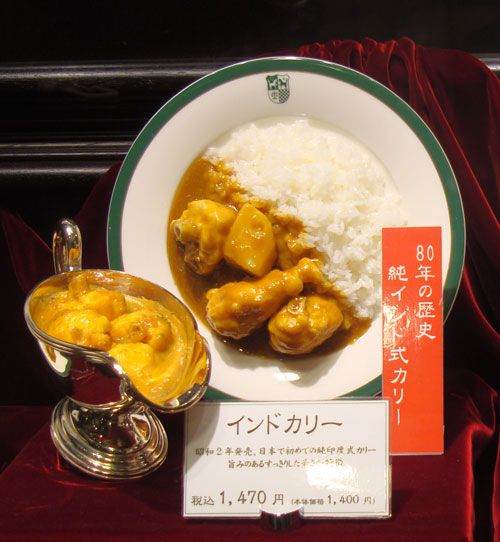 As a child, going to Shinjuku Nakamuraya was a big treat for me. We used to live in Hachioji, on the Chuo (Central) line, and Shinjuko was the big 'outings' town for us. While my mom and sister sampled the whole menu, I stubbornly stuck to the same choices time after time: Indo Karii, followed by a big chocolate parfait. (I wish I still have my 10-year old self's metabolism, that's for sure.) I finally made my way back to Nakamuraya last year, and while I skipped the chocolate parfait dessert, I made sure to have the Indo Karii. It was almost exactly as I remembered it; the curry served in an elegant sauce boat, with fukujinzuke, rakkyo and some vegetable pickles, plus grated Parmesan cheese, on the side. And the rice, of course.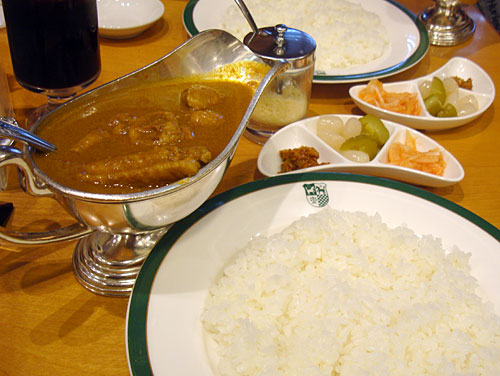 When I tasted it though, I had a strange revelation. This curry didn't taste like Japanese curry at all. In fact it tasted very similar to the curry dishes I got from my local Indial takeout - especially their korma, though a bit more spicy. What do you know? My favorite childhood curry turns out to be as "authentic" an Indian-type curry as you could get in Japan in those days.
Shinjuku Nakamuraya is scheduled to close down their whole main store for major renovations on October 19, 2011, to reopen in 2014. But they will be operating a temporary store on the 6th floor of the Takano building, which is right around the corner. As a matter of fact, Nakamuraya's Indo Karii followed by a fruity dessert from Takano Fruit Parlor, another Tokyo shinise, sounds like a great lunch to me.
Practical Details
Shinjuku Nakamuraya official website (Japanese only)
Shinjuku Nakamuraya main store - until October 19, 2011: Shinjuku 3-26-13. Exit from the East entrance of JR Shinjuku station and walk 3 minutes, or the A-6 exit from the Shinjuku Metro station. Open 11:30 - 22:00. Rupa does not take reservations.
Takano building - from November 15, 2011: The temporary restaurant will be on the 6th floor. I'll post the opening hours when they're posted on the official web site. The Takano Building is located at Shinjuku 3-26-13, right next to the Nakamuraya building. (Same public transportation).
Submitted by
maki
on 2011-09-12 14:33.
Filed under:
food destinations
restaurants
curry
japan
tokyo
shinjuku