wagashi
(Update posted January 2011:) I've updated this recipe for classic tsubu-an or "chunky" style sweet azuki bean paste, originally posted back in June 2006, once again. In March 2010 I added instructions for making it with a pressure cooker - the way I've been making tsubu-an for the last couple of years. Since this was originally posted, I've received a number of comments from people who had trouble with their beans getting soft enough. After some experimentation, I've found that if the beans are fresh you can just add the sugar while cooking without much trouble, but if the beans are a bit old - which is the case more often than not unfortunately - you may run into problems. So, in this latest edit, I've revised the instructions so that people having problems with the (possibly old) beans getting soft enough, will have more success.
A lot of Japanese sweets are based on beans that are cooked with a ton of sugar to a paste-like consistency. Red azuki (adzuki) beans are the most popular kind of beans to use in sweets, and sweet azuki bean paste is called an (餡) or azuki-an (小豆あん).
I've updated this recipe for classic tsubu-an or "chunky" style sweet azuki bean paste, originally posted back in 2006, with instructions for making it with a pressure cooker.
[From the archives: Today (September 23rd) is the first day of the fall o-higan (お彼岸), when ohagi or botamochi are offered to ones ancestors, as well as oneself! My mother and my grandmother always made these at home around this time of year - I love their not-too-sweet stickiness. O-higan ends on the 26th, so if you like wagashi, why not give these a try? Originally published March 2007.]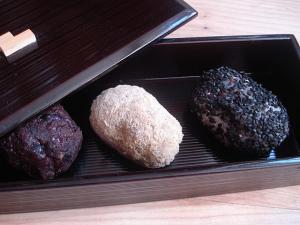 The seven days centered around the bi-annual days of the vernal equinox is a Buddhist festival period known as higan (or o-higan for the honorific term) in Japan. The fall (autumn) higan is aki no higan, and the spring higan is haru no higan. Since the day of the spring equinox is March 21, we're about to enter the haru no ohigan period.
During haru no higan, a sweet confection called botamochi is eaten. The mochi part means sticky, pounded rice, and the bota part comes from botan, or the tree peony. Botamochi is supposed to ressemble a tree peony flower.
During the autumn equinox (aki no higan or simply (o)higan)) period, a very similar confection called ohagi is eaten. This is supposed to look like a hagi or bush clover flower (Latin: Lespedeza thunbergii). Botamochi and o-hagi look the same to me, even though a hagi flower looks nothing like a tree peony flower, but the good old ancestors were probably a lot more imaginative than I am.
Botamochi and o-hagi are made of sticky rice and sweet tsubuan, 'chunky-style' sweet azuki bean paste. They are a bit fiddly to make but not difficult, especially if you use one of my favorite cooking helpers, plastic cling film. Since these are best eaten freshly made, it's well worth the effort to make them at home if you like bean-based Japanese sweets. You can adjust the amount of sugar in the tsubuan to your taste. Here I have made three variations: coated with black sesame seeds; coated with kinako (toasted soy bean powder); and the most traditional form with the rice cake wrapped in a layer of the tsubuan.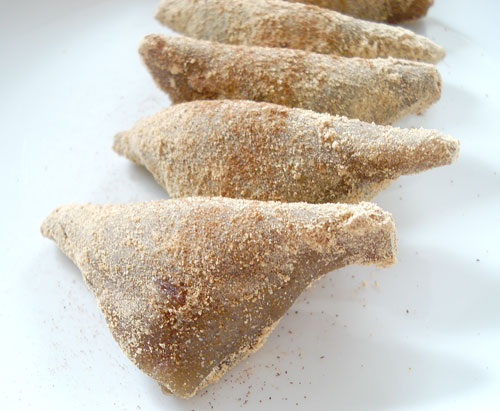 Just about anyone who takes a trip to the historical city of Kyoto goes home bearing a box of yatsuhashi (八つ橋), a small delicate sweet that is flavored with nikki or cinnamon. While I am not from Kyoto, I get a fit of nostalgia for yatsuhashi on occasion. Fortunately they aren't that hard to make at home. Added bonuses: they are more or less fat free, gluten-free, and vegan!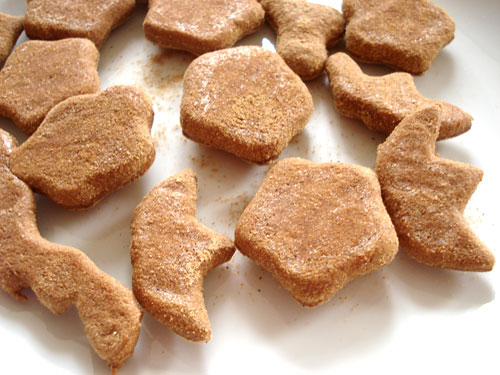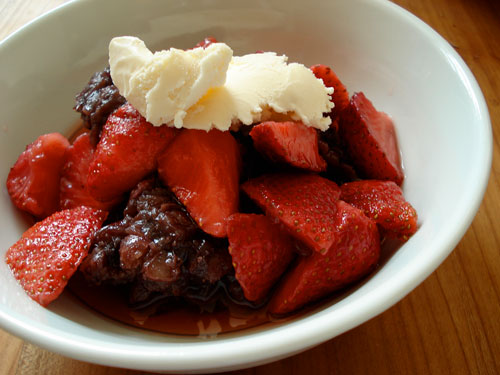 There are some food combinations that you think just shouldn't belong together, but do so well. Strawberries with sweet beans? Surely not, you think, until you taste an ichigo daifuku - a strawberry wrapped in some azuki an and thin gyuuhi, a dough made of rice. I've had ichigo daifuku on my mind lately but have been too lazy to make the dumplings. This is a very easy alternative. Arguably it's even better.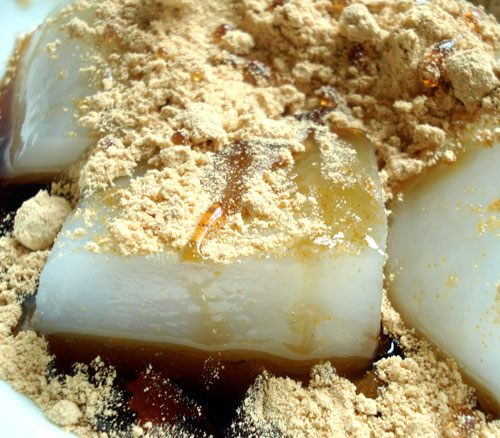 I wrote about the use of kuzu powder in the goma dofu (sesame tofu) recipe. This time it's a very traditional, simple sweet dish using kuzu.
Kuzumochi are sticky 'mochi' cakes made with just kuzu powder, sugar and water. The texture is somewhere in between gelatin and mochi made from rice flour - wobbly but not too sticky. It's traditionally served chilled, so it makes an interesting, gluten free (and vegan) summer dessert.
Someone alerted me to this entry on the Health.com blog which quotes me. (Health.com is a Time Inc. property.) I just wanted to set some things straight, because a couple of the statements there are just not right.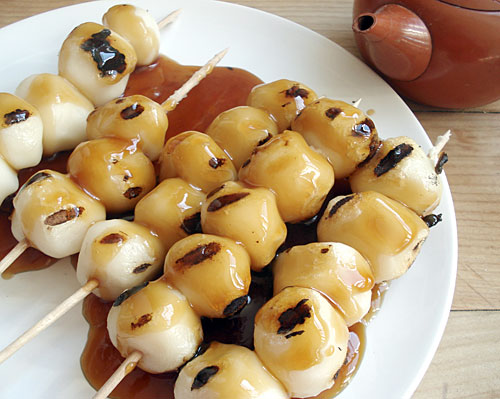 Even if I am Japanese, I don't like all Japanese food. And I must confess that I don't like a lot of traditional Japanese sweets that are based on sweetened beans. For the most part they are way too sweet for me, and if I make them for myself I'm always adjusting the sweetness level, as with my ohagi or botamochi.
Mitarashi dango, however, are my absolute favorite traditional sweet. They are not really that sweet really - that shiny caramel colored sauce (which is called mitarashi sauce) is sweet and savory at the same time. It goes perfectly with the bland, slightly chewy dango or dumplings. (Dango is the name for unfilled solid dumplings.)
You may see the dango just plained boiled more often than not. But grilling the dango makes them so much better, in my opinion.