thanksgiving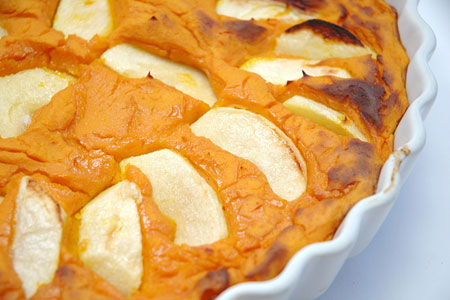 (The 10 year anniversary of JustHungry is at the end of this month. To commemorate this event I'm highlighting some of my favorite posts from the archives. This very healthy squash pudding or crustless pie would make a very good side dish for Thanksgiving dinner. It's vegan, so anyone can enjoy it without worry! It is not that sweet - probably less sweet than many traditional side dishes. I hope you give it a try! Originally on published November 19, 2007, and tweaked a bit since. If you want this to be gluten-free, choose an appropriate type of miso. The miso adds a small but critical bit of umami and richness.)
You know how certain diehard carnivores react to words like 'vegan' 'no dairy' and, gasp, 'tofu in a sweet dish'. There's no reason to tell them that all of these phrases are applicable to this smooth, creamy baked squash pudding, until they've actually eaten and enjoyed. It even is devoid of white sugar, though it is sweetened with maple syrup. The simple combination of creamy squash pudding, flavored and sweetened with real maple syrup with the pure sweetness of the squash shining through, and sweet-sourness of the apples works perfectly together. (The tofu merely adds the creamy texture; you don't taste it at all.) It's rich, but rests very lightly on your stomach - not a bad thing after a heavy main course.
From the archives. I did this 3 years ago, and will likely never do it again. This is offered as a cautionary tale should you be contemplating creating a Turducken for your Thanksgiving or other holiday feast. Originally published on December 28, 2005, and edited slightly.
I am not sure what came over us. We were planning a quiet, simple Christmas dinner - maybe roast a goose, or a nice chicken or two, or something. But then someone blurted out the infamous words.
"Hey, why don't we try a Turducken?"
In case you are not familiar with turducken, it is basically a Tur(key) stuffed with a duck(en) stuffed with a (chick)en. It supposedly originated in Louisiana, and has been popularized by famed New Orleans chef Paul Prudhomme.