All-day Boston baked beans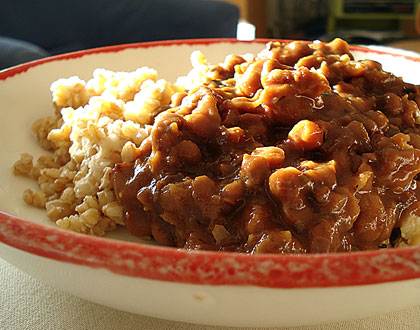 I often think of a day like a pie. I wish the pie could be bigger, but it's always the same size, 24 hours. Cutting down on the portion for "Sleep" never really works, so the other portions get re-arranged according to priorities at a given time.
At the moment the "Work" portion of the pie is rather large, so kitchen time is unfortunately at a minimum. That doesn't mean that I can't eat food that has been cooked for some time for that comforting home-made taste though. It's the long, slow, cooking with minimal kitchen time approach.
The weapons needed for this approach are either an oven or electric range, or a slow cooker / crock pot. I wouldn't do this on a gas range unless you can be home for the time your pot of whatever is cooking, just in case something happens. A slow cooker is a great addition to any kitchen, if you have a busy life - and who doesn't? The cooler months are perfect for this type of food.
Some long slow-cook/short kitchen time dishes do need some preparation. Stews for instance - just throwing everything uncooked in the pot can result in an insipid mess. You need to brown the meat, sweat the onions, etc. Boston baked beans, on the other hand, need no preparation at all. If you have all the ingredients on hand, the kitchen time is maybe 10 minutes total, including the time needed to check the pot and stir. You don't even need to pre-soak the beans. The cooking time is not really fixed either - it can be 8 hours, or 12 hours, or even more. The longer it's cooked, the deeper the flavors become. The beans get softer and mushier of course, but mushy beans really taste great. (You may need to add some more water to avoid it turning into one lump, if you leave it cooking very long.) You could start this in your slow cooker or oven early in the morning, and come back to a house smelling like dinner.
The traditional Boston accompaniment for baked beans is Boston brown bread, but I just like to have it with some plain rice or other grains like spelt (which is what is used in the photo). Rice and beans - the universal complete protein combo. They can be served the British way, over toast, too.
I have given vegetarian (even vegan) and omnivore versions. Both are very good. If you have only ever had beans out of a can, you have got to give this a try at least once.
Boston baked beans
1 lb or 500g bag of small white beans (called navy beans or cannellini beans or haricot beans, depending on where you are)
1 large onion
4 garlic cloves
1 chunk of fresh ginger
4 Tbs. molasses, or 4-5 Tbs. dark brown sugar
1 chunk of smoked bacon or ham, about 100g / 3 oz and/or 4-5 dried chipotle (see notes)
2-3 bay leaves
2 tsp. salt
Several grinds of black pepper
1 tsp. dried mustard powder, or 1 Tbs. prepared mustard (brown or Dijon style..whatever you have around)
1 tsp dried thyme
1 tsp. ground cumin
1 tsp. cayenne pepper
1/2 cup ketchup
water
Equipment needed: an oven and a large, heavy-bottomed pot, or a crock pot or slow cooker.
Slice the onion. Smash and roughly chop the garlic. Peel and grate the ginger.
Put all the ingredients into the pot. Pour in water to about 1 1/2 inch / 4 cm above the level of the beans. Mix well.
Set your oven temperature to 250°F / 120°C, or your crock pot / slow cooker to around 200°F / 93°C. Put your pot in or turn it on, depending on what approach you're taking. Set the timer to 6 hours. At that point, check on the pot - the beans may be a bit hard, or not, depending on how dry they were to start with. Usually I find it needs at least 8 hours for the beans to get really tender and sort of caramel-colored. Add water as needed if it looks dry. (If you can't be there to check at the 6 hour mark, just add more water to start with so it doesn't dry up.)
Serve with carb of your choice. The perfect accompaniment is a crisp, green salad of romaine or cos lettice, with a sharp vinegarette.
Leftovers get even better.
Notes
The bacon or chipotle give the beans a slightly smoky flavor, so you can use both, or just one. I would just fish out the bacon afterwards since it would have given all of its soul to the beans, though you can eat it if you want, of course. The chipotle will probably just disintegrate, but if you are left with any inedible skins just take them out before serving.
You may regard the addition of ketchup as blasphemy, but it does add a bit of sour-sweetness plus color. Omit it if it goes against your religion.
To make this appeal more to unrelenting carnivores, add some whole wiener-type sausages during the last 15 minutes or so of cooking.
Submitted by
maki
on 2006-10-17 18:18.
Filed under:
legumes
winter
slowcook