soba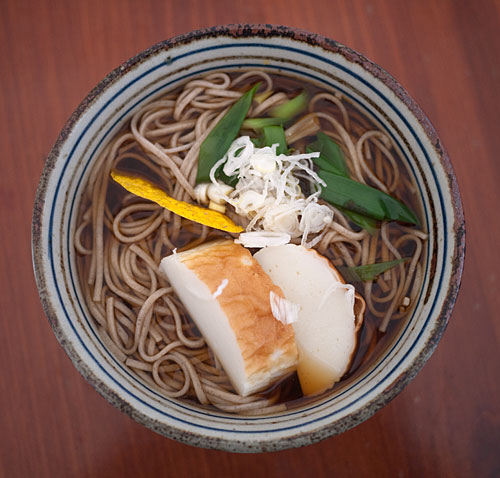 A new article in The Japan Times about toshikoshi soba. Plus, a little about my favorite food-eating model, Lena-chan, and her brother Lyoh.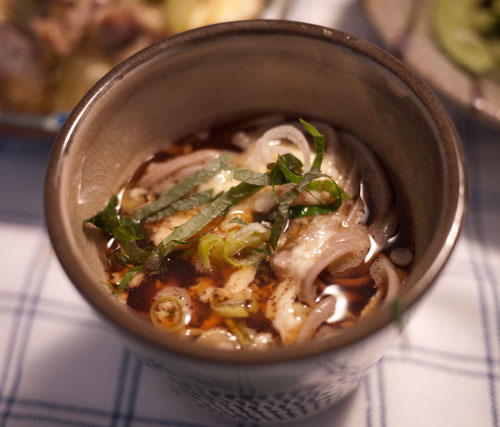 Here's a rather unusual (to Western tastes anyway) way to enjoy cold soba noodles - with slimy grated nagaimo root.
I've updated this very popular article a little bit and pushed it up from the archives, since it is the season for cold noodles now. I'll also have a followup recipe soon for the perfect accompaniment to zaru soba. Originally published in May 2007.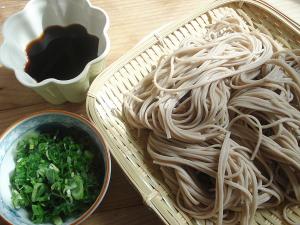 Most of Japan gets very hot and humid in the summer. To combat the heat, a number of dishes meant to be eaten cold have been developed. One of the main cold summer dishes is cold noodles.
Soba noodles, made of soba (buckwheat), are available all year round but are really popular when the heat turns unbearable. As with other cold noodles, they are prepared in a way that may seem strange if you're used to pasta and other Western-style noodles. Unlike pasta, most Japanese noodles, including soba, are rinsed rather vigorously in cold running water. This not only cools them down but gets rid of excess starch, which adversely affects the flavor of the noodles. Many recipes written in English omit this critical rinsing step: you don't just plunge it in cold water, as many directions incorrectly state, but you actively wash the noodles. Once you've done this once, you will definitely notice the difference. I've given detailed instructions for this procedure below.
Dipped into a properly made sauce or soba tsuyu, with plenty of spicy condiments or yakumi, there's nothing more refreshing to eat on a hot summer evening.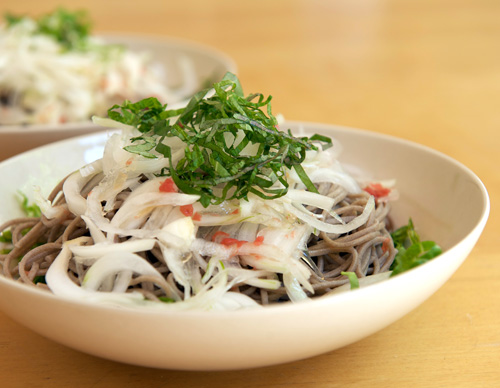 We still haven't found a house to buy (though we may getting close), and due to the way things work in France, we are probably going to be nomads for at least 4 more months even if we put in an offer for a place tomorrow. I've gotten more used to cooking in tiny holiday home kitchens, but I'm still not up to anything too complicated - or in other words anything that requires the use of more than 2 burners at a time.
Fortunately it's now summer, which means lighter, less complicated meals anyway. This salad, which can be a meal on its own, a starter or a light side dish, features sweet salad onions (spring is the season for them, at least around these parts), sliced paper-thin and refreshed in ice cold water. The tart dressing features umeboshi (pickled plums) and uses no oil, so this is an almost fat-free, fairly low calorie dish, that's vegan to boot.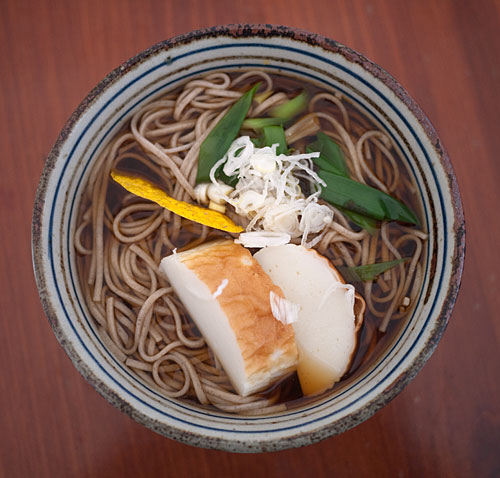 Revised and updated: This recipe for Toshikoshi Soba, or Year-End Soba, traditionally eaten in Japan on New Year's Eve, is one of the earliest recipes posted on Just Hungry. I've expanded the directions so that you can use various methods for making the soup. Originally posted December 30, 2003.