Sweet onion and soba salad with fat-free umeboshi dressing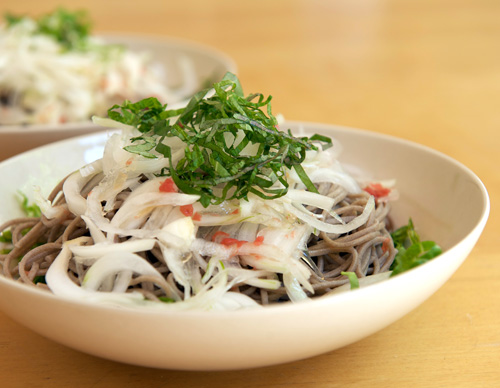 We still haven't found a house to buy (though we may getting close), and due to the way things work in France, we are probably going to be nomads for at least 4 more months even if we put in an offer for a place tomorrow. I've gotten more used to cooking in tiny holiday home kitchens, but I'm still not up to anything too complicated - or in other words anything that requires the use of more than 2 burners at a time.
Fortunately it's now summer, which means lighter, less complicated meals anyway. This salad, which can be a meal on its own, a starter or a light side dish, features sweet salad onions (spring is the season for them, at least around these parts), sliced paper-thin and refreshed in ice cold water. The tart dressing features umeboshi (pickled plums) and uses no oil, so this is an almost fat-free, fairly low calorie dish, that's vegan to boot.
Recipe: Sweet onion and soba salad with umeboshi dressing
For 4 starter sized portions or 2 main dish portions
For the dressing:
7 Tbs. (or 1/2 U.S. cup minus 1 Tbs.) vegan dashi, or the same amount of water with 1/2 tsp. of konbu seaweed based or (for non-vegetarians) bonito-based dashi stock granules
4 Tbs. freshly squeezed lemon juice
About 3-4 umeboshi, or enough to make 1 Tbs. ume paste
2 Tbs. soy sauce
For the salad:
1 200g (about 7oz) pack of soba noodles
1 large or 2 medium sweet onions (see notes)
4-5 green shiso leaves
romaine or cos lettuce leaves
To make the dressing:
Take the pits out of the umeboshi, and chop the pulp up finely. You should have about 1 tablespoon of ume pulp. (If you can find something called 'ume paste', which is pureed umeboshi, you can use that to save some time.)
Put all the ingredients into a jar and close the lid tightly. Shake vigorously to combine. Refrigerate until you are ready to use it. (It will keep for about 3 days in the refrigerator.)
To make the salad:
Slice the onion as thinly as you can manage. Put the slices in a bowl of ice water.
Bring a pot of water to the boil, and cook the soba noodles following the detailed instructions here. The rinsing stage is very important here, otherwise the soba noodles will become gummy!
Shred the lettuce leaves - you should have enough for about 1 cup per plate. (Alternatively you can just line the plates with whole leaves, but I prefer to shred it.)
Finely shred the shiso leaves.
To assemble:
Line each plate with the lettuce.
Mount the soba noodles on top.
Drain the onion slices and pat them dry with kitchen towels. Mound on top of the soba noodles. Top with a sprinkling of the shiso leaves.
Pour the dressing over the salad, making sure everyone has an equal amount of the umeboshi bits.
Each diner should then mix the salad thoroughly before eating.
Notes
You can make all the components in advance, and assemble the salad as you're about to serve it.
While this is a vegan salad, the flavors go very well with grilled meat or sausages. For a lighter version, omit the soba and just make a salad of the onions and lettuce.
To make this a complete one-dish vegan meal, top it with tofu cubes, and optionally increase the soy sauce in the dressing to 3 tablespoons. For a fun and so not vegan variation, top with crispy bacon bits, and/or slices of poached chicken breast.
The onions
Around these parts sweet white onions are sold as 'oignons doux'. You can see them at the markets in big bunches like these.
In the U.S. look for varieties like Vidalia, Walla Walla and Maui.
By putting them in ice water, you do get rid of much of the 'oniony-ness' that makes you somewhat pungent, but you may want to avoid eating this salad just before a job interview or blind date, to be on the safe side.
Submitted by
maki
on 2009-05-25 10:48.
Filed under:
japanese
lighter
vegetarian
summer
noodles
vegan
salad
soba