pork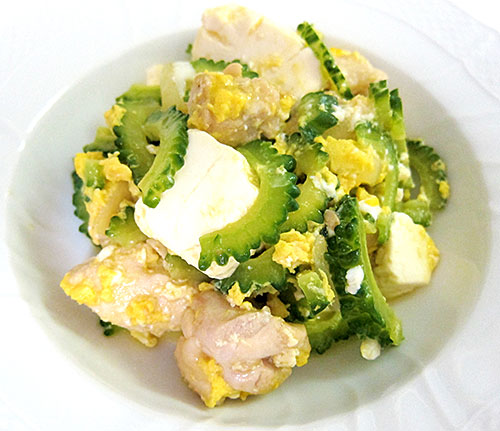 About bitter gourd or bitter melon, called nigauri in Japanese and goya or go-ya- in Okinawan. Plus, a recipe for the most homey of Okinawan dishes, goya chanpuru or champuru.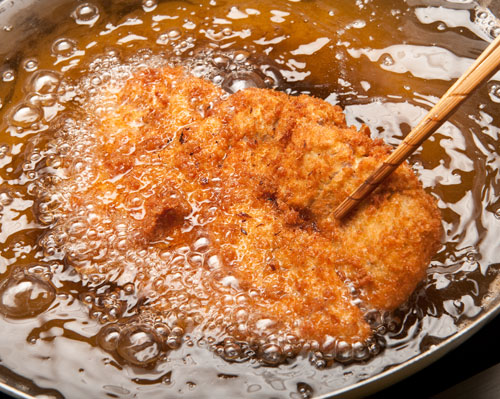 A recipe for katsudon (a fried pork cutlet on rice topped with scrambled egg), and the history of pork in Japan.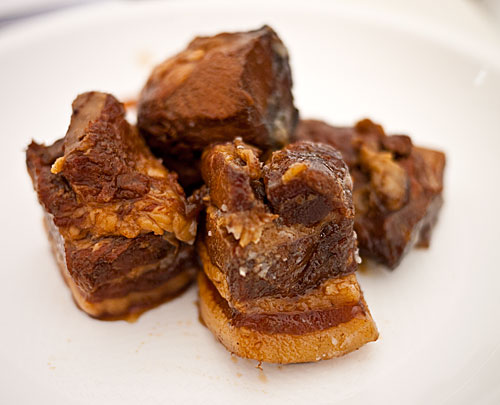 For the last month or so, I've been obsessing about rafute, simmered Okinawan pork belly.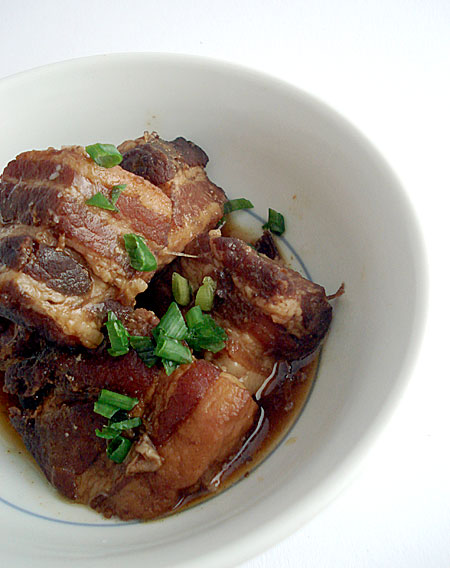 Today is my mother's birthday. In her honor, here is one of the few meat dishes that she still allows in her diet: braised pork belly, or buta no kakuni. It's amazing that she will still eat this, because basically pork belly is bacon without the smoke or salt cure. And in buta no kakuni the bacon, I mean belly, comes in big chunks of layers of meat and unctuous pork fat.
Pork belly recipes exist in other cuisines, especially around northern Europe, but I can't really stand most of them, even if people in Germany and Britain rave about roasted pork belly with crackling. (The crackling part is ok, but the meat part…I don't know.) I like fat in moderation as much as anyone, but that amount of gelatinous pork fat is rather hard to bear. That is unless it's been slowly braised in a salty-sweet liquid for hours and hours, until both the fat and the meat melt in your mouth.
Very similar recipes exist in Chinese (from Peking-style especially) cuisine, and a great Okinawa speciality is rafute. This is a bit like rafute but has a bit more spice and things in it, so it's closer to the Peking style I think. Either way it's a great treat once in a great while. It's definitely a cold weather dish.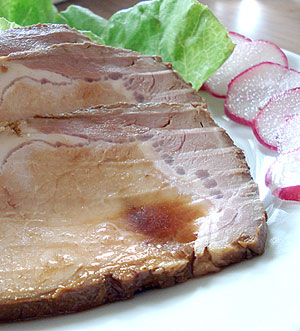 With summer just around the corner, I like to think of food that can be made well ahead and tastes great served cold, or at least cool, to keep me out of a hot kitchen. The vegetable part of this is usually taken care of with seasonal vegetable salads and the like. If the protein part means meat, I like to have pre-cooked pieces tucked away in the freezer.
One of my favorite cold meats is poached and marinated pork, or nibuta. (Ni means to cook in liquid, and buta is pig.) It's very easy to make, stores beautifully in the refrigerator for about a week or much longer in the freezer, and of course, tastes great - savory, slightly sweet, and very juicy. It can be sliced very thinly or julienned for one-dish meal salads or in sandwiches, or chopped up and added to stir-fries, wraps, and so on. It's a great addition to a bento box. It can be cubed or coarsely ground and used instead of char siu (roast pork) in steamed buns or bao. The possibilities are only limited by your imagination.
There's one unusual 'secret ingredient' in the poaching liquid, umeboshi or pickled plum. You can omit this if you like, but adding just one umeboshi seems to de-fat the meat a bit more than just poaching, plus making it taste a bit cleaner and fresher in an interesting way.
Last night I finally watched the third episode of Kill It, Cook It, Eat It, as it aired instead of recording it for later viewing, fast-forward button at the ready. (My reviews of Part 1 and Part 2.) In this episode, it was the turn of pigs to be slaughtered. (Warning: some gory details follow…warning put here since a reader complained about a previous entry. When animals get slaughtered, it is gory.)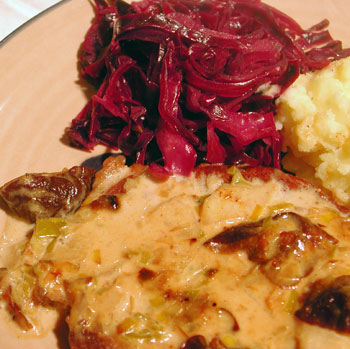 It's the final day of the Masterchef ingredient test challenge that I set out to do some weeks ago. My thoughts on the whole experience will follow, but here is the last ingredients list: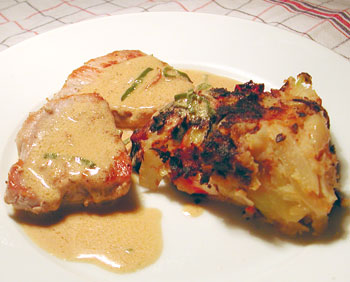 The ingredients for the 9th day (1st day of the 3rd preliminary round) of MasterChef were: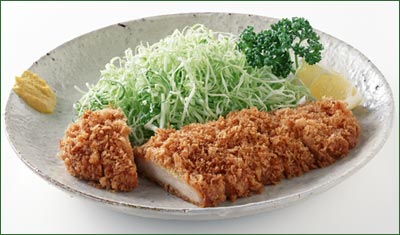 tonkatsu, breaded deep fried pork cutlets
Tonkatsu is a typical Japanglish word - ton is pig or pork, and katsu derives from the word cutlet. Tonkatsu is one of the western-style Japanese dishes that can be classified as yohshoku. However, tonkatsu is so popular in Japan that there are even restaurants that only serve tonkatsu and similar items such as kushikatsu (bite-sized fried bits of pork and other things on a skewer).
One of the key ingredients for tonkatsu, or any breaded deep-fried item in Japanese cooking, is panko. In recent years panko has been adopted by the trendy world of cuisine, but it's not anything special - it's just dried bread crumbs. The thing that makes panko unique is that the flakes are bigger and crunchier than the kind sold by non-Japanese food manufacturers.
You can buy panko ready-made at Japanese food stores, or make your own. To make your own, take off the crusts of day-old good white bread. Flake the white part of the bread by hand, not the food processor, which would turn the bread into powder. Spread out the bread crumbs on baking sheets and dry in the oven at a very low temperature until the crumbs are thoroughly try - not colored, just crunchy. You can store this in tightly sealed plastic bags or containers for quite a long time.