Masterchef challenge day 24: Pork chops in Cider, Prune and Apple Sauce With Red Cabbage; Rhubarb with Two Creamy Cheeses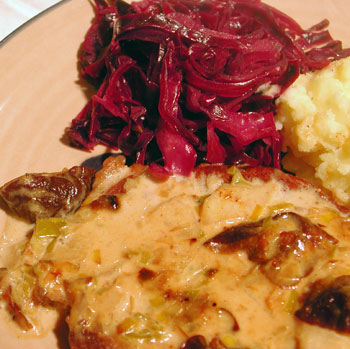 It's the final day of the Masterchef ingredient test challenge that I set out to do some weeks ago. My thoughts on the whole experience will follow, but here is the last ingredients list:
Red cabbage
Apples
Swede
Cream cheese
Cider
Prunes
Pork chops
I can't say that this last list was overly inspiring to me, but I made a dish that while not particularly photogenic, did taste pretty good. The key here is the absolutely yummy sauce, made from cider, apple cider vinegar, chopped up apple and prunes, chopped leek, light cream and the pan juices from the pork chops. I cooked the red cabbage in cider also, and they came out crispy yet tender. Accompanying this was some good old mashed potatoes.
A key ingredient is the cider. Cider in this case means a sort of apple wine, that is fermented with about 7 to 8% alcohol. It's not the kind of fresh apple cider you see in the U.S. It's sort of similar to hard cider, and you can certainly use that. In my case I used something called Apfelwein trüb, which is an unfiltered, lightly alchoholic (4.4%) unsweetened apple beverage with about 10% pear juice.
For my second dish, I cheated just a bit by using rhubarb again, with a big spoonful of a mix of equal parts cream cheese and quark with a bit of sugar. But I think one of the basic ideas pushed by the Masterchef series is that how important it is to cook with seasonal ingredients, and that's what I'm doing here. If I were doing this at the time when the show was filmed, then I would have done some sort of baked apple thing.
Quark is a type of fresh cheese that is sold in Germanic areas; it's rather similar to French fromage blanc. Fromage blanc is sold in "gourmet" stores in the U.S. (I've seen it at Whole Foods and Fairway in New York.) You can substitute plain yogurt, which would be a bit more loose and acidic, so you may want to add a bit more sugar. In the U.K. you should use Greek yoghurt. Please follow the very easy recipe for baked rhubarb in my recent entry.
To finish this meal within the alloted 50 minutes, start preparing the rhubarb and putting it in the oven. Then peel the potatoes and get them boiling. Shred the cabbage and start cooking them, sear the pork chops, make the sauce, and finish off the pork chops. If you have more time though, I would recommend slowly simmering the pork chops in the sauce for at least 40 minutes or more longer. Meat is a funny thing: first you have tender, rare-to-medium stage, then you get rapidly get to tough as leather stage. After that though if you cook it long enough it will soften and relax. So remember: for tender pork chops, cook then briefly or very long.
Unused ingredient: swede. A swede is the British name for those big, purple-necked turnips. There are very few vegetables I dislike, and swedes are one of them. I love the tender little white Japanese turnips but these big, flavorless, often woody swedes are not worth coming near a plate, in my opinion.
The following amounts serves 4 people.
Red Cabbage In Cider
1 small head of red cabbage, core removed and finely julienned
1 large onion, sliced thin
Buter or oil for cooking
2 cups cider
1/2 cup sugar
Salt and pepper
Heat butter or oil or a mixture of both in a large heavy pan. Add the onions, sauté a little then add the cabbage. Add the cider and sugar. Let it cme to a boil then lower the heat the cook, stirring frequently, over a medium-low heat for about 20 minutes or until the cabbage is crisp-tender. Season with the salt and pepper.
Pork Chops in Cider Apple Prune Cream Sauce
4 medium pork chops
1 cup chopped white part of leek
1 small apple, peeled, cored and chopped up
about 10 pitted pruned, roughly chopped
1 cup cider
2 Tbs cider vinegar
1 cup light cream (US: half and half)
Butter
Salt and pepper
Lightly season the pork chops with salt and pepper. Heat up a large nonstick frying pan. When the pan is hot, add a little bit of oil, and put in the pork chops. Brown the pork chops on each side, then take out of the pan and set aside.
Add about 1 Tbs. of butter to the pan, and sauté the leek until limp. Add the cider and vinegar, and add the apple and prunes. Stir around to loosen any bits stuck to the bottom of the pan. If you see any juice coming out of the pork chops, add that to the pan too. Let cook for a couple of minutes, then add the cream. Lower the heat and simmer for about 5 10 minutes over medium-low heat. Season with salt and pepper.
Add the pork chops to the sauce. At this point either simmer for a couple of minutes then take off the heat, or (better) simmer for 40 + minutes longer.
Serve the pork chops with the red cabbage and mashed potatoes, spooning plenty of sauce on top.
Two Creamy Cheeses
This is barely a recipe at all.
4 Tbs. cream cheese
4 Tbs. quark, fromage blanc, or plain yogurt
2 Tbs. sugar
a few drops of vanilla extract
Blend all together until the sugar melts.
Serve on top of cooked fruit, such as Baked Rhubarb.
Submitted by
maki
on 2006-03-10 17:34.
Filed under:
masterchef
rhubarb
winter
pork