chefs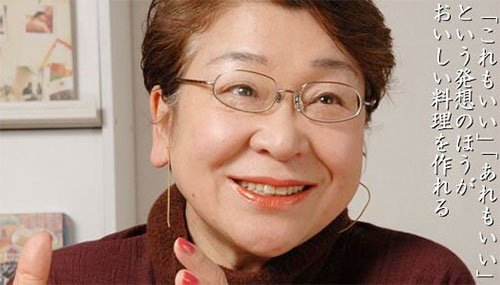 Yesterday, it was revealed that cookbook author and TV chef, presenter and teacher Katsuyo Kobayashi (小林カツ代) had died on January 23, 2014. She was 76 years old. She was one of the biggest culinary influences in my life.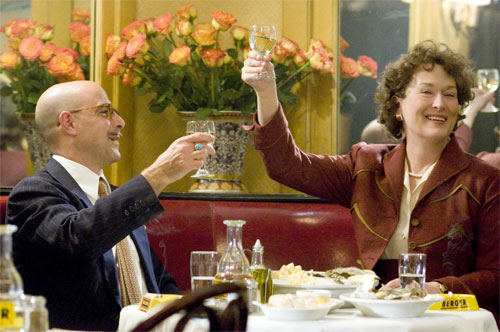 Last night I finally got to see Julie and Julia. Here is my very long and otaku-ish take on it.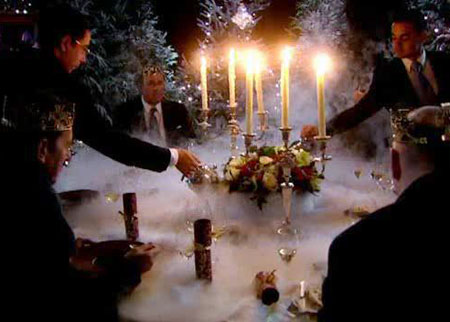 The nuttiest TV food show I've ever seen aired last night. Despite the rather somber mood around here these days, we were laughing out loud several times as we watched it. If you missed it you'll want to catch a rerun.
The sister site to Just Hungry got discovered by several sites overnight (while I was not at the computer, as always happens in such cases) and the traffic went up about 100 x, mainly thanks to it being on the del.icio.us popular page for a while. I haven't even 'officially' launched it in my mind, since I am occasionally breaking it by fiddling with the engine (Drupal, for the technically inclined) in the background, but it's very gratifying to know that people are interested in the subject. I think it must be timely.
Celebrity chefs have been around for some time now, but they seem to have exploded all over the place in the last decade, mainly through food related TV shows.
The restaurant food world is becoming similar to the world of fashion. There are the actual restaurants, most of which are too expensive for the majority of the population - people without generous expense accounts or oodles of money - other than for a rare treat. These are the couture studios (as in real couture, not 'couture' as it's used to describe anything that's not a plain t-shirt these days) of the food world. Then you have all the merchandising, from cookbooks to dodgy cookware to frozen dinners bearing a chef's name. Those are the perfumes and bags and H & M special-designer label lines of the food world.
Frank Bruni gives the steakhouse at the Penthouse Executive Club a pretty entertaining one star review. "Hmm, where have I heard of this place before" I thought, and rummaged through my stacks of recorded food shows. Ah, celebrated don't-call-it-molecular-gastronomy chef Heston Blumenthal paid it a special visit on his TV show last year, to show his drooling mostly British viewers er, great looking meat. I mean the aged sides of beef, of course.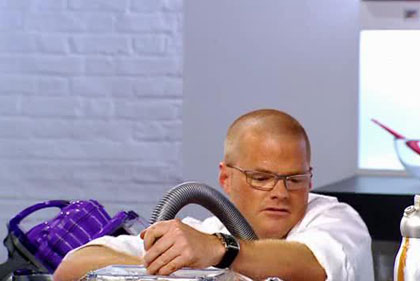 Heston Blumenthal makes aerated chocolate with a vacuum cleaner, among other things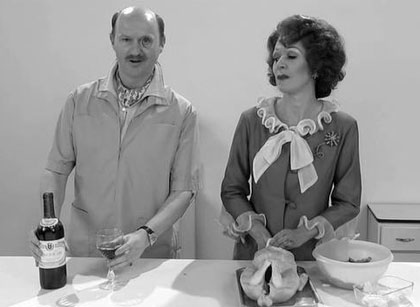 Mark Gatiss as Johnnie and Julia Davis as Fanny Cradock on Fear of Fanny
Fear of Fanny is the second in a series of biopics being aired by BBC Four this month. This time, the subject is Fanny Cradock, who ruled as a TV chef in the U.K. in the '60s to the '70s.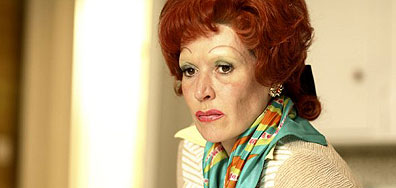 Julia Davis as Fanny Cradock in Fear of Fanny
It's a lazy Sunday afternoon (mainly because I'm avoiding the task of Defrosting the Freezer...more about that later) and I'm sitting here contemplating TV Reality Cooking Shows.
Someone who had read my rather detailed reviews of Top Chef, as well as my adventures following the BBC Masterchef challenges, asked me recently why I didn't do similar reviews of Hell's Kitchen.