TV: Fear of Fanny - resurrecting Fanny Cradock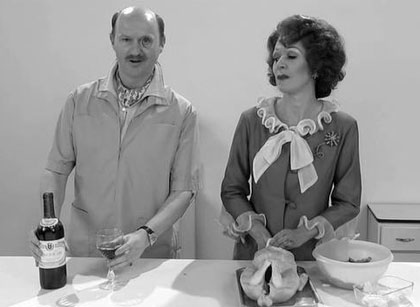 Mark Gatiss as Johnnie and Julia Davis as Fanny Cradock on Fear of Fanny
Fear of Fanny is the second in a series of biopics being aired by BBC Four this month. This time, the subject is Fanny Cradock, who ruled as a TV chef in the U.K. in the '60s to the '70s.
I've had a long standing fascination with Fanny Cradock, so I was really looking forward to this portrayal of her. All in all, it didn't disappoint - Julia Davis (the star of Nighty Night) seemed to capture Fanny's bossiness and brittleness very well. The makeup people did a pretty good job too. Below on the left is Julia Davis as Fanny, and the real Fanny, who was an early advocate of cosmetic surgery.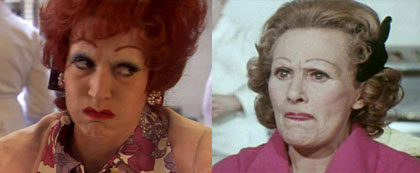 What I liked the most about Fear of Fanny was the way in which Johnnie Cradock was portrayed. He was the stooge and henpecked husband on the TV shows, and I'd even assumed, wrongly, that he just played the part of Fanny's husband. Despite the fact that they couldn't get married since her first husband was still alive (and she wouldn't/couldn't divorce him), Johnnie was really her husband in the truest sense, and supported and helped her throughout their 50 + years together. He must have really loved her, because she must have been a fairly impossible woman to live with.
The important events of Fanny's television career are faithfully reproduced, such as an interview on the Michael Parkinson show (with some clever splicing in of a young Parky with Julia as Fanny), an infamous show where a BBC journalist visits their house for dinner and is served an assiette de fruits de mer (a seafood platter, mostly of shellfish), some of which was still sort of alive and moving, and her very first cooking show for the BBC with the producers commenting on what makes her so compelling to watch. Most of all, it portrays the one TV appearance that was to be her downfall, where she totally humiliated a woman who had won a competition to prepare a banquet. Fanny expressed such horror at the poor woman's menu, and put her down so horribly, that the public turned on her, and her career as a television cook was abruptly over. (She did continue to write after that.) Julia Davis' version is not as nasty perhaps as the original, but it captures the horror of the moment very well.
The bonus materials
The best part of this 'season of famous women in food' on the BBC for me is not the dramas themselves, but all the extra programming that's been on around that theme. There has been a programme hosted by "Fat Lady" Clarissa Dickson-Wright about Hannah Glasse, a best-selling cookbook author from the 18th Century, and an interview with Marguerite Patten, the first TV cook. They are also showing the 2002 documentary series, "The Way We Cooked", which profiles six TV chefs who were, or are, hugely influential at that time in Britain - Delia Smith, Keith Floyd, Fanny Cradock, Graham Kerr, Gary Rhodes and Jamie Oliver. (I first saw the Fanny/Graham episode a couple of years ago when Margaret very kindly send me a video tape of it. I've treasured that tape every since but it's great to finally have a digital version of it for my archives.) The Fanny/Graham episode has a clip from the original Fanny-disses-poor-woman-and-English-cooking incident and it's interesting to compare it with the version in Fear of Fanny.
And, for Fanny fans, a great bonus is that they are showing two of her original shows, in all their glory (the second one is airing tonight). I don't actually remember watching Fanny on TV since her heyday was before my time, so it's fascinating to see the real version of her. She's like a very authoritative, slightly scary teacher, with a twinkle in her eye and an outrageous sense of style - her face is pulled tight, eyebrows halfway up her forehead, caked in heavy makeup, her hair carefully coiffed, topped off with with a huge ribbon. She's more out there than many drag queens. (She also named her dog Mademoiselle Lolita Saltina Cradock.)
Her sense of style, or arguably the lack of it, extended to her food. She loved color and making a splash. She was really I suppose reflecting her times - the '60s and '70s were after all a very splashy, colorful period in design and everything else. Why not colorful food?
These are the kinds of foods associated with Fanny in peoples' memories, even though she gave lots of advice and recipes for much less outrageous looking food: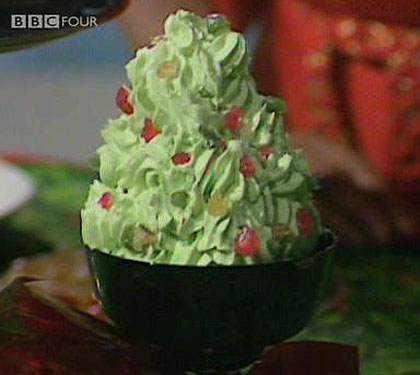 Piped cream colored with green vegetable coloring. (She also went in big for blues and pinks, like blue-dyed deviled eggs.)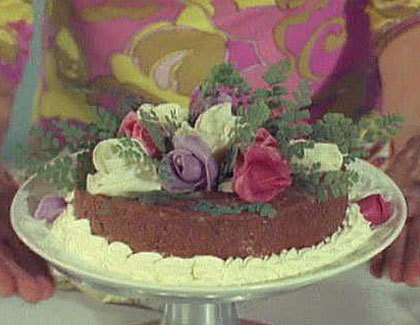 A chocolate gateau, almost smothered with brightly colored edible flowers made from marzipan or fondant. Matches her dress!
Some of her colorful ideas are sort of usable today though, such as this 'chequerboard' of toasty bits covered in caviar and smoked salmon.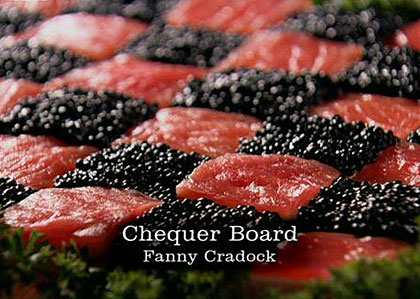 She was really presenting food for her audience in a sense - the'60s and '70s, and even the '80s, were big on formal home entertaining, and inviting the boss over for a big Dinner Party. So she was teaching the anxious housewife how to make food that would impress. I think we do far, far less of that kind of dinner-to-impress kind of thing these days, but back then it was pretty big. I remember my own mother doing it in England and New York (it was different once we moved back to Japan, but that's another story). One time, my parents invited over the Big Boss (the president of the parent company) for dinner when he was visiting England. My mother put out such an elaborate spread that when it was all done and the Boss had left, we found her collapsed on the kitchen floor, totally exhausted.
I have several Fanny Cradock books, and while she did indeed present a lot of outrageous food, and was firmly and often hilariously Franco-centric (in her world, Escoffier was God, period), she was also very aware of the budgetary and time restraints of her audience. I keep on saying that I will write more about her recipes and I will, I will. At the very least, she is still a fascinating creature to behold, and I'm glad that Fear of Fanny has brought her out into the limelight again.
Fear of Fanny is re-airing at these times:
October 29, 10pm BST / 11pm CET, BBC Four
October 30, 12:45am BST/ 1:45am CET, BBC Four
November 2, 9pm BST/ 10pm CET, BBC HD
November 2, 10:20pm BST/11:20pm CET, BBC HD
Submitted by
maki
on 2006-10-24 18:24.
Filed under:
books and media
tv
chefs