Isabella Beeton, Fanny Cradock, and Elizabeth David on the BBC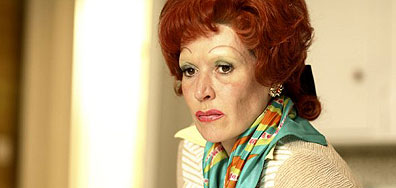 Julia Davis as Fanny Cradock in Fear of Fanny
The BBC is broadcasting biographical dramas based on the lives of three of the most famous women in food and cooking this month. First up is The Secret Life of Mrs.Beeton (Monday October 16th, BBC Four). Isabella Beeton was a truly remarkable woman, who produced a bestselling book on cooking and household management and gave birth to four children, before her death at the age of 28. She's still probably the most influential cookbook author in Britain to this day - her books, albeit heavily 'revised', are still in print today
Next up is perhaps the woman I'm most fascinated with, Fanny Cradock. Fear of Fanny (October 23, BBC Four) is a dramatization of the life of the woman who was the Nigella Lawson and Delia Smith of the 1950s through the '70s. She wrote cookbooks, a newspaper food column, and was the host of her own tv cooking show, together with Johnny Cradock, who played her henpecked husband. (They only actually married much later.) She was hugely influential in her heyday, but has since become almost forgotten except for her preposterous appearance and imperious attitude. I am not sure if this new drama is going to revive her reputation or bury her in the 'kook' category even further, but I'm looking forward to it anyway. I've written about Fanny Cradock briefly before; since that post, I've collected several of her cookbooks, including the 96-part magazine series that accompanied one of her TV shows. Someday I hope to find the time to compile more about her.
Lastly, there is a rebroadcast of Elizabeth David: A Life in Recipes (October 30th, BBC Four). I saw this some months ago - it was okay, though not great, and seemed to put a lot of emphasis on her love life and very little on why she was such a best selling and influential food writer. It's interesting to see how she has fared in recent times compared to Fanny Cradock though: while Fanny Cradock is little more than a historical footnote, and as far as I know none of her books are still in print, Elizabeth David is revered by current influential food writers and personalities like Nigella Lawson, Jamie Oliver, Alice Waters and Nigel Slater as being a pioneer. Ironic, since both of them were at the end of the day doing the same thing, more or less - re-introducing post-war Britain to good (meaning, European with a heavy leaning on French) food. Maybe if Fanny hadn't had so much plastic surgery, or appeared on TV, she's be a food icon too. And granted, Elizabeth David was a better writer. (And yes, the differences go much further.)
In any case, if you are interested in food and British history these three dramas should make for fascinating watching.
Related Links of interest
Submitted by
maki
on 2006-10-10 00:32.
Filed under:
books and media
tv
bbc
chefs
writers