memories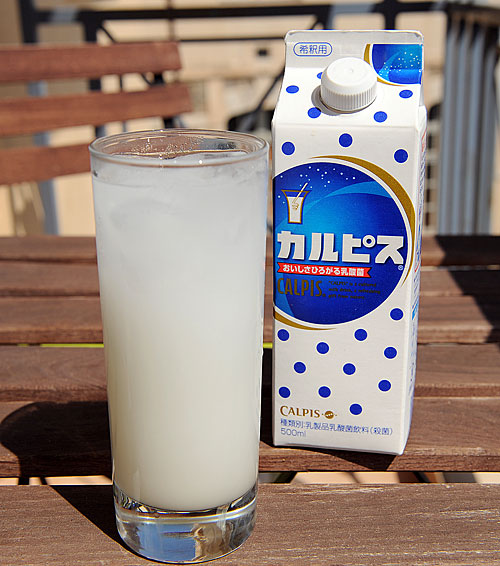 As your sometime guide to Japanese culinary culture, I would be remiss if I let another summer pass by without talking about Calpis.
Calpis is a sweetened fermented milk beverage. The label says:
"CALPIS" is a cultured milk drink, a refreshing gift from nature.
People tend to either love or hate Calpis.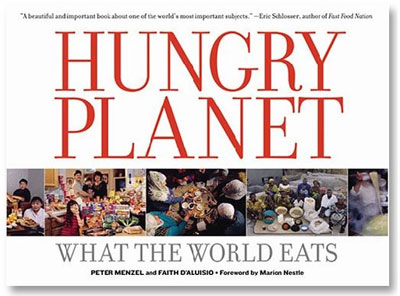 [Update: The winner is announced!]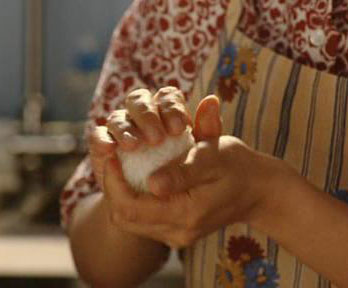 Whenever I am feeling blue, one of the foods that I crave is onigiri. You could just chalk that up to the fact that it's mostly rice = carbs and I'm just craving a carb fix. But it really goes beyond that. It's tied to memories of my aunts making row upon row of perfectly shaped onigiri for a family gathering, and the salty tinge on my lips from the giant onigiri my mother made for me for a school outing.
Two of the most popular articles here on Just Hungry are the ones about onigiri. It's great to see so many people from around the world enjoying this quintessential Japanese comfort food.
There are two very interesting Japanese movies where onigiri play a starring role, in quite different ways; Kamome Diner (Kamome Shokudoh) and Supermarket Woman (Suupaa no Onna). Although neither seems to be available on DVD in English speaking countries yet, I thought I'd talk about them a bit.
Happy Valentine's Day! February the 14th may mean flowers, a romantic dinner, or promises you don't intend to keep for other people, but to me it will always the Day Of Chocolate.
Valentine's Day is a very odd and overly commercialized day in Japan, where the giving and receiving of chocolate doesn't have that much to do with romance. Females are made to feel obligated to hand out chocolates to people they don't care about, such as teachers and bosses, while males anxiously wait to see if they get 'enough' chocolates to satisfy their egos. There are whole lines of inexpensive chocolate products suitable for giving, called giri choco (obligation chocolate). Unlike in the Western world, it's not a day for men to give something to their female love interests. (March 14th, called "White Day", has been sort of artificially designated as the males-give-back-to-females day.)
I love Christmas celebrations, and Thanksgiving when I'm in the U.S., but the holiday that has the most memories for me is New Years. This is the biggest holiday celebrated in Japan.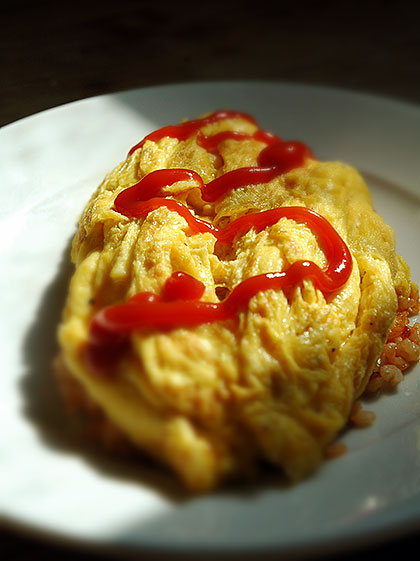 Most of the time I think we just go along without thinking much about such big themes as Our Cultural Heritage. But these days I've been contemplating more and more on this. One reason for this has been the movie Lost in Translation. For various reasons, this movie has brought up a lot of debate and thinking about what it is to be Japanese. (Some of the conversations about the movie are on my other blog.)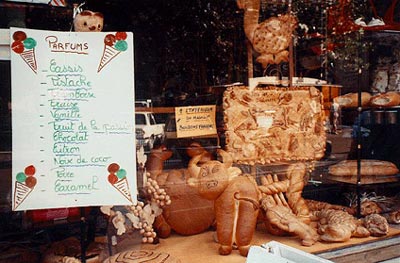 The window of a boulanger (bakery) in Beaune, France