Onigiri in the movies: Kamome Diner (Seagull Diner) and Supermarket Woman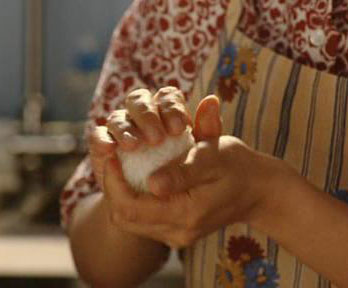 Whenever I am feeling blue, one of the foods that I crave is onigiri. You could just chalk that up to the fact that it's mostly rice = carbs and I'm just craving a carb fix. But it really goes beyond that. It's tied to memories of my aunts making row upon row of perfectly shaped onigiri for a family gathering, and the salty tinge on my lips from the giant onigiri my mother made for me for a school outing.
Two of the most popular articles here on Just Hungry are the ones about onigiri. It's great to see so many people from around the world enjoying this quintessential Japanese comfort food.
There are two very interesting Japanese movies where onigiri play a starring role, in quite different ways; Kamome Diner (Kamome Shokudoh) and Supermarket Woman (Suupaa no Onna). Although neither seems to be available on DVD in English speaking countries yet, I thought I'd talk about them a bit.
Suupaa no Onna: Anatomy of a Japanese grocery store
The first is a comedy from 1996, Suupaa no Onna (Supermarket Woman). It's directed by Juzo Itami, better known as the director of the 'noodle Western' classic Tampopo, and as with most of his movies stars his wife, Nobuko Miyamoto. Miyamoto plays Hanako, a 40-something widowed woman who wanders into a run down small suupaa, a local supermarket, which happens to be run by her childhood friend Goro, a widower played by Masahiko Tsugawa. The suupaa is called Sho-jiki Ya, ("Honest Goro" in the English subtitles). Sho-jiki ya is teetering in the edge of failure because a brash competitor called Yasuuri Daimaoh ("Bargains Galore" in the subtitles). Hanako, who keeps insisting she's "just a housewife with a housewife's wisdom", is a supermarket expert with a sharp eye and strong opinions about how a supermarket should be run. In short order she's hired by Goro, first as the head cashier, then as the assistant manager of Sho-jiki Ya. Together with Goro, she must fight the corrupt figures behind Yasuuri Daimaoh to prevent Sho-jikiya from going under.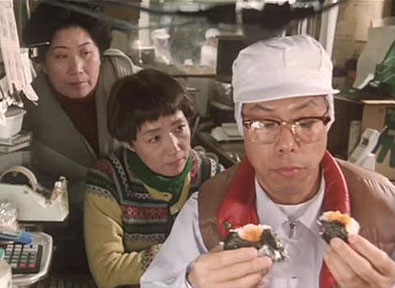 One of the store sections that Hanako attempts to improve is the osouzai deparment. Osouzai means ready-made meal items, and busy people in Japan rely on these to round out or even make up a whole meal. A popular osouzai product is of course, onigiri. Hanako discovers that the onigiri sold at Shoujiki-ya are under-par, using inferior fillings, and convinces everyone involved that that is just not right. At first the onigiri supplier is reluctant to spend more to improve the onigiri, but once he sees how happy the better tasting onigiri makes the housewife-taste testers, he is overcome by the joy of making his customers happy.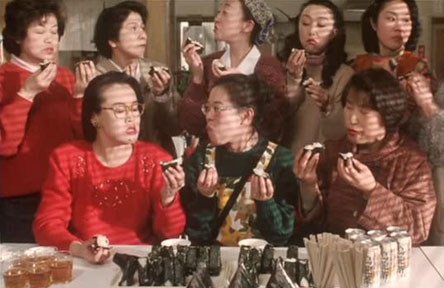 Suupaa no Onna is part of the "Fighting Women" series of movies that Juzo Itami made in the '80s and '90s, such as Marusa no Onna (A Taxing Woman) and Minbo no Onna (known among other titles as The Anti-Extortion Woman). Like those movies, the general theme is that of the fiesty, honest heroine who has the courage to stand up against a corrupt establishment. While the other titles in the series have been released on DVD in the U.S. and elsewhere, Suupaa no... never really made it outside of Japan. It's a shame, since it's a lot of fun even if it didn't feature food as a main character. [Update:] It's now available in the U.S. on Amazon.com! Yay! For food lovers, it's a fascinating if broad (and now somewhat outdated) view of Japanese grocery shopping, from the store's point of view and the buyer's point of view - the buyers in this case being the all-mighty, no-nonsense Japanese housewife. It may not be as profound as Tampopo or have as much universal appeal, but for anyone interested in Japanese culture or food or even supermarkets, I highly recommend it. (See notes at the end for some more.)
Kamome Shokudoh: Japanese soul food in Helsinki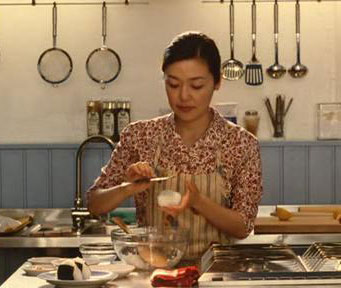 Made 10 years after Suupaa no Onna in 2006, Kamome Shokudo (Kamome Diner, or Seagull Diner) a very different movie. It's the story of a woman called Sachie, played by Hairi Katagiri, who opens a small Japanese restaurant/cafe in Helsinki, Finland. At first people just look curiously in the windows, but don't go in. Then one day a young Japan otaku teenager wanders in...
For Sachie, onigiri are "Japanese soul food". She is convinced that she can make Finnish people love her Japanese soul food, because she reasons that "a country with such a sense of humor and a relaxed view of life must appreciate good food". At one point, worried about the lack of customers, she and another Japanese woman who somehow wanders into the restaurant and ends up staying on as a waitress test out some alternative fillings that they think may appeal more to Finnish people, like reindeer meat, crayfish and pickled herring. The taste tests fail though, and Sachie reaffirms her conviction that the "traditional fillings" of ume, shake, okaka (umeboshi, salted salmon, bonito flakes moistened with soy sauce), are the best. While the subject of alternative fillings for onigiri does crop up from time to time, I have to say I tend to agree with Sachie here! Sachie's goal is to for her Finnish customers to appreciate real Japanese soul food.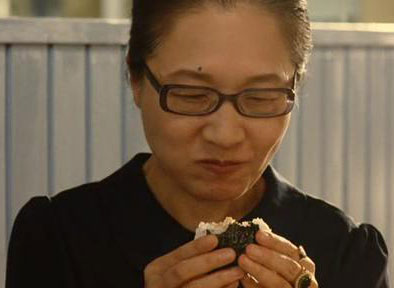 Kamome Shokudoh is a gentle, rather fairytale-like movie, with touches of magical realism. Nothing much really happens, but the main characters still go through some profound changes. I don't want to give away too many plot details since there are so few really. A lot of people won't enjoy it for that reason. I loved it however. It's not as obvious a look at Japanese culture as Suupaa no Onna is, but it does show a certain very Japanese view of life. It also has lots of great shots of typical Japanese homestyle dishes, and the Scandinavian interiors are gorgeous.
Notes about Suupaa no Onna
Goro and Hanako are used as generic names for girls and boys, sort of like Jack and Jill or Dick and Jane in English.
Tampopo fans may remember Masahiko Tsugawa, who plays Goro, as the convenience store manager who has a frantic cat-and-mouse chase around his store with the old lady who likes to squeeze the produce.)
The direct translation of Sho-jiki Ya is Honest Store. Yasuuri Daimaoh is Bargain Devil (a Daimaoh is a sort of spirit, that can be but isn't always evil).
Great news! Supermarket Woman is now available in the U.S. on Amazon.com!
Notes about Kamome Shokudoh
Why does Sachie, not to mention the other Japanese women in the movie, end up in Finland? Why does the story even take place in Finland? The answer in a nutshell is Moomin. Moomin is tremendously popular in Japan; Moomin books are perpetual bestsellers, and many a young girl daydreams about 'going to Moomin land'. By extension, Finland, the land of Moomin, is seen in quite a romantic light. Now since I haven't read Moomin since...ah, I'm actually not sure if I ever read Moomin...I can't say I understand the appeal but there it is. (Moomin fandom in Japan is oddly similar to Anne of Green Gables fandom.)
This movie was released in Finland under the title Ruokala Lokki. (It could be available in Finland on DVD, but since I don't read any Finnish I can't find out.)
This one is also only available as a Japanese release. It does have English subs. (I've seen cheap versions on eBay but I'm skeptical about the legality of those.) Amazon Japan link.
Submitted by
maki
on 2007-03-21 14:37.
Filed under:
books and media
japanese
onigiri
memories
movies