shojin
There are several Japanese recipes that I take so much for granted that I'm sure I've uploaded to this site already...but I haven't. Shira-ae or shiraae, a classic tofu paste that was born from the Zen Buddhist vegetarian cuisine called shojin ryouri, is one such recipe.
It's often described as a 'dressing', but that doesn't adequately describe its thick, rich texture. It's usually mixed with various shredded vegetables, but there's nothing stopping you from mixing it with poached and shredded chicken, or ham, or toasted pine nuts, or anything you like. The rich taste comes from ground sesame seeds and a touch of miso. The key to the texture is to drain the tofu very well.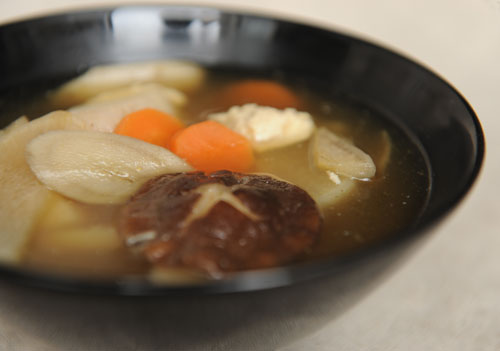 It's been a cold and snowy winter so far around these parts, which usually means soups and stews for dinner. This classic Japanese soup is hearty yet low in calories, full of fiber, and just all around good for you. It helps to counteract all the cookies and sweets you might be indulging in at this time of year.
The name kenchinjiru (けんちん汁)derives from the Zen Buddhist temple where it was first made (or so it's claimed), Kencho-ji (建長寺)in Kamakura. (Kamakura (鎌倉) was, for a brief while, the capital of Japan in the 12th and 13th centuries. Nowadays it's a major historical tourist attraction, and a fairly easy day trip from central Tokyo.) Since kenchinjiru is a shojin ryouri or temple cuisine dish, the basic version given here is vegan. It's still very filling because of all the high fiber vegetables used. You could make a very satisfying vegan meal just from this soup and some brown rice.