mom's recipes
Update: I've revised this, possibly the most popular umeboshi recipe in English online, to include some key troubleshooting notes. Originally published June 18, 2009. My mom has been making a batch of umeboshi every year since, and I've also added some more notes from her.
My mother came for a visit this week, bringing along a pot of her homemade umeboshi. I asked her to tell me how she makes them; not only did she write it down for me, she even had pictures she'd taken of her attempts in the past couple of years! So, here is my mom's version of how to make homemade umeboshi. I've freely translated her Japanese explanation to English.
My mother [my grandmother - maki] used to make umeboshi every year. When I lived in New York, I was too busy working to do much cooking, let alone umeboshi! But now that I am retired, I'm trying to remember how to do things the old way. Homemade umeboshi is so much more delicious than store bought, so they are worth the effort.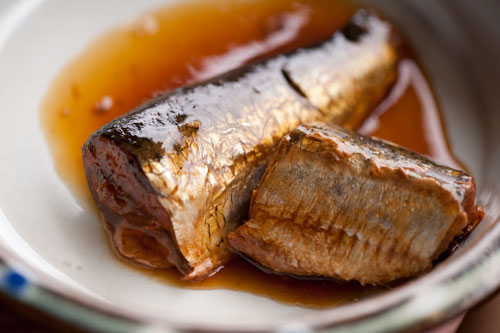 One thing I'm really enjoying here in Japan is cooking simple things at home with my mother. To me, quintessential Japanese home cooking is a dish like this. Sardines, which happen to be quite inexpensive (and sustainable too), are slowly cooked until they are well flavored, meltingly soft, and glossy with a typically Japanese sweet-salty sauce. (The 'kanroni' (甘露煮) in the name refers to the method of simmering something in this sweet-salty sauce.) It uses just a few basic ingredients, so please give it a try if you can get a hold of very fresh sardines or similar oily fish. (The fish do have to be very fresh for this to be really good and not-fishy.)
I had a bit of a job working out this recipe, which comes from my mother, since she really doesn't measure anything when she makes this! After some trial and error, I think these ingredient amounts work well.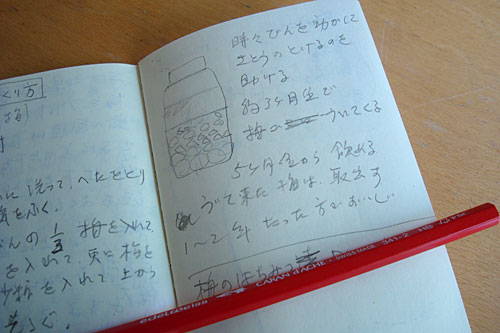 Since so many people liked my mom's umeboshi recipe, here are two more recipes using ume plums from her. She doesn't have photos for these, so I've taken a picture of her notes, with a little illustration she did of how to layer the ume and sugar for the umeshu (plum wine).