foodie gifts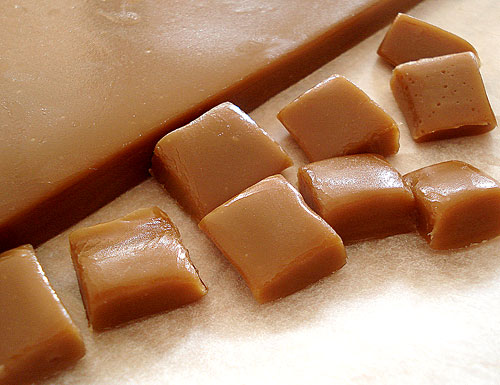 Since last year, there has been a craze for something called nama kyarameru (生キャラメル, raw caramel) in Japan. The demand has been so great that people form long lines to buy it, and at least at the beginning of the fad there were frequent reports of sell-outs and long waiting lists. Raw caramel means meltingly soft caramel candies that have been made with fresh milk, fresh butter, and no additives. It's been a great marketing ploy for some dairy farmers in Hokkaido.
Given that getting nama kyarameru from Hokkaido is not that easy for me, and believing firmly in the superiority of Swiss dairy products, I set about to make my own version. After many attempts, here is my version of raw caramel. They have a very slight fermented-sourness from the crème fraîche, and the pure salt flavor from the fleur de sel. And the sugar component is made richer by using golden syrup.
I have a feeling I will never buy caramel candies again.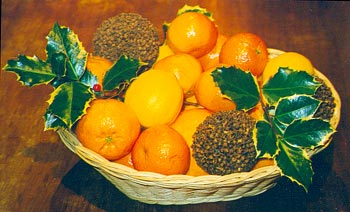 A Christmas post from 5 years ago, during Just Hungry: The Early Years.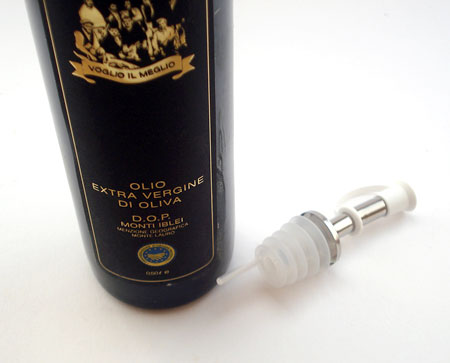 A very special limited edition olive oil which comes from Siracusa, Sicily via Zürich, Switzerland.
The roundup for Food Destinations #4: My Favorite Gourmet Shopping Spot is now up on Mango and Lime. Be sure to check it out for some great descriptions of mouthwatering stores. Food and shopping, a great combination!