Gina the pasta spoon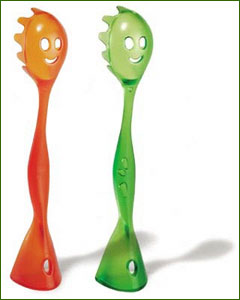 I love cute things, but when it comes to kitchen ware it has to be practical as well as cute. Koziol is a German company that makes things that fit both requirements. They aren't as well known as the Italian company Alessi, but I think their stuff is as well designed - and, it's a lot more affordable.
I own an orange pasta spoon, and it gets used at least once a week when we have pasta. The holes in the spoon that make up the face drain the pasta water perfectly, while holding any bits that are in the sauce when serving. I've given the pasta spoon as a gift to several people and they all love it.
I also own two Koziol citrus juicers. One is shaped like a head with a Mexican hat - the hat part is the squeezer, with drain holes, and the head is the cup. Unfortunately I don't see it anymore on sale. They do still sell the minimalist yet very practical Lemmi the Lemon Squeezer (the photo there doesn't do justice to the actual item, which looks a lot nicer. The plastic isn't shiny and nasty, but is a bit frosted and feels quite solid.)
I also own a bread box that's shaped like a giant table roll. Unfortunately this is the only item that wasn't very practical, since it's not very well ventilated and traps moisture - so that the bread stored in it quickly turns moldy. It's still very cute though so we have it on our kitchen table to store little bits and pieces, like the shopping memo pad, bandages, pens, string and so on. My mother owns a Koziol brush and dustpan set where the dustpan is shaped like a leaf, and she also loves it. It's not just pretty, but the leaf-dustpan has the perfect curve for picking up every speck of dust.
Koziol Shop (US)
Koziol Company Site (German and English)
Submitted by
maki
on 2003-12-07 23:44.
Filed under:
equipment
foodie gifts