Japanese Basics: How to make Japanese-style plain rice and sushi rice
Update: I've updated this post substantially in these two articles, 10 years later: How to cook great Japanese style rice, and How to make sushi rice (shari). Please take a look there - you'll probably find them a lot clearer. I've learned a lot myself in 10 years! ^_^
This is the first how-to and recipe that I posted on Just Hungry. Properly cooked rice is the foundation of a traditional Japanese meal, and you absolutely cannot skimp on the steps detailed here if you are aiming for anything approaching authenticity. I've edited the text to make some things clearer. Back to basics! Originally published in November 2003.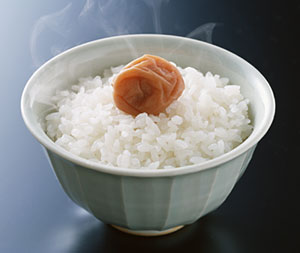 Rice is the staple of Japanese food, and making it just right can be rather difficult if you don't know how. If you think you will be preparing rice regularly, an electric rice cooker will make your life so much easier. (See About rice cookers.) You can cook non-Japanese style rice and other grains in a rice cooker too.
Japanese rice, or japonica rice, is a very particular variety. For traditional Japanese dishes you simply cannot substitute long-grain rice, jasmine rice, basmati rice, Carolina type rice, and so on. I sometimes hear people saying things like "But I can make onigiri with jasmine rice just fine, as long as I cook it so it's mushy and the grains stick together". No no no no no. A good onigiri, a good sushi roll, a good nigiri-zushi, and most of all a good bowl of rice are not made from crushed, watery, mushy rice; they are made from slightly sticky grains of rice that are gently pushed together. In addition, jasmine rice and other types of rices have a flavor that is utterly different from that of japonica rice. If you serve plain jasmine rice with a Japanese meal, it will simply taste wrong.
The one non-japonica variety that does work fairly well sa a substitute is Italian vialone rice, which is a medium-grain rice similar to japonica rice. Arborio, carnaroli and the rice sold as 'pudding rice' or 'milk rice' in some countries are also medium-grain, but they tend to have too much rice starch, which is what makes that creamy texture in risotto or rice pudding. Vialone has less of that starchy coating and therefore works well. See Looking At Rice for more information about different types of rice.
Ideally, the rice should be quite fresh. The best rice is new rice called shinmai, purchased within 3 months of harvest. Unfortunately, it's just about impossible to buy rice that fresh outside of Japan. Just buy the best rice you can afford. Once you learn how to make rice properly, you will really taste the difference between different kinds of rice.
Some popular 'first grade' Japanese rice varieties include Sasanishiki, Koshihikari and Akita Komachi. They tend to be expensive.
Recipe and Procedure: Japanese style plain rice
The washing and rinsing steps may seem like a bother, but they are absolutely critical to producing properly cooked Japanese style rice. Do not skimp on this! This is a common mistake made by people new to Japanese cooking.
To make 4 cups of cooked rice, you will need:
A heavy-bottomed pot with a tight fitting lid, or an electric rice cooker
2 cups of uncooked japonica rice or 'sushi rice' (or substitute Vialone)
2 1/4 cups of water (If using a rice cooker, add water up to the specified level marked in the inner bowl)

Measure out the rice carefully into your pot and rinse vigorously under running water. Swish the rice around with your hands - the water will turn a milky white color.

Drain the cloudy water away and add fresh water, and swish the rice around again. Repeat this step 2 - 3 times.

Drain, leaving just a little water, and rub the grains together several times with the palms of your hands gently as if you were polishing them.

Add plenty of fresh water and rinse out the rice. Drain and rinse until the water is almost clear.

Drain the rice in a fine mesh sieve and leave for a little while, preferably at least 30 minutes.
Put rice in a rice cooker or pot. Add the water to the rice. At this point you should let the rice soak for a while. The length of time depends on the quality and freshness of the rice. The older the rice, the longer it needs to soak. Soaking for at least 30 minutes to an hour is generally recommended, but don't soak for more than 8 hours or so or the rice will get a bit watery and lose any flavor. And if the weather is too hot, it might even start to ferment! (Some rice how-tos emphasize the importance of soaking, but I think the washing and rinsing is the most critical part of making proper rice, which is why it's described in so much detail here.) Brown rice however does need to be soaked before cooking (see cooking brown rice).
If you are using a rice cooker, just switch on (or if you need the rice later, set the timer; you can calculate in the soaking time here.) If you are using a pot, bring to a boil over medium heat then put on a tight fitting lid. Cook on high for 1 minute, then reduce the heat to medium, and cook for another 4-5 minutes until you can see the surface of the rice, then reduce to low heat for about 10 minutes or until the water is completely absorbed. (Don't open the lid to peek!) Turn up to high heat for a few seconds to get rid of any excess moisture if necessary.
If you are using a pot, remove it from the heat and drape a cloth over the pan for about 10-15 minutes to let it fully absorb the moisture and rest. This final step really makes a difference if you want grains that stick together but are not mushy or watery. A good rice cooker includes this resting time in the cooking cycle, and also allows for condensation to evaporate, so you don't need the cloth draping step.
Sushi rice
Once you have mastered plain rice, turning it into sushi rice (shari) just requires a few more steps. Sushi rice (called shari by sushi chefs) is rice that is flavored with dashi, rice vinegar, and salt.
Substitute cooled dashi stock for the water. Cook as per the above instructions.
You will need a large bowl or plate for the next step, preferably a wooden one made for this purpose called a hangiri. You can buy a hangiri at any Japanese kitchen equipment store, and even from Amazon. The advantage of using a wooden hangiri is that the untreated wood absorbs excess moisture from the rice. You can also use a large serving plate or a bowl, though that won't have the moisture-absorbing quality.
You also need a sturdy rice paddle or spatula. rice cookers come with a rice paddle.
Take 1/4 cup of bottled or homemade sushi vinegar (sushi-zu or awase-zu, see recipe below). Moisten your spatula or paddle with a little of the vinegar. Turn your hot rice out into the bowl or plate, Pour the sushi vinegar over the rice.
Working rapidly, turn and mix the rice, taking care not to squish the grains. You should use a cut-turn-fold motion sort of like when you mix in egg whites into a cake batter. This you do with one hand. With your other, rapidly fan the rice to cool it as quickly as possible. This ensures that the grains will be nice and glossy and not mushy. Rope in an assistant to do the fanning, or else do what I do and use a hair dryer on the 'cool' setting. Keep going until the rice has absorbed the vinegar, and has cooled down to about body temperature (it should be just a bit warm to the touch).
Important! Sushi rice should be served when it is slightly warm, or at the least at room temperature - not chilled. This is why the best nigiri-zushi (the standard sushi that everyone thinks of a 'sushi' - an oval ball of sushi rice topped with a piece of fish) is eaten right after it's made, at the sushi counter - cool but not cold fish on top of the barely warm sushi rice.
When making sushi at home, do not refrigerate your rice if you can avoid it; the texture and flavor rapidly deteriorate when it's chilled. If you must make your sushi rice in advance, wrap it up while it's still a bit warm in plastic wrap before refrigerating. The trapped moisture will help to keep the rice grains from hardenening. When you need the rice, warm up for a couple of minutes in the microwave, then open up to cool down again to room temperature.
Recipe: Sushi vinegar mix (awase-zu)
If you can't get prepared sushi vinegar you can make it thus:
Mix 1/4 cup of rice vinegar or mild cider vinegar, 1 tablespoon of sugar, 1/2 tablespoon of mirin, sake or sweet brandy, and 1/2 tablespoon of salt. Heat over low heat in a small saucepan, and stir until the sugar and salt have dissolved. This is enough to flavor 4 cups of rice, so adjust the amount according to the amount of rice you have.
See also
Comments are now closed. I encourage you to go to the new step-by-step instructions, which should answer more of your questions.
Submitted by
maki
on 2009-02-17 20:40.
Filed under:
basics
japanese
rice
sushi
favorites