Inarizushi (sushi in a bean bag) Redux: Cooking your own inarizushi skins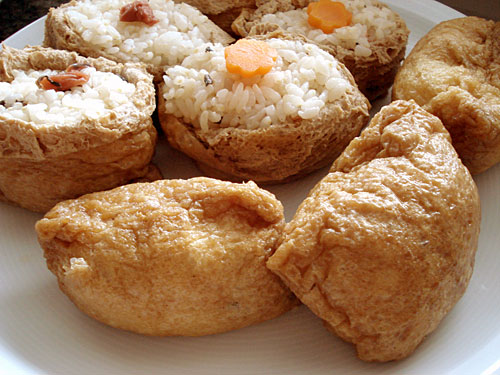 Four years ago I posted a very basic recipe for inarizushi, homely sushi that is stuffed into a fried tofu skin or aburaage. It's been one of the most popular articles here on Just Hungry ever since. That only gave instructions for stuffing pre-made (canned or vacuum packed) skins, so I thought I'd update it with instructions for making your own inarizushi skins from scratch. These instructions will be particularly useful to vegetarians and vegans, since most if not all premade skins are cooked in a fish-based traditional dashi stock. And, for all of you who have had problems making Eggs in Treasure Bags with those small, thin canned skins: You'll find that making the eggs from your own, sturdy skins is so much easier.
Preparing aburaage (fried tofu skins)
Aburaage (油揚げ) are made from plain tofu that's been sliced and then deep fried. When the slices are deep fried, they turn crinkly and form an air pocket inside. You can find aburaage in the refrigerated or freezer section of a Japanese grocery store. They are made in the same way as Chinese 'tofu puffs' or 'bean curd puffs', except they are large and flat instead of small and puffy.
This is how plain aburaage look.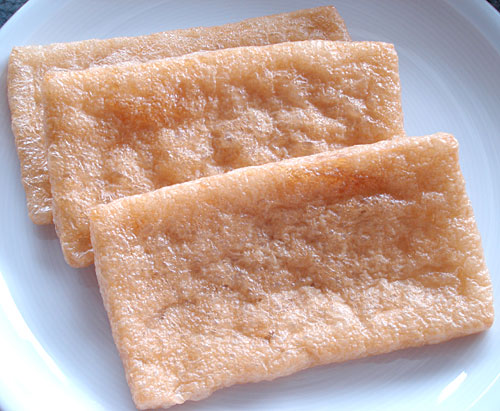 They usually come packed 2 to 3 to a bag. I always keep aburaage in the freezer until I need them.
In Japan, aburaage are mostly used in stewed dishes, soups, and so on. Before it's cooked, you must blanch and de-oil it. This process is called aburanuki (油抜き) or yudoushi (湯通し); any Japanese cook knows how and when to do this, but it's one of those details that can get forgotten in translation so to speak. Anyway, it's very easy to do. Just put the whole aburaage in boiling water to cover for a couple of minutes.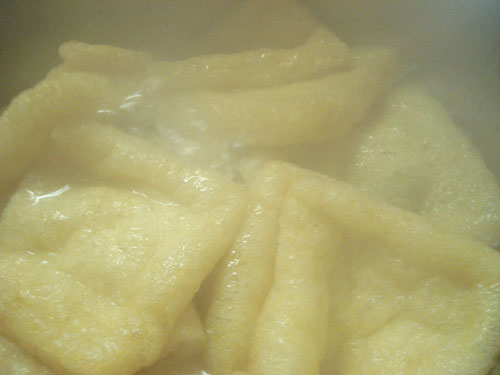 Then drain the boiling water off. This gets rid of some of the surface oil. Let the aburaage cool down before handling further. You can wipe off even more surface oil by patting the aburaage down with paper towels. (Untreated aburaage is about 80-100 calories each, depending on the size; the de-oiling treatment gets rid of 15-20 calories worth of oil.)
At this point, you can use the aburaage as-is, cut into strips and put into miso soup for example, or just cut into half and simmered for a bit in udon noodle soup for kitsune udon. But do remember: When simmering aburaage, always de-oil it. It makes all the difference.
Recipe: Inarizushi skins
Once you have de-oiled your aburaage, making inarizushi skins from them is easy. I like to cut them in half first so that they are ready to stuff once they're cooked. I'm finding that the aburaage I can buy these days have nice big air pockets inside, so I don't have to do anything for them to naturally form bags. But if you find yourself with skinny aburaage where the sides 'stick' inside, you can loosen them up by rolling a chopstick over the surface before de-oiling. Then after de-oiling, you can gently pry the sides apart to form the bag.
Once you have your cut-in-half aburaage 'bags', it's time to cook them. This amount of poaching liquid is enough for 12 skins, or 6 (2 packs) of aburaage cut in half.
About 1 1/3 cups (350ml) vegan dashi stock, traditional dashi stock, or plain water with 1 tsp. of dashi granules, OR just plain water
3 to 4 Tbs. sugar (depending on how sweet you want them to be), or an equivalent amount of alternative sweetener
2 Tbs. sake
2 Tbs. mirin
3 to 4 Tbs. dark soy sauce (depending on how salty you want them to be)
Combine all the ingredients in a pan and bring to a boil. Lower the heat to a simmer, and put in your de-oiled and cut in half aburaage skins. Simmer for about 15 minutes, until the liquid has evaporated down to about half the original amount. Turn off the heat and let the skins cool down in the liquid.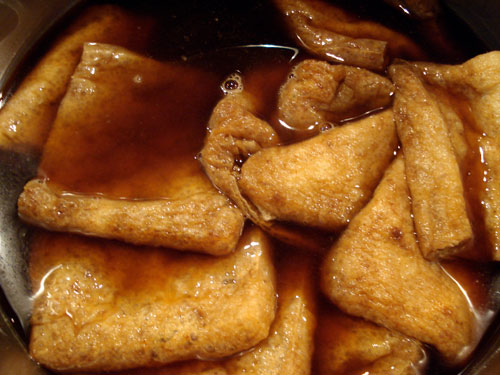 You can store them in the cooking liquid, well covered, in the refrigerator for 2-3 days. I haven't really tried freezing them, but you could try it out.
When you're ready to use the skins, just squeeze them out lightly so they aren't dripping. These skins are bigger (not to mention sturdier and easier to handle) than the canned kind, so you'll need more sushi rice per inarizushi, about 1/3 to 1/2 cup. Here is my basic sushi rice recipe; optionally add a teaspoon extra of sugar to the sushi vinegar mix. You can also try the lower calorie mix with hijiki seaweed, or mix in some toasted sesame seeds, shelled edamame, salmon flakes or furikake - whatever strikes your fancy.
You can present the inarizushi with the open end tucked under and down, as I described in the original inarizushi article. Note that the homemade inaruzushi skins are much lighter in color than the sometimes rather virulently reddish-brown canned kind. They are subtler in flavor too - you can really taste the tofu skin itself.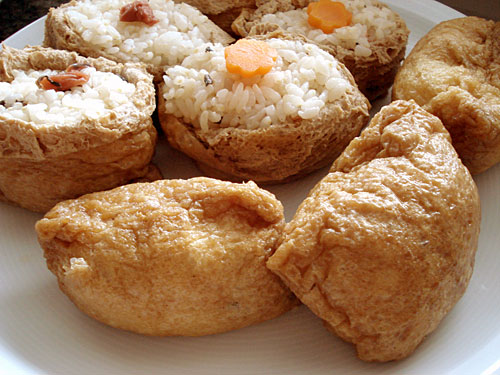 You can also present the inarizushi with the open end up (optionally fold down the edges for neatness). This is especially nice if you have colorful mixed rice as a filling. Here I've used some chopped up umeboshi in the rice, as well as as decoration. The umeboshi gives a subtle pink tint and pleasant sourness to the rice. (I used brown rice to make the sushi rice, which is why it's beige-ish.)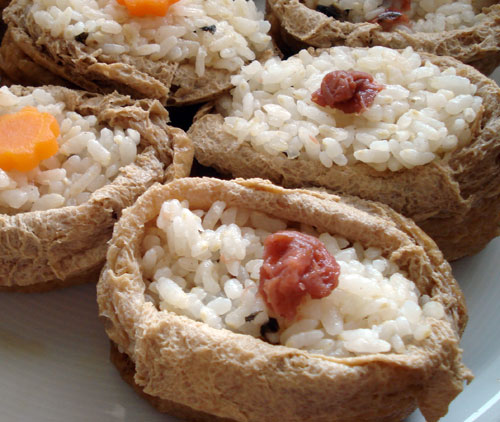 Another inarizushi stuffing technique, not shown here, is to turn the skins completely inside out, and then stuff as normal. This gives the inarizushi a sort of lacy look, which gives a nice contrast if you line when up with regular outside-in brown inarizushi on a plate or in a bento box.
For people who live outside of Japan, the only drawback to making your own inarizushi skins (besides the slight bother of actually cooking them) is that fresh or frozen aburaage can be rather expensive, compared to the long-shelf-life canned skins. (In Japan aburaage is a great budget protein!) Still, the flavor and texture are so much better, so if you can get a hold of aburaage, I hope you give it a try!
Submitted by
maki
on 2009-03-25 07:02.
Filed under:
japanese
vegetarian
sushi
favorites
vegan
washoku