pickles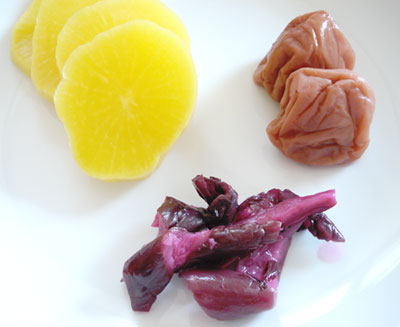 Periodically, someone asks about Japanese pickles - those crunchy, salty, sweet-sour, even spicy bits of goodness that accompany a traditional meal, especially breakfast. There are a big variety of Japanese pickles, and sooner or later you might consider making them.
Some time ago I did a week-long series on making instant, or overnight pickles. These pickles can be made very quickly, usually with ingredients that are easy to get a hold of. If you want to try your hand at Japanese style pickles, I recommend starting there. There are also a couple of cookbooks in English dedicated to quick and easy pickles, both of which are quite good: Quick and Easy Tsukemono: Japanese Pickling Recipes by Ikuko Hisamatsu, and Easy Japanese Pickling in Five Minutes to One Day: 101 Full-Color Recipes for Authentic Tsukemono by Seiko Ogawa.
However, the type of pickles that you are likely to be served in a high class traditional inn in Japan, or even the type you can buy in vacuum sealed packs at a supermarket, are a bit more complicated to make, especially outside of Japan. Here are some examples.