Cold noodle time!
I am sort of the road this week, so it's hard to cook much. When I get settled back at home, the first thing I want to make is cold noodles. What I'm craving most right now: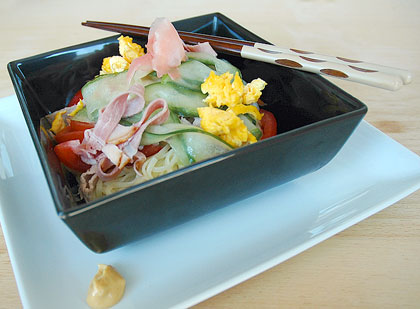 That is _hiyashi chuuka_, or Chinese style cold noodles. It's a meal in one, as refreshing as a salad. I love the salty-tangy sauce. If making it from scratch is too much work, there are very good instant packets which come with the noodles and sauce. If you've never tried it, I hope you do at least once this summer! ((Link))
The other noodles I'm craving are cold soba, or zarusoba. What really perks up cold soba is the condiments or yakumi. Chopped green onions are a must, but right now I am craving the fresh flavor of green shiso leaves and the zing of wasabi as well. The basic dipping sauce can also be used with other cold noodles like so-men (thin wheat noodles). I haven't talked about how to prepare these yet, but the procedure is the same as for soba, with a shorter cooking time. The dipping sauce also works for cold udon noodles, though in the summer I prefer thinner noodles somehow.
Cold noodles, a salad perhaps, and mugicha - a perfect summer meal!
Submitted by
maki
on 2008-06-20 10:35.