Japanese-style vegan mushroom rice: Kinoko no takikomi gohan revisited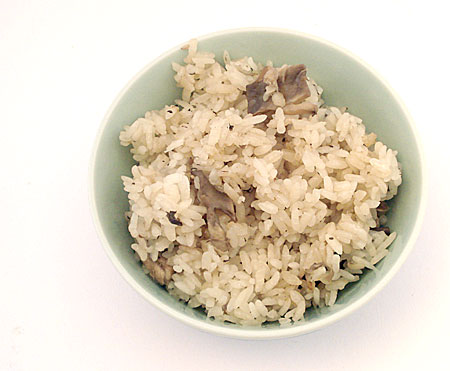 The very first full recipe I posted on Just Hungry almost 4 years ago was Mushroom Rice (kinoko no takikomi gohan), and it still gets a lot of visits and comments, even though there's no photo to whet the reader's appetite or anything.
The original recipe called for traditional dashi stock made from bonito (fish) flakes, and suggested adding chicken and other things. This version is a lot simpler to assemble and it's all vegan, but it's just as tasty. And it comes with a photo! (My early photos on the site are pretty awful. I like to think I've learned a little since then.) I am using this in an upcoming bento, but it's good for regular dinner too, so it's posted here. It's actually the best when it's freshly made - the aroma of the mushrooms fills the kitchen, quite irresistible if you love mushrooms as I do. It is a very autumn (fall) kind of dish.
I think that this dish reflects my changing tastes and eating habits too, not to mention how I approach writing for Just Hungry, too. 4 years ago, I wasn't that worried about health issues or anything of that nature in regards to food. Now, I am rather proud that I have a tasty dish that is sugar-free, gluten-free (if you use a gluten-free soy sauce), and vegan! I feel a bit trendy.
(The original recipe is not that unhealthy or anything, but it does have a bit of meat, sugar, and so on.)
Vegan mushroom rice (kinoko no takikomi gohan)
2 large dried shiitake mushrooms
1 piece kombu seaweed (optional), left whole (6 inches / 15 cm or so)
2 cups white Japonica rice (sushi rice)
1 piece (about 2 cm / 1 inch long) of fresh ginger, finely chopped
1 cup sliced or shredded mixed mushrooms - fresh shiitake, morels, chantarelles, chestnut mushrooms, or whatever is around
1-2 Tbs. soy sauce
1 Tbs. sake
Equipment suggested: a rice cooker
Soak the dried shiitake mushrooms in plenty of water, with the piece of kombu seaweed. You can soak more than the two you'll use in this recipe and use the others in other dishes - they will keep in the water, in the refrigerator, well covered, for a few days.
Take out the two shiitake from the soaking liquid, squeezing out the excess. Cut off the hard stem and slice up the caps. Mix together with the chopped ginger and fresh mushrooms, and sprinkle on the soy sauce and sake. Squeeze the mushrooms with your hands until the fresh ones wilt. Leave for a bit.
In the meantime, wash the rice.
Put the rice in the rice cooker bowl, and add the mushroom mix. Add enough of the mushroom soaking liquid to come up to the 2-cup level. Let the rice soak for at least an hour - set the rice cooker timer accordingly.
When the rice is done fluff up with a rice paddle. Serve right away or in bento. It freezes well too.
This makes about 5-6 cups of mixed rice (depending on how much mushrooms you put in, and what kind - maitake or chantarelles would shrink a lot more than, say, eringi (pleurotus)), enough for 2 bento rounds for two plus for dinner.
Notes
I normally use white rice for mixed rice (takikomi gohan) like this, because I think the flavors permeate the rice better than with brown rice. I don't worry about the lack of fiber content in the rice itself, because the added ingredients usually have lots of fiber anyway.
Submitted by
maki
on 2007-11-09 19:27.
Filed under:
japanese
rice
mushrooms
fall
vegan
gluten-free
sugar-free