Hayashi raisu (rice): Japanese beef stew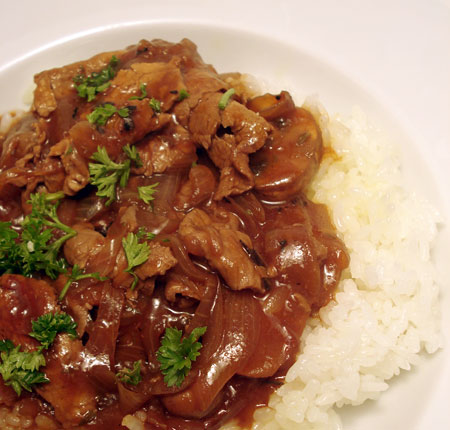 I have not added a _yohshoku_ (Japanese-adapted Western food) recipe in quite some time. The main reason for this is I haven't been making any...since most yohshoku dishes tend to be a bit heavy on the butter or cream or rich sauces.
I do sometimes crave this classic yohshoku dish. Hayashi raisu (or hayashi rice) is a Japanese version of a rich beef stew, and in terms of popularity it's second only to the mighty curry rice, Japanese style curry. Just like curry, you can buy hayashi raisu roux blocks at Japanese grocery stores (look in the curry roux section).
Incidentally, the hayashi part sounds like the Japanese word for a wood (as in a smaller version of a forest), but it's derived from "hashed", as in hashed beef. I think the origins are a hashed beef stew. I can see influences from beef bourgignon, stroganoff and various British stews in there.
The beef used is not tough old chewy meat - it's usually made from cuts that are tender enough to be cooked quickly. The kind sold for 'minute steaks' is fine. Sukiyaki beef is great if you can afford it. I've seen recipes around that suggest using pork instead of beef, but...that's just not right to me. Hayashi rice = beef! Beef!
Making hayashi rice from scratch can be easy or tremendously complicated, depending on one thing: whether you make your own demi-glace or not. Demi-glace is reduced, concentrated beef stock that is thick and paste-like. In Japan you can buy demi-glace in cans. You can buy it elsewhere too, though the good kinds can be very expensive. The only other substitute is to make your own strong beef stock from beef bones, meat trimmings and so on and reduce it down and so on. Using stock cubes just won't do it, I'm afraid, and forget about the usually insipid beef stock in a carton or can.
I've given instructions for making hayashi rice from handy roux blocks (which can vary in quality) and using demi-glace.
Hayashi raisu (Hayashi rice)
450g / 1 lb thinly sliced beef
4 medium onions, thinly sliced
About 10-12 mushrooms, sliced
1 medium carrot, thinly sliced
Butter or oil
1 garlic clove, chopped
1 cup (240ml) red wine
2 bay leaves
1 tsp. dried thyme
1 Tbs. Worcestershire sauce or Bulldog chuunou sauce
1 Tbs. soy sauce
Parsley or green peas for garnish
The sauce ingredients:
1/2 cup demi-glace or 4 cups strong beef stock
1 16-oz or 440g can of canned tomatoes
1 Tbs. tomato paste
2 Tbs. butter
3 Tbs. flour
Water
OR
6 blocks (or more if you like it thick) from a hayashi rice roux packet
Water
Equipment: a large frying pan or sauté pan, a heavy bottomed pot for stewing or a crockpot
Cut the meat up into bite-sized pieces. Heat up a frying pan with butter, oil or combination of both, and sauté the beef until browned. Take out the meat and set aside.
In the same pan, add a bit more butter (no this is not diet food) and add the onions. Sauté over medium-low heat until limp and slightly brown. Add the garlic, mushrooms and carrot. Sauté until the mushrooms are turning limp.
Put all the vegetables in a heavy-bottomed stew pot (a crockpot will do nicely too).
Add the wine. If you're using the hayashi rice roux blocks, add about 4 cups of water (don't add the roux at this point yet). If you're using the other sauce ingredients, add either the demi-glace plus 3 cups of water, the canned tomato and tomato paste, or 4 cups of strong beef stock and the canned tomato and tomato paste. Add the bay leaves and thyme.
Let it all simmer until the liquid has reduced to about half. Add the beef to the pot and contine simmering - the beef should be very tender.
If you're making your own sauce, make a roux by melting 2 Tbs. of butter in the frying pan and adding the flour. Stir until the flour is grainy and a little bit browned. Add to the stew and stir. Add the Worcestershire sauce and soy sauce.
If using the roux blocks, add them now and stir well to melt.
Add a little water or stock to thin out if it looks too thick. Simmer a few minutes.
Taste and add salt or pepper as needed. Take out the bay leaves.
Serve over rice that's been mixed with a little salted butter. Garnish with chopped parsley or a few green peas.
This makes 6 to 8 servings.
Hayashi omuraisu
Leftover hayashi makes a very rich sauce for omuraisu (rice omelettte) instead of ketchup. Use plain buttered rice instead of ketchup-chicken rice as the filling.
Submitted by
maki
on 2007-12-04 07:59.
Filed under:
japanese
winter
yohshoku
beef
slowcook
meat