Japanese basics: miso and miso soup
[Update:]Here are very detailed instructions for making miso soup. See also: updated miso soup how-to with step by step photos.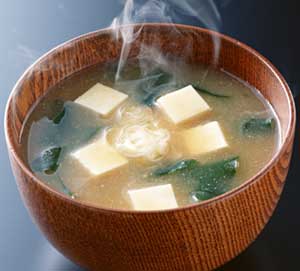 The health benefits of miso, or fermented soybean paste, have been studied and touted a lot in the last few years. Soy bean products like tofu, natto (fermented soy beans) and miso are all supposed to help to prevent breast cancer. The reason I like miso soup though is simply because it's good. Like rice, miso soup is an integral part of Japanese food culture.
Miso paste can be used for many other things besides soup. Thin it out a bit with some sake, soy sauce and a bit of sugar to make a great marinade or brush-on sauce for meat, fish and even vegetables. You can also completely encase vegetables such as cucumber and eggplant (aubergine) - the small Japanese or Chinese kind, not the big Italian kind - in miso for a day or so in the refrigerator, to make delicious miso zuke - a sort of miso marinade. You can treat meat, such as pork filet, or fish in this manner too, but I like it best with vegetables.
There are two major types of miso: red and white. Red is a dark reddish brown, and white is actually a sort of yellow-brown. Red is supposed to be saltier and stronger in flavor, though not all red miso is. White is more popular, and more versatile. There are as many kinds of miso in Japan as there are cheeses in Switzerland, though outside of Japan we only tend to see the major brands.
Miso soup, or misoshiru, is very easy to make once you have basic dashi stock. The key to good miso soup is to add the miso at the end, and not let it come to a rolling boil after that. If you need to re-heat it, do so gently.
Basic Miso Soup
For about 4 servings, you need:
4 cups of basic dashi stock
1/3 - 1/2 cup of miso
gu or extra ingredients (see note below)
Heat up the dashi if it's cooled. Simmer any hard ingredients, such as potatoes or daikon radish until tender.
Add any ingredients that don't need any cooking, such as wakame seaweed or tofu.
Take the miso in a ladle, and add a little bit of the hot stock, Mix the miso and stock together in the ladle with a chopstick until the miso is dissolved. This step ensures that there will be no lumps. (Go easy on the miso amount at first, and taste. If you need to add more you can.)
Dissolve the miso mixture in the soup. Don't let it boil or the flavor will dissipate. Serve immediately.
Here are some easy ingredients combinations, or gu, that you can put in the miso soup:
Cubed tofu and presoaked wakame seaweed cut into small pieces. (A very easy to handle brand of wakame is "Fueru Wakame-chan", available in Japanese or Asian food stores. It comes in precut form in little pouches. Wakame can also be used in seaweed salad. Soak it briefly before using - oversoaking makes it slimy.
Hint: to cube tofu so that it doesn't fall apart, cut it up on a wet chopping board and slide it in the pan slowly, or else cut it up on the palm of your hand.
Cubed potatoes (simmered in the soup until tender) and wakame. This is one of my favorites in the cold months.
Julienned daikon radish, simmered until tender.
Julienned cabbage, simmered until tender.
Sliced button or shiitake mushrooms, or canned nameko mushrooms., with tofu and some chopped green onion added just before serving.
There are many, many other combinations. Try out your own and see what happens.
Submitted by
maki
on 2003-12-07 12:02.
Filed under:
basics
japanese
soup
tofu
seaweed
miso