IMBB 22: Kitsune Udon with fresh udon noodles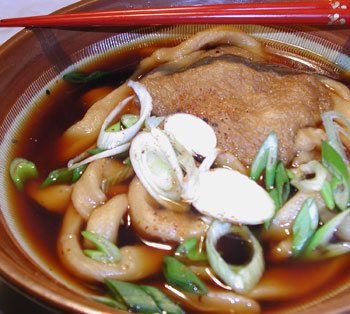 I haven't participated in Is My Blog Burning, the original food blogging event initiated by Alberto, for quite a while. However, I couldn't pass up on this month's theme, hosted by Cooking With Amy: noodles. I love noodles in all shapes and from all corners of the world.
I have made a very traditional Japanese noodle soup, kitsune udon. When you see the word kitsune in any Japanese food title, it means that it prominently features aburaage, or fried bean curd skin. I'm not sure why using aburaage makes it kitsune, because kitsune means fox. Perhaps it's from the golden brown color. of the aburaage. (Kitsune (fox) and tanuki (Japanese raccoon) feature a lot in Japanese folklore; both animals have the ability to shapeshift, but the kitsune uses it to fool people, while the tanuki often does it to help people. And yes, there is a tanuki udon too.)
My mother's family is from Saitama, a prefecture right to the north of Tokyo. Recently Saitama has become filled up with suburban commuter towns, but much of the prefecture is dominated by the Chichibu mountains, which feature prominently in Japanese literature. While that area is famous for its soba (buckwheat noodles), in the town where my mother grew up, Ogawa-machi (which isn't in the Chichibu area), everyone made teuchi udon, handmade udon noodles. I followed the general recipe my aunt used (her udon noodles were thick, a bit twisty, and delicious), but have adapted it so that I could make the dough in a food processor. This is a rather stiff dough since it only uses flour, water and salt, so using a food processor makes the kneading much easier.
The key ingredient is the flour. If you can, get udonko (udon flour), which is a very high gluten white flour. Otherwise, use a high gluten flour such as bread flour. I used Zopfmehl, which is a high gluten flour used for making Swiss braided bread. All-purpose flour would produce rather soft, limp noodles which is not what you want. You want something that is chewy and substantial even after being cooked in the soup.
The soup is a classic Japanese one made with dashi, soy sauce, and mirin, but the flavor is subtly changed by the aburaage.
Naruto, a sort of fish sausage, is often added to this, but naruto is one of the foods I really don't like (it tastes like a lump of glue to me) so I've omitted it.
(Tagged with: IMBB # 22 + Noodle.)
Fresh udon noodles
This amount makes enough noodles for 3-4 portions, depending on how hungry people are.
3 cups high gluten white flour (udonko is ideal - see notes above)
1 Tbs. salt
1/2 cup cold water, plus additional if necessary
Put the flour and salt into the food processor. Add the water, and start up the motor. If the dough does not form a ball, add droplets of water through the feed tube until it does. Don't add too much though or your noodles will be too soft. Stop it as soon as a ball forms.
Take out the dough and knead it a bit into one mass, and put it in a plastic bag and rest in the refrigerator for at least an hour. (This is the magic trick to all fresh noodles: even the most cranky looking dough turns smooth and yielding after a good rest. Sort of like a lot of humans..)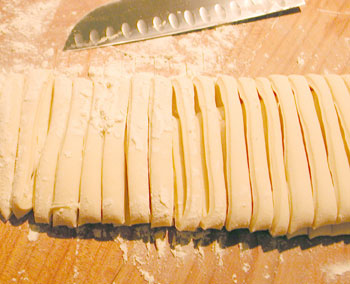 The cut noodles - here they are a bit thick, though I like them that way.
Take out the dough and roll it out on a floured surface, to about 1/2 cm / 1/6 inch thickness. Flour the surface of the dough, and then fold into thirds. Witch a sharp knife, cut into strips about 1/4cm to 1/2 cm / 1/12th to 1/6th inch wide - remember that the noodles will swell a bit after cooking. Separate the noodles and unfold them, stretch them out a bit and toss a bit of flour through them. At this point you want your water to be boiling already.
In the meantime, heat up a pot of water. Do not add salt to the water - remember the dough is already salted. Toss in the noodles and stir to make sure they don't stick to each other, lower the heat slightly and cook for about 7-10 minutes, depending on how thick you cut the noodles. If the water foams up until it looks like it's going to overflow, add a little bit of cold water to it. Test the noodles for doneness - they should be a bit al dente, or have a bit of chewy core.
Drain the noodles, then rinse well in cold water - this is to take off the starchiness on the surface and to firm up the noodles. Drain again. At this point it's ready to put into the soup.
To make the soup, follow the directions for the soup for toshikoshi soba. You can also find ready made noodle sauce concentrate (in bottles) at Japanese food stores, which you only have to dilute with water and heat up. Also, if you have made the Japanese essence in a bottle, you can just dilute this at about a 1:6 essence to water ratio and heat up.
To pretreat the aburaage (fried bean curd) pour some boiling water it - this gets rid of any excess oil. Drain, and put into the hot soup and simmer for at least 10 minutes.
Add the noodles, and simmer for an additional 10 minutes, or more (the noodles just keep absorbing the soup and become yummier).
To serve, top with slivered green onions and shichimi tohgarashi, which is described in the Toshikoshi soba recipe.
Note: if you can't get the fried bean curd you can top off the udon noodle soup with a lot of other things: vegetables such as spinach, an egg, leftover tempura, etc. Tanuki udon for example is topped off with abura kasu, leftover bits of fried batter from a batch of tempura. There's even curry udon, udon topped off with a curry sauce. You can also simply put a lot more green onion on it and just eat it like that.
Submitted by
maki
on 2006-01-28 11:05.
Filed under:
japanese
tofu
noodles