I have whisk elbow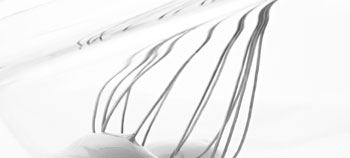 This hasn't been a good couple of weeks for me health wise. First there was the 'acute tonsilitis' thing (that is much better, thanks for your nice notes!) Now I have a self-inflicted case of Whisk Elbow. That's where you 1) forget to charge your cordless electric whisk, 2) have an uncontrollable urge to make some little almond cakes which use the classic French method of whipping the eggs with sugar over a hot-water bath until they become a foamy, lemony-yellow mass of heaven, and 3) do it by hand with a wonky whisk. Now I have shooting pains from my elbow running down my forearm.
The moral of this story: When you have a cake urge, and your electric equipment is kaput, don't be a hero. Go to the store and buy one. Something to remember if you'll be doing a lot of holiday baking and your muscles are not trained up for heavy-duty whipping. (eh...)
(And by the way, no I do not own a KitchenAid. Whenever I look at one, I see the price - they cost more than 650CHF (about US $580) here - and think: For that I could go away for a nice weekend in, say, Aix-en-Provence, or Florence, or Strasbourg, or even Paris. I'd rather do that anytime! And so I do. Whenever I feel the urge for a quick getaway, I go look at a KitchenAid mixer, and make do with my cheap electric whisk.)
On a much happier note, there are already some great responses to the book giveaway mini-contest. Come and share your own food memories too, for a chance at a great book!
Submitted by
maki
on 2007-11-27 16:44.