A visit to Obana, a traditional Edo-mae unagi-ya (old Tokyo style eel restaurant)
Just because I am Japanese doesn't mean that I like all Japanese food. There are quite a few things I don't really hanker after, and unagi or freshwater eel is one of them. This is due to a very painful, literally gut-wrenching encounter with an unagi no kabayaki (grilled unagi with special sauce) that I had one summer in my mid-teens. Since then, I've only been able to tolerate unagi in very small doses, if at all. On the rare occasion when I've dived into a major portion of unagi, I've always come away regretting it. Too oily. Too earthy. Too...etc. etc.
Yet, on a sunny Saturday morning a couple of weeks ago, when my stepfather proposed that we go out to Minami Senjuu for some unagi feasting at Obana, I only hesitated for a minute. When it comes to fresh fish and traditional food in general, my stepfather and mother are the the most demanding people alive. If they both agree that a restaurant is good enough to sacrifice a lazy weekend afternoon's worth of lounging around on the sofa for, then it really is good.
So off we went. To get to Obana, the closest station is Minami Senjuu (南千住; see below for details). Once you get out of the station and veer to your left, past the store that sells various traditional Japanese snacks (I don't recommend that store by the way...very mediocre wares), you'll find yourself on a small side street that runs right next to the train tracks. Almost every electric wire pole on the street points you to Obana.
Once you get to the Obana entrance around lunchtime or so, it's impossible to miss, since you will most likely encounter a line of hungry people waiting to get in. Your nose will also tell you where the unagi is. The traditional 'in' season for unagi is during the dog days of summer, and in July the line can stretch all the way out down the road, but since we went in November it only reached the entrance to the front garden.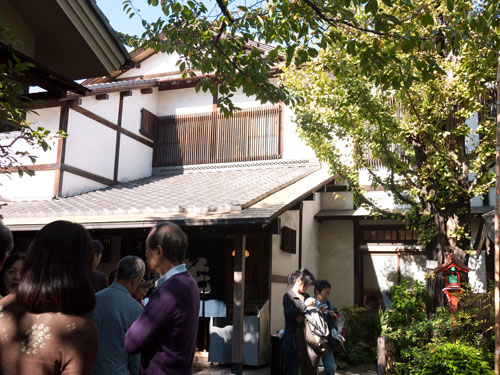 While we waited, a friendly yet no-nonsense lady came out to take our unagi orders. Obana only starts processing the unagi after it's ordered. She told us that it it would be about a 30 minute wait. We amused ourselves by staring at the little garden and tiny oinari-san or Shinto shrine. (People paying attention to this site may notice that oinari-san is also an alternate way of calling inari zushi, but I digress.)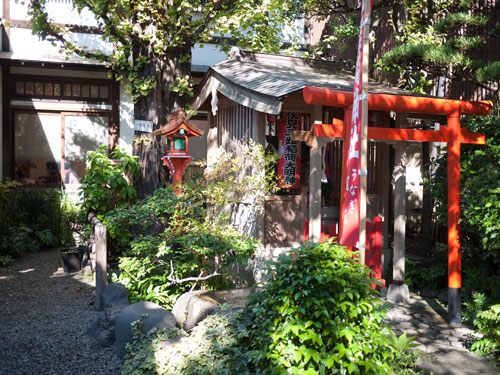 After the promised 30 minutes, give or take a few minutes, we were finally seated inside. Now, one caveat about Obana is that there is no Western style table and chair seating. All guests sit on the tatami mat floor. This may be quite uncomfortable for you, so be aware of this. For most Japanese people this is not a problem of course. (I won't talk about my own posture after half an hour of trying to sit properly. Let's just say, I was sure glad I wasn't wearing a skirt.)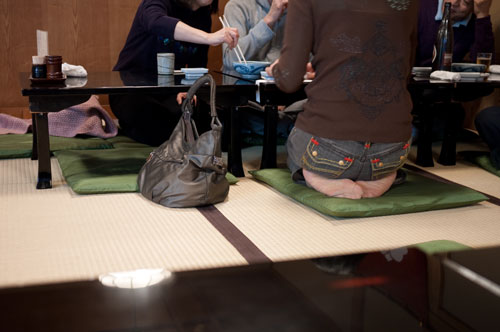 Although unagi orders are placed in advance, appetizer orders are taken after you're seated. They arrive before the main unagi. First some oshinkou or homemade pickled vegetables. I am very picky about my oshinkou and these were excellent, not too salty, fresh tasting but still packed with natural umami.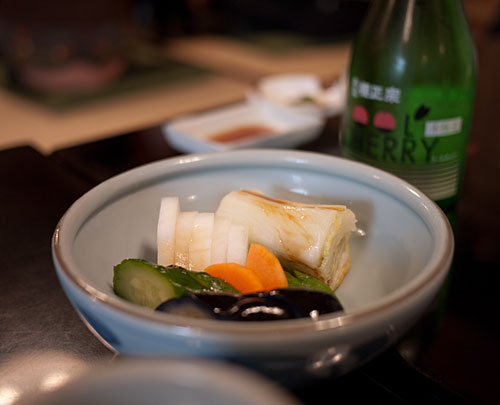 Next some umaki, tamagoyaki (or rather, the refined cousin of tamagoyaki, dashimaki tamago, which is made with a mixture of dashi stock and beaten egg) stuffed with unagi. The even yellow! The thin, even, moist layers! The oily, just slightly sweet unagi filling! Delicious does not even begin to describe it.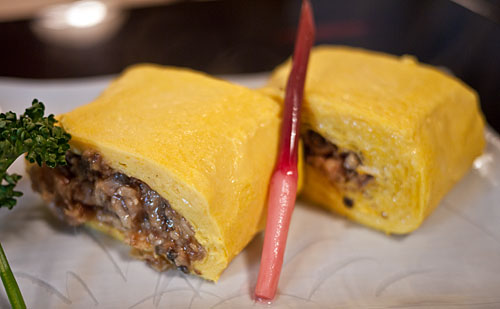 I was not as enthusiastic about the kimosui, clear soup with unagi guts. It tasted like, well, guts. I am not that fond of guts in general, even though that confession may disqualify me as a true gourmet or something.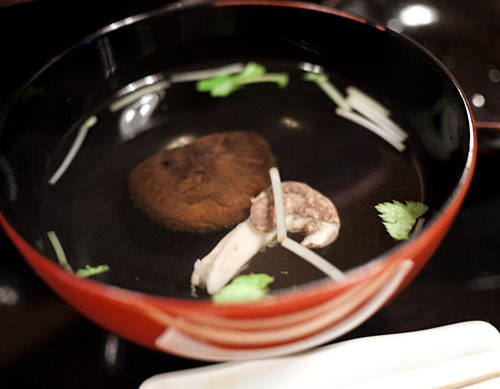 Then, the best appetizer of all, shirayaki, or plain grilled unagi. It was so fresh and delicate and tender, with none of the slightly unpleasant earthiness that you get with unagi at so many places.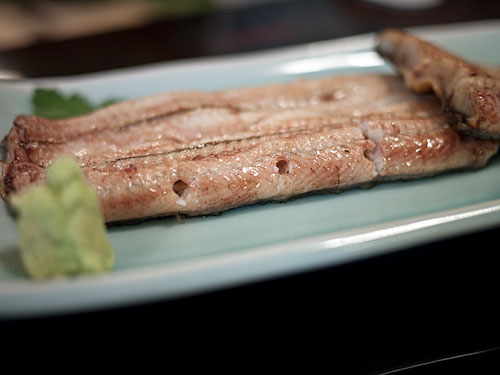 (Note, it takes some time for the unagi main course to arrive. So it's best to linger over the appetizers. You can also order a lot of drinks if you want as you wait, though we didn't.)
The star of the show of course, is the unajuu - grilled unagi with shiny, mouthwatering sauce, nestled on on a bed of rice. Obana has three differently priced unajuu on their menu (4,000 yen, 3,500 yen and 3,000 yen at the time of this writing); basically the price differs according to the thickness and size of the unagi. My stepfather had the most expensive one, I had the mid-sized, and my mother had the small one. The small and large ones came in square lacquer boxes.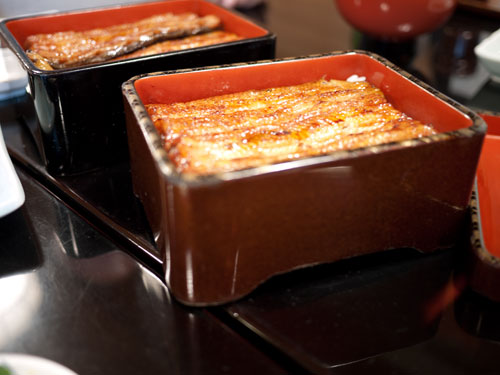 My midsize one came in a bowl. 'Melts in your mouth' is such a food cliché, but really, this unagi melted in the mouth. It was so very rich yet refined at the same time. My mother normally has a lot of trouble with oily fish, but she gobbled her unagi up while making little happy noises. The rice (most likely shinmai or new harvest rice) tasted great too.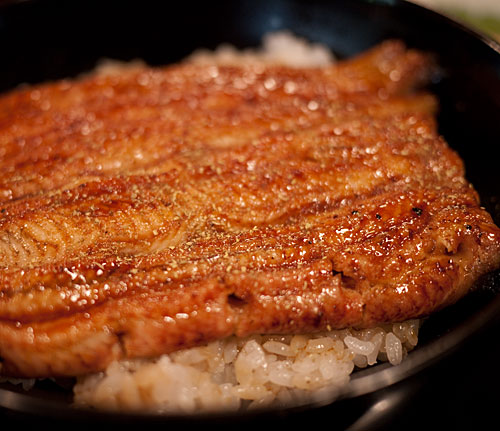 Full of unagi goodness, we managed to hoist ourselves up from the floor (well, I hoisted myself up, somehow...hey, I'm not used to the tatami lifestyle anymore) and waddled out happily. I snuck a shot of the open kitchen as we left. It looked impeccably clean, which is always reassuring to see in a restaurant. Those stacked up wooden containers are the steamers in which the unagi are cooked before grilling.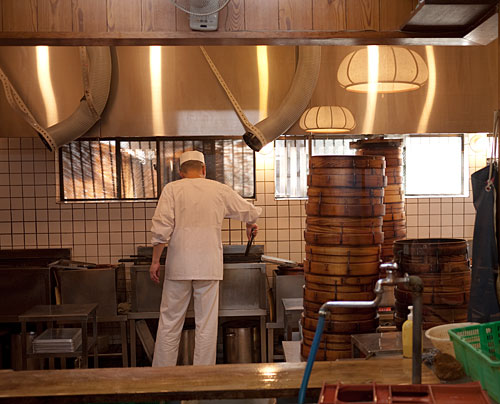 Here's a very happy customer, emerging back out into the sunshine.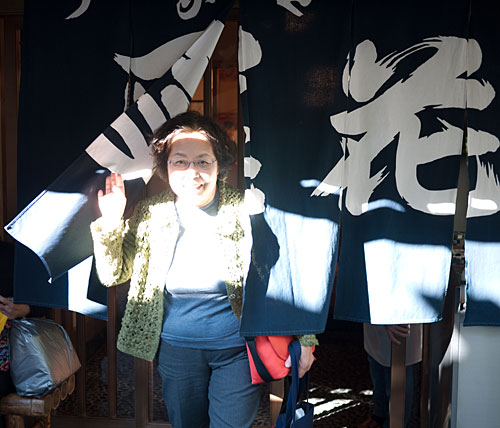 Obana is old and famous
Established in the early 19th century, Obana is not an unknown commodity by any means. It's rated tops in the unagi-ya category on the Japanese restaurant-rating sites like Tabelog and Gurunabi, and has been written up frequently enough in the English media that people even snark about it, complaining that it's too expensive, it's too out of the way, the unagi is too soft, whatever. All I can say is, nuts to those people. Obana is a great place to experience the best true Edo-mae (old Tokyo style) unagi in a very traditional Japanese setting.
Practical details
Obana (尾花)is near the Minami Senjuu (南千住)station on the JR Joban Line (常磐線)or the Tokyo Metro Hibiya Line (東京メトロ日比谷線). There's nothing else to see or do at Minami Senjuu, so you will have to decide for yourself if an unagi feast is worth the detour for you. Note also that Obana's prices are higher than your run of the mill unagi-ya's.
Obana opens at 11:30 and keeps serving all afternoon until they run out of unagi in the summer. If you don't want to wait a long time, try to line up around 11 or even earlier in the summer. During other times of the year they close for a couple of hours in the afternoon. In any case, once they're out of unagi they're done. Obana does not take reservations. If you're meeting people there, your whole party has to be assembled before they let you in. Once you're inside and seated, it still takes a good hour for your unajuu to arrive, since as I mentioned they only start preparing the unagi after taking the order. Don't schedule a visit here before you have to be someplace.
As far as I could tell they did not have an English menu, but hey there are just so many things you can order there. (I would recommend all the appetizers I've described above, plus the uzaku (raw unagi with cucumber). They have other things too like yakitori, if you must go with a non-unagi eater, though as a usually-non-unagi-eater I'd urge them to give Obana a try.)
Address in Japanese:
東京都荒川区南千住5-33-1
Tel: 03-3801-4670
Hours of operation: M-F: 11:30〜13:30、16:00〜19:30
Sat/Sun: 11:30〜19:30
Closed Mondays. Also takes some holidays during the year.
No reservations taken
NOTE: I am not your concierge or travel agent, so please, if you want to make specific inquiries to them, have your hotel concierge or Japanese speaking friend do this for you.
A bit of unagi trivia
In Tokyo, unagi is prepared by slitting the eel down the back, while in Kyoto it's slit down the front or belly. This is because Tokyo (formerly Edo) was a samurai warrior town, and slitting the belly of something (seppuku!), even a humble eel, was considered to be bad luck.
Submitted by
maki
on 2010-11-16 05:38.
Filed under:
food travel
japanese
restaurants
japan
washoku
tokyo