Low-key iridofu or scrambled tofu with vegetables - a low-carb foil for a Japanese (or other) meal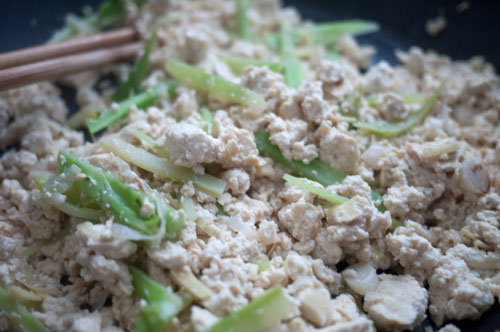 This site is not becoming a full blown low-carb/diabetic site, I swear. But this subject is at the top of my mind at the moment, since I'm still figuring out how to eat with these restrictions for myself. So please bear with me for a few such posts.
As I wrote about previously, one challenge that I am facing as a Japanese-food-centric low-carb eater is to find bland, 'carrier' food type things to replace the mound of plain rice that I have been accustomed to having with my meals.
In Japanese low-carb circles, the most popular bland rice replacement food is plain tofu. In Japan, I might go along with that, but here I really can't. For one thing, even the cheapest Japanese tofu is much better tasting than the tofu I can get here. I have no problems eating Japanese tofu straight up without any adornment, but the tofu here - not really. I could make my own tofu of course, but that is a lot of work, and not something I really want to tackle in my kitchenless state. Add to that the fact that halfway decent tofu here is quite expensive.
So, I needed to come up with a way to make plain tofu tasty enough to eat regularly, and this is what I have come up with. It's basically a low-key, low-seasoned version of a classic Japanese dish, iri dofu. While regular iri dofu has lots of seasonings and salt in it, since it's meant to be eaten with plain rice, I've really dialed down the seasonings for my bland-foil version here. It has no salt in it, just the umami that comes from salt-free dashi or stock. I usually add bits of vegetables to liven it up too - here I've added some peeled and finely cut broccoli stalk that was lying around in the fridge. It does form a fine foil for other foods. Note that since tofu is mainly protein, you'll want to go easy on protein-rich accompaniments. One of my favorite things to eat with this is some stir fried vegetables, using whatever I have on hand, with lots of onions and garlic added.
Recipe: Low-key iridofu or scrambled tofu with vegetables
2 to 4 servings
1 1 lb (450g) block of fresh firm tofu (see Looking at tofu)
2 cups vegan dashi stock, or salt-free vegetable stock
1 cup finely chopped vegetables of your choice
Take the tofu out of its container or bag and drain off all the water. Put the tofu on a plate, and place another plate on top, with a weight of some kind (like a can of tomatoes or something) on top of that plate. Leave until the tofu has lost about 1/3rd of its height, draining off the water that comes out periodically.
(A faster way to drain off the excess water in the tofu is to do it in the microwave. Wrap the drained tofu in kitchen paper towels, put on a microwave-safe plate and microwave on the high setting in a 1000 watt microwave for 2 minutes, a bit longer for lower-wattage microwaves. Be careful,the tofu will be really hot!)
Crumble up the tofu with your hands. Put a large frying pan or wok, preferably with a non-stick coating, over high heat and add the stock. Add the tofu and vegetables, and stir around until the moisture has evaporated.
Serve hot or cold, as a rice replacement.
Variations
To turn this into "fried tofu" that sort of resembles fried rice, stir fry some chopped up green onions and ginger in some oil (add a drop of sesame oil), and add the cooked scrambled tofu. Finish off by seasoning with soy sauce, salt and pepper to your taste. You could add some chopped up ham o bacon too.
For you soy/tofu scaredy-cats out there, I eat this maybe 2 or 3 times a week. I can't afford to eat more than that really, and I like variety!
I'll have some more low-carb rice replacement recipes in upcoming posts.
Submitted by
maki
on 2010-09-09 11:01.
Filed under:
japanese
vegetarian
vegan
low-carb
diabetes