Japanese Cooking 101, Lesson 5 extra: Fish bone crackers (hone-senbei) with shoestring potatoes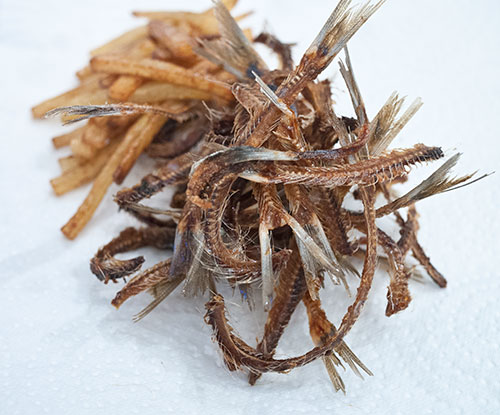 There's no need to throw away the bits of fish that you cut off when you filet them and so forth. Fish bones and heads can be kept for making soup. Or, if the bones are tender enough they can be made into delicious fish-bone crackers.
At the sushi restaurant in New York I worked at many years ago, the chefs used to serve these as extra treats to customers who sat at the counter. One of those was a lovely little girl, who used to come regularly with her father. She just loved those fish bone crackers. One year the chefs made a big batch of them and gave her a takeout box full for her birthday. She was so happy I thought her eyes were going to pop out of her head.
I've paired these with shoestring potatoes, which taste surprisingly sweet next to the umami-rich fish bones. The type of potato is important - choose a nice firm waxy type, not a floury type like Idaho baking potatoes. Alternatively you can use sweet potatoes.
Recipe: Fish bone crackers (hone-senbei 骨煎餅) with shoestring potatoes
A frugal way to deal with the bones taken out of small fish like sardines. Tip: Always fry the potatoes before you fry the bones, or the potatoes will take on the flavor of the fish.
Prep time: 15 min :: Cook time: 10 min :: Total time: 25 min
Yield: 2 servings
Ingredients:
16 to 20

fish bones from fresh sardines

2

Yukon Gold or Bintje potatoes, or similar firm potatoes

, medium sized

salt

, to taste

flour or cornstarch

, to dust the fish bones

oil

, for frying
Directions:
These are the fish bones taken out of the fish. Wash them off, and pat them dry with paper towel. Leave to dry out a bit on a plate for an hour. (Do this in the refrigerator if the weather is hot, or if you have some feline overlords about.)


Peel the potatoes and cut them into small matchsticks. Rinse them and then pat them dry, and leave on a sieve to dry out some more until you're ready to fry everything.

When you are ready to cook and while the oil is heating up, coat the fish lightly with flour or cornstarch.

Heat up some oil for frying. Heat the oil to a low cooking heat, about 170°C / 340°F (see this for how to gauge frying oil temperature with wooden chopsticks). Fry the potatoes until cooked but not browning yet. Take them out and drain.

Heat up the oil until it reaches the high range, about 180°C / 355°F. Put in the pre-cooked potatoes and fry until a golden brown. Take out and drain.

Put the fish bones in and fry until golden brown and crispy. Take out and drain.

Lightly salt the fish and the potatoes. Serve as a snack or appetizer. It goes very well with beer.
(Below is for search engine purposes)
By Makiko Itoh
Published: April 26, 2013
Type: Japanese, fish, washoku, appetizer
Submitted by
maki
on 2013-04-26 15:36.
Filed under:
japanese
fish
washoku
appetizers
japanesecooking101