Layered Cabbage Casserole - Kyabetsu no Kasaneni (an everyday favorite)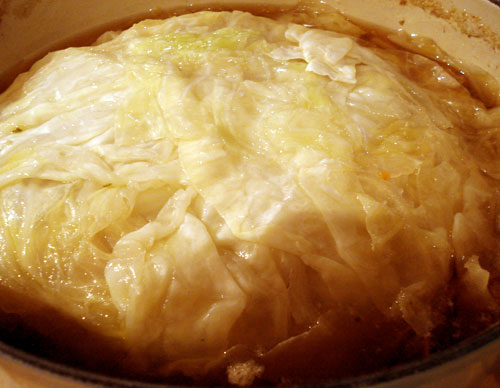 (From the archives. A perfect leave-to-cook, warming dish for a cold evening! Originally published December 2008.)
Some dishes dazzle you with their prettiness. Others may look plain, but are just plainly delicious. This simple, filling yet healthy winter dish belongs to the latter group.
Stuffed cabbage rolls are a staple of Japanese home cooking, believe it or not. I've loved it ever since I was little, but I would beg my mother to make it for me. It's a perfect winter dish, but it can be just a bit fiddly to make.
This stovetop casserole type dish is called キャベツの重ね煮 (kyabetsu no kasaneni) or stewed layered cabbage. It's basically a deconstructed cabbage roll, made into a round dome and served sliced into wedges. I've called it Layered Cabbage Casserole, because 'stewed cabbage' in English brings back memories of the greyish limp stuff served in a pool of water that I occasionally had for school lunch in England. (I usually ate lunch at home, since we lived next door to my school, but sometimes when my mother had to go out she'd pay for me to have school lunch. The only things I remember from those school lunches were terrific sausages, and that grey cabbage goo.)
Layered Cabbage doesn't look very pretty on its own, though it does make an impressive lump. Sliced into wedges though and served with the cooking liquid, it almost looks like a cake, doesn't it? The cabbage becomes meltingly soft and infused with the flavors of the stuffing and the poaching liquid, which also becomes the sauce.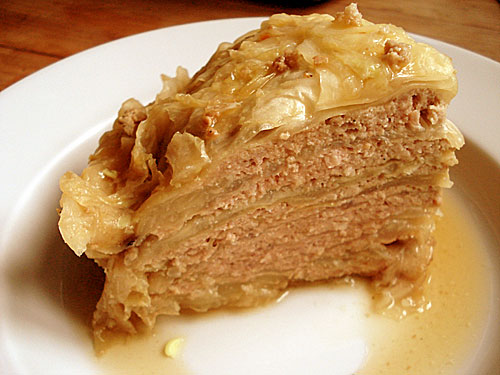 Here is the big lump (which looks like a rather flat cabbage), with a wedge cut out of it.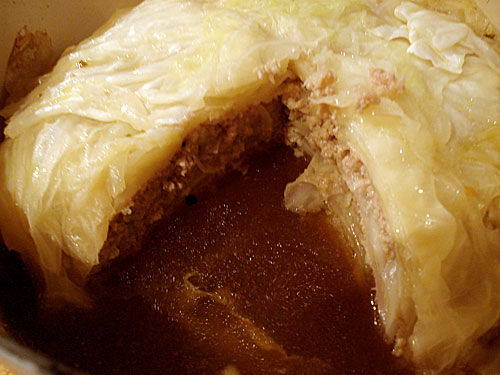 It's a perfect main dish for a cold winter's night. It's also very well suited for the slow cooker.
Recipe: Layered Cabbage Casserole (kyabetsu no kasaneni)
This makes a big 'cake', enough for at least 8 servings. This is sort of intentional, because leftovers taste even better the next day. You'll notice that it combines both Western and Japanese flavors, so it belongs in the yohshoku (imported and adapted Western food) category of Japanese cooking.
1 medium to large cabbage
For the stuffing:
1 medium onion, finely chopped
1 small carrot, finely chopped
1 lb (450g) ground beef, or mixed ground pork and beef (In Japan all pork is used, but in this case I prefer the flavor of beef or a mix)
1 small firm tofu (about 300g / 10.5 oz), crumbled
1 egg
1/2 cup breadcrumbs (or use about 1 cup cooked rice)
1 tsp. salt
Pepper
1/2 tsp. ground nutmeg
For the sauce/cooking liquid:
About 4 cups Chicken stock (canned or homemade or even stock cubes will do)
3 Tbs. tomato paste
3 Tbs soy sauce
2 Tbs. sake or sweet sherry (you can leave this out if you can't use alcohol)
1 Tbs. white wine or rice vinegar
1 bay leaf
1 tsp. dried thyme, or a sprig of thyme
Pepper, and additional salt to taste
Equipment: One of the following:
A slow cooker/crockpot
A heavy enamelled cast iron casserole pot such as a Le Creuset
Any heavy-bottomed pot
Plus, a pot lid or heatproof plate that is a bit smaller than the circumference of your pot.
Peel off the cabbage leaves, in as large pieces as possible. Don't worry if some get torn up though, you can still use them. For presentation purposes, you may want to have at least one or two big, intact leaves to place on the top. You will want to have about 20 leaves worth or more. If the stalk part is very thick, shave them down a bit with a knife or vegetable peeler.
Reserve some of the torn-up cabbage leaves. Blanch the rest of the cabbage leaves for a few minutes in plenty of boiling water. Drain and cool.
While the cabbage leaves cool, make your stuffing by combining all of the stuffing ingredients well.
In the bottom of your pot, put down the uncooked cabbage leaves in a layer. This uncooked cabbage layer will prevent the bottom of your stack of cabbage from burning (if the protective layer burns, you can just throw it out). On top of the uncooked layer, put a layer of cooked cabbage, then a layer of stuffing, and repeat until the pot is almost full. The top layer should be a below the top of the pot, with space enough for that small pot lid or plate to sit on top. For aesthetic purposes, try to make the shape of your stack round like a cabbage, and finish up with a large, intact leaf.
Combine the sauce/liquid ingredients, and pour around the cabbage. The liquid should just barely cover the top of the cabbage cake - add some water if it doesn't. Add the bay leaf, thyme, pepper and salt if needed. Bring to a boil, then lower the heat and place the small pot lid or plate on top of the cabbage. This is to weight it down a bit and ensure that it stays intact. (This technique is used often in Japanese cooking; the small lid is called an 落としぶた (otoshibuta), meaning 'dropped lid'.)
Simmer gently for at least 1 hour, or longer. (If using a slow cooker, you can set everything and let it cook all day.)
Taste the sauce/liquid again before serving and adjust the seasoning.
Slice into wedges and serve in a shallow bowl or soup plate with some of the sauce, with plain rice (the Japanese way), or bread.
Notes
The tofu in the stuffing mixture lightens it up. You can omit it and use a bit more meat or vegetable instead.
I have not tried it, but you could probably cook this in a heavy casserole dish in the oven too. Just make sure the surface doesn't dry out.
Try putting a little bit of miso in the liquid (about a tablespoon) to make it richer.
Submitted by
maki
on 2010-02-02 10:00.
Filed under:
winter
yohshoku
favorites
meat
cabbage
slow cook