5th Anniversary Giveway Day 4: Regrets, I've had a few
There are a couple of things that I wish I had done differently during the last five years as far as Just Hungry was concerned. If you are a newish food blogger, or any kind of blogger, perhaps this will help you avoid these mistakes.
Don't take long, unexplained absences
From about August 2004 to February 2005, I just got too busy with other things in my life and stopped posting on the site for more than six months without explanation. I even got some concerned emails asking if I was okay. This was particularly bad timing for a variety of reasons. When I did come back, I found that the site was almost forgotten, especially in the general food blogging community. My readership was way down of course, and it took a long time to get it back to pre-hiatus levels. I still think that if I hadn't taken such a long time off, Just Hungry would be much better known than it is and so on, but there's no taking that time back now. Anyway, if you plan to make your blog, any blog, grow as much as possible, don't take very long and unexplained vacations from it or people will think it's dead!
Don't change the site design so much
I'm a web designer in my working life (or, used to be...nowadays I do more non-web work, but that's another story). Partly because of that, I kept changing the design of the site drastically almost every few months. This was good for me, but it may have hurt the site a bit. When I changed the design the last time back in early 2007, I even got some emails asking if it was 'the same site'! So the lesson to be learned here is that re-designing just on a whim is not necessarily a good idea! Plus, it takes a lot of time away from actually writing good things for your site. People come to your site for the content, not really for the site design (though I do think that having an attractive site doesn't hurt.)
And also - not necessarily mistakes, but a subject that is not talked about much on food blogs (if they are at all):
The monetization issue, and the hard work of a food blogger
This subject includes some things I did do, some I didn't do, and some things I occasionally get asked about. If you have already decided that you are not interested in making money from your blog, then you can skip this part.
Earning money from a blog is not as easy as some people will make you believe. There are lots of blogs out there that cover this subject in depth (Problogger is a good place to start), but here I'd like to talk about some things specific to food blogs.
First off, if your primary purpose for starting up a blog is to start earning money from it, it's my humble opinion that food is one of the last categories you should be considering. Why, you ask? Well, one of the main ways any blog can start earning some revenue is to place Google Adsense, or other contextual, ads on it. The hard truth is, most food related Adwords (the words that trigger the appearance of contextual ads) are very cheap, and you, the site owner, earn very little off them in comparison to other categories. I have to laugh at those splogs that scrape content off other food blogs and expect to pick up some Adsense money really. They really should be scraping sites about car insurance or something :) (I'm kidding of course - scraping is very, very bad.)
Keep in mind also that maintaining a food blog is really a lot of work. Think about it: A typical food blogger spends lots of time and effort cooking things, photographing the results, and then finally writing up an interesting post about it including a recipe that has to work properly. Or, they go out to lots of restaurants - usually paying their own way, unless they are very lucky and have a sponsor somewhere. Most well known food bloggers invest in a good quality camera to take good photos, not to mention other gear like tripods, macro lenses and even studio setups. Some even go get special tableware and props to display their food to the best advantage. And usually, food bloggers have to do all of this by themselves, or with one partner.
So, you really have to love, love thinking and writing about food to maintain a food blog for an extended period so that its audience grows enough. But let's say you've overcome that hurdle. How do you make money from this endeavor? Here are the revenue sources that a successful food blogger might have:
Contextual ads, such as Google Adsense
Joining an ad serving group that serves theme-targeted ads, such as BlogHerAds, BlogAds, etc.
Affliate links, such as Amazon, where you earn a commission on sales
Selling ad space directly to companies with related products or services - this is not easy but can be done, and is probably the 'best' kind of advertising
Do speaking, consulting or teaching that is related to your blog subject
Publishing a cookbook or other related book
I have done all but the last one. I don't earn enough from either Just Hungry or Just Bento to quit my dayjob (and neither do I want to at this point really) but the revenue is non-negligible. It's now definitely my second job - one that I enjoy a lot, but nevertheless a job. Other food bloggers I'm sure have also done a combination of the above. Quite a food bloggers have published books - the revenue generated this way of course depends on how well the book sells.
One more thing: Whenever you decide to monetize your site, I think it is very important to be sure that you are happy with what is being advertised. For example, I am very happy to have Japan Centre in London as an advertiser, because I was a happy customer before we even got into contact, and their store is a perfect fit for my sites. I would never carry an ad from a company or for a product I disliked, no matter how lucrative the offer may be. I also try to keep an eye on the kind of contextual ads that appear. You want to present content that you believe in to your readers at all times, and that includes the ads.
I've rambled on a bit today, but finally on to today's giveaway!
Just Hungry 5th Anniversary Giveaway Item 4: An eclectic assortment of Japanese craft and knitting books
Please check the giveaway rules in the first post. Do try to remember to keep it to one comment per item/entry, thanks! (I've noticed that sometimes people seem to get impatient and post the same comment twice. I use a spam-preventing tool called Mollom, which sometimes can cause a short delay between the time your comment is entered and the time it appears. So please wait a bit before submitting another comment.) Remember: You need to give me your email address (in the email entry area) where I can contact you if you win, your name (or nickname), and your location (country).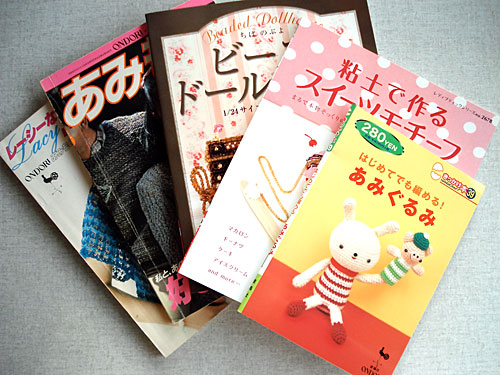 Today's giveway is a bit off track maybe, so I am anticipating less interest in them than the other items (but hey, you never know.) I know that a lot of people who visit Just Hungry and Just Bento are interested in Japanese culture in general, and many are crafters and knitters. I love crafty things as much as I love cooking, and I could extend the day to about 32 hours instead of 24 I'd start up a crafty blog. Anyway, I have tons and tons of Japanese craft (手芸, shugei) books, and these come from my vast collection. (Please feel free to spread the word about this giveway to craft or knitting related sites and so on.) I apologize for the wonkiness of the photos below.
Book 1: Vintage lace knitting book (Lacy Handknits)
This is a book published by Ondori in 1982. The styles are sort of '80-ish but fairly timeless (and I hear '80s fashion is coming back anyway!). A couple of examples: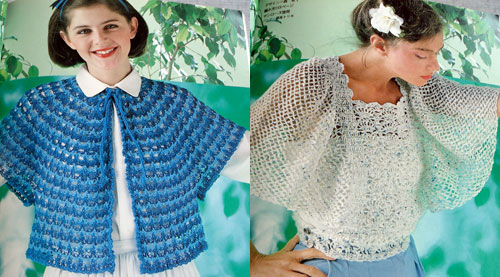 It has both knitting and crocheting patterns. All are in chart form as with all Japanese knitting books. Sizing is small (e.g. bust circumference around 80cm) though I guess experience knitters/crocheters can adjust them. This is a vintage book, so there is some minor creasing and so on, but the photos are clear and unfaded and the pages are clean.
Book 2: Vintage unisex knitting book (I Love Sweaters! Sweaters For Me and My Boyfriend)
Another Ondori publication, published in 1983. This one is all knitting. Back in the '80s, the "pair look" (where BF and GF would wear matching outfits) was big. So, half of the designs in this book have His and Her versions. Fortunately most of them are not matchy-matchy in an obvious way. The rest of the book has sweater and vest designs for women. Examples of contents: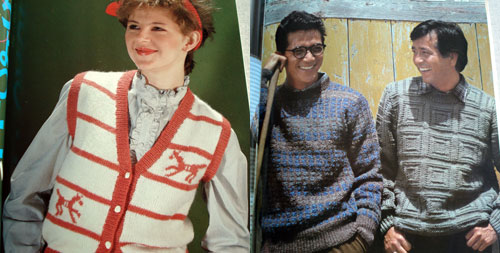 Sizing is more generous than the lace knitting book - around 85cm chest for women and 100cm for men. All charted and/or with Japanese instructions. The designs are fairly timeless. Again, this is a vintage book, so some pages are a bit dog-eared and so on, but is otherwise in good shape.
Book 3: Clay Sweets book
A Lady Boutique publication, published this year. Deco sweets, or cakes and other sweeties made with clay and used as room decor, phone straps and so on, are very popular in Japan at the moment. This is a book that shows you how to make them! Some examples: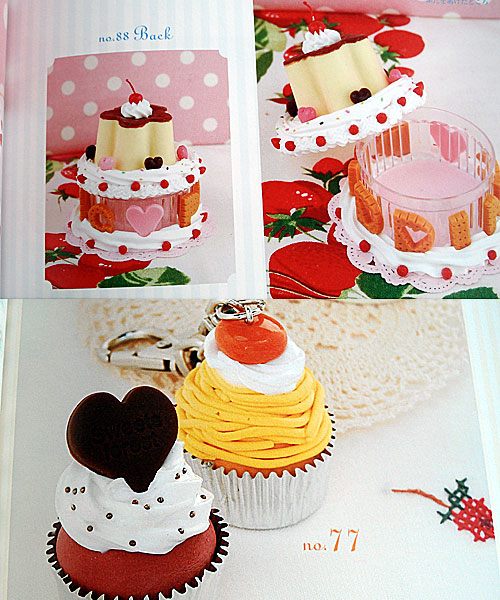 It uses air-drying resin clays (the standard in Japan) but you can adapt the methods to oven baked clays like Fimo. The book is in brand new condition.
Book 4: Beaded Dollhouse: 1/24 scale furniture made of beads
A Boutique Mook (no. 531), published in 2005. This one is rather unusual I think - furniture (chairs, desks, bureaus, potted plants, what have you) made out of beads!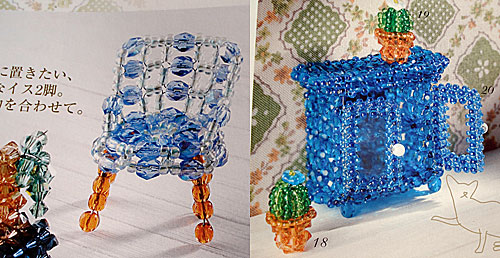 It has beading charts for you to recreate these glittering tiny marvels. The book is in brand new condition.
Book 5: Amigurumi For Beginners
An Ondori booklet published in 2004. It's a beginner's guide to making amigurumi, tightly crocheted little critters. Everything is charted, and is crochet only.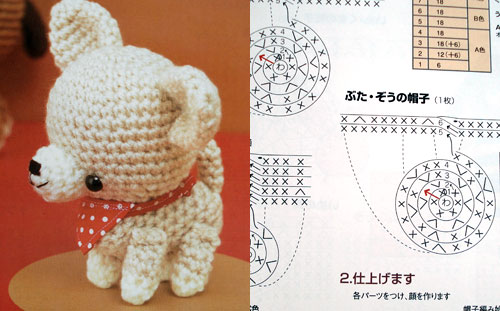 The book is in brand new condition.
So there you have it. Even if you never make anything in these books, if you are as fond of handcrafts as I am you'll enjoy just looking through them!
DEADLINE: Your comment/entry must be posted before Midnight Greenwich Mean Time on Sunday, December 7th.
This giveaway is now closed. Thank you for participating! The winner will be announced next week!
Submitted by
maki
on 2008-12-04 14:16.
Filed under:
site news
philosophy
freebies