5th Anniversary Giveway Day 2, with some reminiscences
During this giveaway week, I thought I'd indulge myself by sharing some reminiscences about the past five years of Just Hungry. Today: Why I started the site.
I've always been obsessed with food on many levels, and I've also been blogging since about 1998 or so. This was back when blogs were still pretty obscure. One day I wrote a couple of things on my 'weblog'; one about a visit to one of the first Apple Stores in New Jersey, one about a wierd/funny dinner experience. My 'weblog' post about the Apple Store somehow got discovered by an Apple fan forum. Many of the forum commenters disagreed with my opinion, and then proceeded to make vicious remarks about the rest of my site. I shouldn't have bothered about these anonymous opinions, but they really stung me. I wasn't used to it. So, soon after I deleted my whole site contents, dumped the homebrewed weblogging system I was using (that I really regret) and for a while my personal site was a stark Under Construction page.
Then in 2003, I installed a spanking new copy of Movable Type and started writing again. By this time of course blogs were much more mainstream, and there were far more self-indulgent, navel-gazing blogs out there than my 'weblog' ever had been. My intention with my personal site was to give myself freedom to write about whatever I liked. I'd written a book (about CSS and Javascript) a couple of years prior, which was extremely restricted in terms of everything from content to format; this had really drained me mentally and physically, and for a while robbed me of the desire to do any kind of writing. So my blog was going to get my writing mojo back.
But yet...I couldn't seem to get out of the safe place of talking mostly about web-geeky stuff. I still loved to write, but I couldn't get out of a box I'd built around myself. Then, I somehow got a discount coupon for a new hosted blogging service called Typepad. Somewhat on a whim, I decided to start up a blog there and make it all about food. I called it I Was Just Really Very Hungry, after the title of one of M.F.K. Fisher's essays (more about my admiration for M.F.K.Fisher).
I dove into the food blog without any kind of planning. Designing the site was easy for me (since I did that for a living). Content wise...I just wrote about the food I loved. Most of my early posts had a less than stellar one or simply no photo at all. (Food blog photography was not nearly as sophisticated, not to mention competitive, as it is now.) I didn't really plan to make it a blog mostly about Japanese food either. But, since I am Japanese and I love Japanese food, that aspect of it gradually evolved.
There have been ups and downs, but five years later...it's still here!
And now finally, today's giveaway!
Just Hungry 5th Anniversary Giveaway Item 2: Saisai Gohan by Yumiko Kano
Please check the giveaway rules in the first post. Do try to remember to keep it to one comment per item/entry, thanks! Remember: You need to give me your email address (in the email entry area) where I can contact you if you win, your name (or nickname), and your location (country).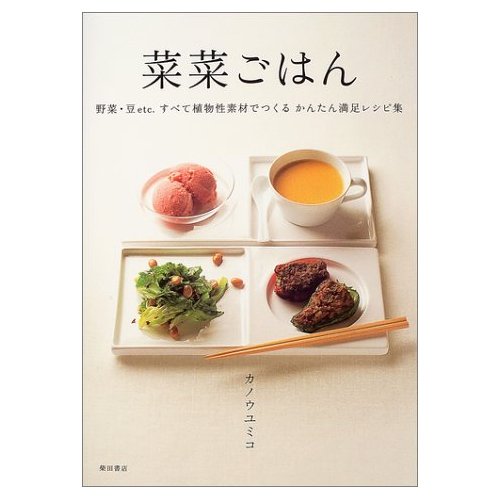 Saisai Gohan (菜菜ごはん) is a vegan Japanese cookbook by one of my favorite cookbook authors in any language, Yumiko Kano. I've referred to her works several times (a listing of several of her books) and she is one of my biggest inspirations when I want to cook healthy, tasty vegan Japanese food. She's published several books on the same theme, but Saisai Gohan (which means 'vegetable meal') is the starting point.
All the recipes in Saisai Gohan are dairy and egg free. They do not use traditional dashi, but rely on the natural flavors and sweetness of the vegetables she uses (she doesn't always add things like mirin or sake either, unlike most other Japanese cookbooks). Maple syrup or amazake are used as sweeteners, especially in her dessert recipes. It is not gluten-free since she does use wheat flour, seitan and fu, though many of the recipes are gluten-free. It even has desserts!
Please note that this is in Japanese, and does not come with a translation, so some knowledge of Japanese is useful; although there's a clear photograph for each recipe, there are no step-by-step photos.
DEADLINE: Your comment/entry must be posted before Midnight Greenwich Mean Time on Friday, December 5th.
This giveaway is now closed. Thank you for participating! Be sure to check out the front page for the giveaways still open. The winner will be announced next week!
Submitted by
maki
on 2008-12-02 13:16.
Filed under:
site news
philosophy
freebies
essay