Scandinavian cucumber salad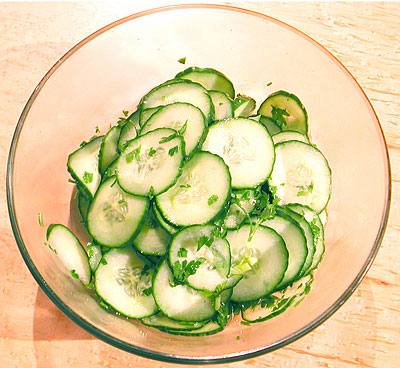 One item that can be a killer when you're trying to reduce calories, and thereby your circumference, is salad dressing. The problem is that most traditional salad dressings are 60 to 70% oil in weight. But when I look at recipes for salad dressings from the weight-loss brigade sources and see measurements like half a teaspoonful of olive oil, I wonder what planet these people live on. Half a teaspoon of olive oil on a big salad is not going to add any sort of discernable flavor. You might as well go without it.
On the other hand, it is quite difficult for most people to eat raw vegetables with just a squeeze of lemon juice and salt or something. The role of salad dressing is to coat the veggies with a layer of flavor, and to add a certain moistness or lubrication. It seems a bit strange to think that you need to add "moistness" to vegetables, which are almost all water in weight, but the human palate is a strange thing.
So, what I've been looking for is ways to add the "moistness" and flavor coating to a salad without the addition of oil. Or, if I do add oil it is really going to count in terms of flavor.
Cucumbers have a delicious juice, that really gets perked up by a little salt and/or a sour ingredient like vinegar or lemon juice. I've been making this salad, which has a rather Scandinavian sweet-and-sour flavor, for years now, and it gets rave reviews every time because it really has a wonderful fresh, refreshing taste and texture. It has no fat at all, and if you are avoiding sugar all together you can substitute artificial sweetener for the 1 tablespoonful of sugar. Substituting honey for the sugar gives it a subtly differerent flavor too. This salad goes well with just about any kind of meal.
Scandinavian cucumber salad_
1 long English-style cucumber, or the equivalent amount of other seedless or low-free cucumbers (Japanese cucumbers for example)
1 small celery stalk
small bunch of parsley
Fresh dill
1 Tbs. sugar
2 Tbs white wine vinegar
1 tsp. salt
Slice the cucumber thin, but not paper-thin - about 2mm or so in thickness. Put n a bowl.
Chop the celery very finely. Chop the parsley and dill also. (Note: you can really add as much parsley as you want, but you want up to about 1 Tbs. of dill. You can omit the dill too.) Put in the bowl with the cucumbers.
Combine the sugar, vinegar, and salt and pour over the vegetables. Dont worry if the sugar and salt don't completely dissolve - they will eventually. Mix well with your hand, squishing the cucumber a bit to encourage the juices to come out. Cover the bowl and chill in the refrigerator for at least an hour. Mix again before serving.
Makes 4 side-salad servings, 2 salad-course servings, or 1 large main salad.
Fat content: none
Sugar content: 1 Tbs.
Variations: Add thinly sliced radish. Add a can of tuna packed in water (the cucumber juice goes very well with tuna).
Submitted by
maki
on 2004-08-29 17:16.
Filed under:
lighter
vegetables
salad