New potatoes with butter and soy sauce (Shinjaga shouyu bataa)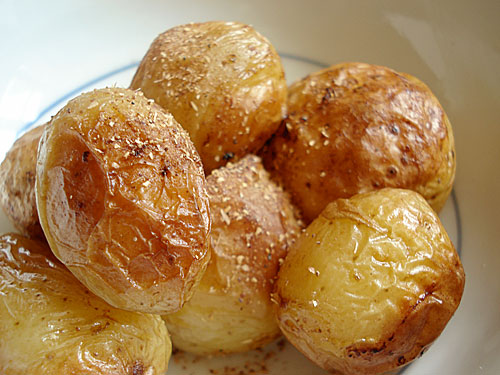 We live in a semi-rural area (well, most areas outside of the cities are semi-rural in Switzerland) and one of the things grown here locally are potatoes. While most farmers like to grow those potatoes until they are quite huge, around this time we can get tiny new potatoes. I love new potatoes - they have a fresh, very slightly mineral-y flavor to them which is quite different from mature potatoes.
If you're not familiar with new potatoes, try to get organically grown ones. This way you can eat them skin and all - peeling those really tiny potatoes can be a bit of a pain. The skins of fresh new potatoes should pale and very thin.
The easiest thing to do to new potatoes is to simply boil them and eat them with salt, pepper and a little butter or crème fraîche. This Japanese-flavor recipe is almost as easy though. Soy sauce and butter go marvelously well together, and enhance the new potatoes in a very satisfying way. In Japan the new potatoes would be deep-fried to get them crispy, but I've oven-baked them instead to cut down somewhat on the fat. (New potatoes in Japanese are called shinjaga (新じゃが)).
Recipe: New potatoes with butter and soy sauce (Shinjaga shouyu bataa)
About 500g / 1 lb tiny organic new potatoes, washed and unpeeled
Salt
2 Tbs. butter (You can use olive oil instead. But, you know, sometimes it just has to be butter.)
1 Tbs. soy sauce
Coarsely ground black pepper or Sansho (山椒)
Preheat the oven to 200°C / 400°F.
Put the potatoes in a pan with water to cover; add salt (the water should taste almost as salty as sea water). Bring to a boil and cook for about 5 minutes. (Do this while the oven is heating up.)
Drain the potatoes. Melt the butter in the same pan and add the soy sauce. Mix the potatoes and butter-soy sauce well, and put onto a baking sheet.
Roast for 25 to 30 minutes unti the potatoes are browned and cooked through. Serve warm or at room temperature sprinkled with a little sansho/sanshou pepper (available at Japanese grocery stores) or black pepper.
Want more butter + soy sauce?
Try corn on the cob with butter and soy sauce...delicious!
Submitted by
maki
on 2008-06-25 15:34.
Filed under:
japanese
potatoes
summer
produce