Leaf shaped black sesame cookies with matcha tea icing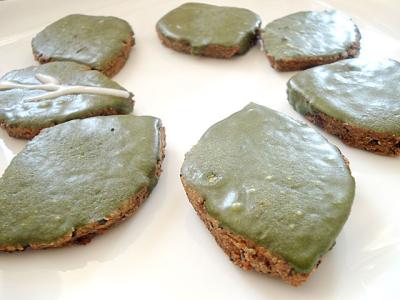 [From the archives. These sesame cookies with matcha icing look and taste quite dramatic. In leaf shapes they are rather spring-like, but try simple rounds or squares for year-round appeal. Originally published in April 2007.]
Flavor wise black sesame seeds aren't that different, if at all, from white or brown sesame seeds. But there is something about their dramatic black-to-grey color that is quite exciting. At the moment I'm quite enamored with black sesame seeds, and have been using them instead of the regular brown ones in everything from sauces to salads.
These leaf shaped cookies contain toasted and ground black sesame seeds, dark brown muscovado sugar, and whole wheat flour, and are decorated with matcha (powdered tea) royal icing. The sweetness is quite restrained, both in the cookie and in the icing. You are first hit by the tea-flavored, very slightly bitter icing, followed by the nutty darkness of the cookie. It's an intriguing combination. They are a wonderful accompaniment to tea, black or green, hot or iced. If the ultimate cookie to you means something very sweet and gooey you may not like these. They are quite adult cookies.
I had to shoot the pictures in a hurry, because they were disappearing faster than almost any other cookie I've made recently.
Since I don't have a leaf shaped cookie cutter, I just made a simple paper template and cut the leaves out with a knife. You can cut them out into any shape you'd like of course, though given the coloring leaves seem appropriate. Quite spring-like, in fact.
Black sesame cookies with matcha icing
For the cookies:
50g / 1.75 oz. raw black sesame seeds
120g / 4.25 oz. dark brown or muscovado sugar. In Japan I would use kurozatou (黒砂糖)preferably from Okinawa.
250g / 8.8 oz. whole wheat flour
100g / 3.5 oz. unsalted butter, at room temperature
1/4 tsp. salt
1 large egg
A few drops of pure almond extract
For the icing:
8 Tbs. powdered (icing) sugar
2 Tbs. matcha tea powder
1 Tbs. egg white or egg white substitute
Equipment needed:
kitchen parchment paper or baking paper
cookie cutter or sharp knife and a paper template
mortar and pestle or suribachi for grinding the sesame seeds
rolling pin
Toast the sesame seeds in a small frying pan until they just start to pop. Immediately remove from the pan.
In a mortar and pestle or suribachi, or with an electric grinder, grind up the sesame seeds until they have turned into a fragrant powder.
In a bowl, cream together the butter and sugar until fluffy. Add the ground up sesame and almond extract. Beat in the egg.
Add the flour a little at a time. The dough may not form a ball - it will be a bit on the dry side. Put into a plastic zip bag, and roll flat with a rolling pin. Put in the refrigerator for about 30 minutes.
Preheat the oven to 180°C / 350°F. Line a baking sheet with parchment paper or a silicon sheet.
Take the cookie dough out, and cut open the plastic bag with scissors. Cut out the cookies with cookie cutters or using a paper template and a sharp small knife. Place the cookies on the lined baking sheet.
Bake for 25 minutes. You may need to rotate the baking sheets once if the cookies are baking unevenly.
As the cookies area baking, make the icing. Mix together the icing (powdered) sugar and the matcha powder. Add the egg white, mixing well to a spreadable but not too thin paste.
When the cookies are baked, take them out and cool, preferably on a cooling rack. Let cool completely.
Once the cookies are cooled, spread with the icing. Let dry on the cooling rack until the icing has firmed up.
Store the cookies (if any survive that long) in a cool, dry place.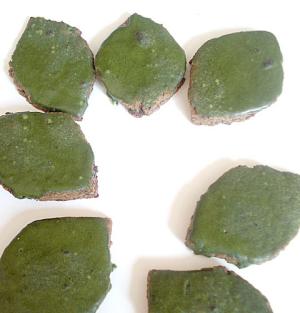 Notes
Make absolutely sure that the sesame seeds are fresh, and not rancid. Taste and sniff - if it seems even the least bit off to you, it's Not Good and has to be thrown out. The best way to store raw sesame seeds? Well wrapped, in the freezer.
If you can't get a hold of whole wheat cake flour, use regular white cake flour or all-purpose flour. Regular whole wheat flour might make the cookies a bit dry.
Use the best quality matcha you can afford - keeping in mind that matcha is not cheap at all.
You can also use white icing - mix powdered sugar with a little lemon juice and egg white to form a paste. Or, leave the cookies unadorned - they look quite interesting that way too.
(Want more matcha? Check out these matcha shortbread cookies by Clotilde on Chocolate and Zucchini.)
Submitted by
maki
on 2009-10-09 19:34.
Filed under:
dessert
japanese
baking
cookies
favorites
tea