Zakkokumai: Rice with seeds and grains and bits
[Update:] There seems to be some confusion about how zakkokumai is cooked and looks like, so I've added some more photos and such.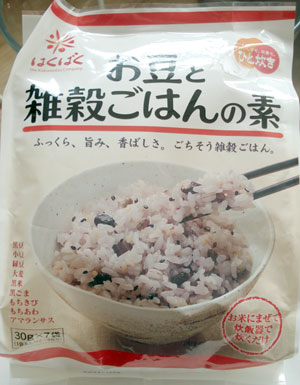 Rice is such an integral part of a Japanese meal, that the word for 'meal' (gohan, ご飯) also means rice. White rice is the norm, both for taste and for various cultural reasons. But as you probably know, white rice (hakumai, 白米) is rice that has been stripped of most of its nutrients, leaving just the starch.
Brown rice (genmai) is the obvious healthier alternative. But brown rice can take some time to cook, what with the soaking and so on that's needed, and some people simply don't like the taste or texture.
In recent years, something called zakkokumai (雑穀米)has become increasingly popular in Japan. Zakkoku just means "mixed grains", and mai is rice. Another name for essentially the same thing is kokumotsu gohan (穀物ご飯). It's rice that has a small amount of various grains and seeds mixed into it prior to cooking. You can then cook the rice in a rice cooker in the normal way. The grains and seeds add a mix of nutrients and fiber, and a little flavor too.
Zakkoku or kokumotsu mixes are sold in convenient packets. Here are two kinds; each pack is meant to be used for 2 to 3 cups (rice cooker cups) of white rice. You simply throw in the contents after you've washed the rice and put in the water for cooking.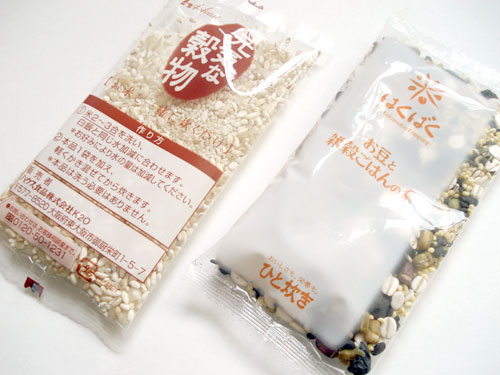 The light colored one contains sprouted brown rice, pressed barley, hatomugi (Job's Tears), millet (uruchi hie), and white sesame seeds. The package touts the fact that the whiteness of the rice is maintained, even after you mix in the zakkoku.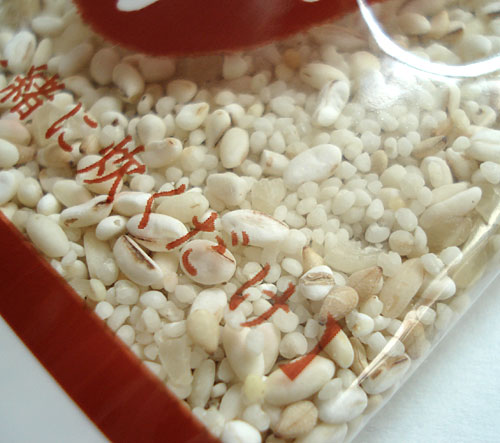 The second one has black beans (kuromame), azuki beans, mung beans, pressed barley, black rice (kokumai), another kind of millet (mochikibi), yet another kind of millet (mochi hie) and amaranth. It colors the rice when cooked a slight reddish-purple.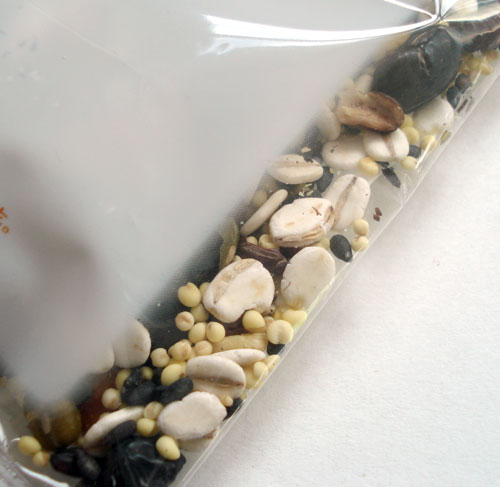 The good news is, these zakkoku packs are now more available outside of Japan. I've seen one kind at my local Japanese grocery, Nishi's, and and Japan Centre carries them too (link to the 'white' kind, and another kind here.) The bad news is that for those of us buying these kinds of things overseas, they are pretty expensive.
If you're interested in trying out zakkoku-mai, look for these convenient packs at your favorite Japanese grocery store. If you can't find them though, try making your own mix of various grains and seeds, and add about a tablespoon per cup of rice.
Here's a mix that I can easily assemble with ingredients from a regular supermarket and health food store:
Black beans
Azuki beans (but beans may need to be pre-soaked)
Lentils
Millet
Quinoa
Barley
Sesame seeds
Steel cut oats
Amaranth
At the very least, it's an interesting alternative to brown rice.
(A sidenote: I'm always reluctant to talk about Japanese ingredients unless it's actually available outside of Japan. Zakkoku-mai mixes weren't available until fairly recently, but now they are, so here they are.)
Update: Cooking zakkokumai, with photos
To clarify some confusion about exactly how a zakkoku-mai mix work, here are some photos of it being cooked.
After washing 2 rice-cooker cups of rice, I added a packet of zakkokumai mix (this is the one with beans and things in it, described above) to the rice cooker with the water. There are about 2 tablespoons of mix in a packet.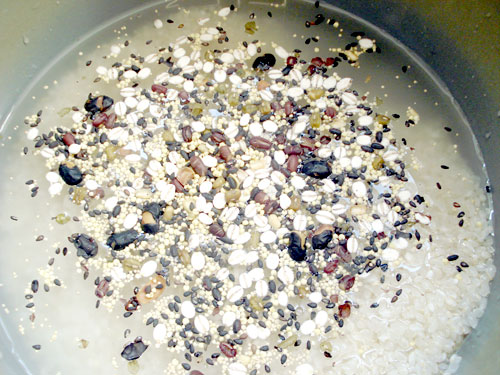 Here's how it looks after it's been cooked. I used the regular white rice setting, not brown rice or anything else! The mix is sort of clumped up in one corner, so I fluff up the rice to distribute things evenly.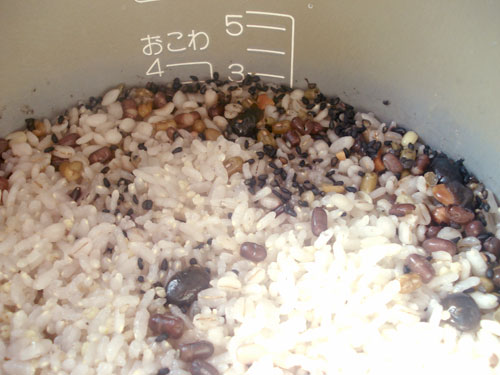 Here's how a bowl of cooked zakkokumai looks like. This mix puts a reddish color cast on the rice because it contains azuki beans and black rice, but the 'white' kind of mix puts no color on the rice.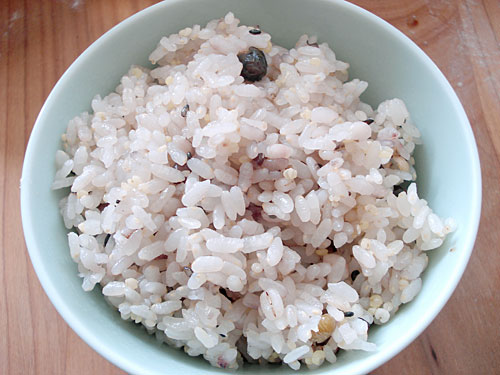 You may not care what color your rice is. But it may matter a lot if you happen to have older Japanese people to feed, who may have an aversion to any kind of rice that isn't white. (My stepfather is like that, and to a lesser extent my father too. It all has to do with the era in which they grew up, when white rice was highly desirable and any deviation from it brought back bad memories of rationing and food shortages during and after the war, when things like millet were used as rice substitutes. Ironic that now these formerly undesirable rice substitutes are seen as health foods!)
Here's how the cooked rice looks close up.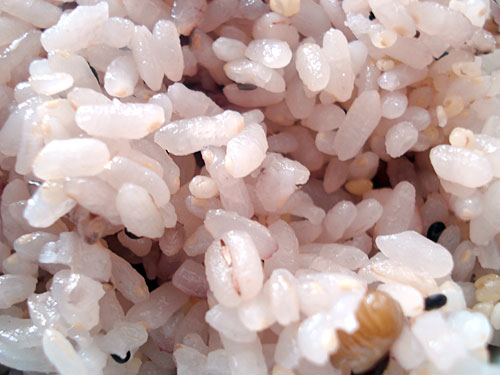 It doesn't taste significantly different from plain white rice, though there is some texture interest. There's no need to devise special meals to eat it with either. We actually at this rice last night with curry.
In any case I hope the photos make the use of zakkokumai a bit clearer.
Submitted by
maki
on 2008-02-21 13:19.
Filed under:
japanese
ingredients
rice
health