Hot Cross Easter Bunny Buns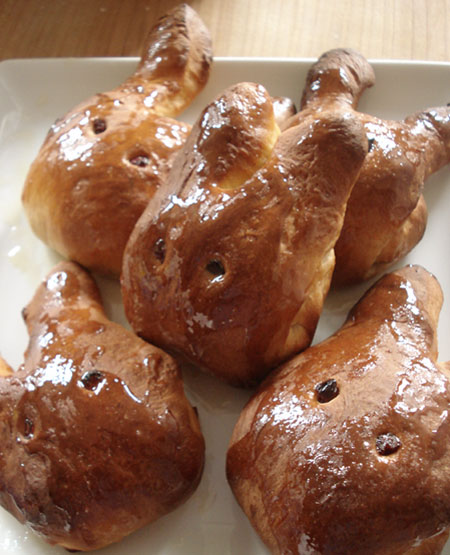 I love bunnies, and Easter is a great excuse to make something edible in a bunny shape. Last year, I made bunny bao. The year before that, I took a class in making chocolate bunnies. I've also made pastel colored Easter Bunny cupcakes, and given you a diagram for cutting _usagi ringo_ (apple bunnies).
This year I have an urge for the traditional British Easter treat, hot cross buns. But, as bunnies.
Hot Cross buns are soft and light, spicy fruity buns with a sugar glaze. They are called Hot Cross buns because they usually sport a cross on top. I prefer the bunny as my Easter motif.
These bunnies are made using the Hot Cross bun recipe on the BBC Food site, which yields a realy nice, light bun with a wonderful spicy fragrance. I did change two things: I added some orange zest in addition to lemon zest to the dough, and simply pressed some dried fruit into the dough as I'll show below instead of mixing it into the dough. This was done in order to produce bunnies with fairly smooth faces. The drawback is that you don't get fruit in every bite, but I think the cuteness more than makes up for that.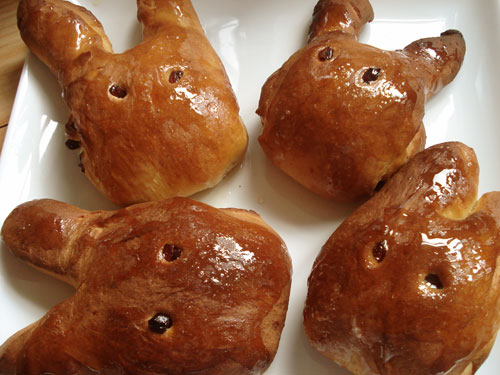 How to make spicy bunny buns
As stated above, I used the Hot Cross bun recipe on the BBC Food site, which has worked great for me before. The things I did differently are:
I didn't have any compressed yeast, so I just used a packet of dry yeast. That worked fine. Making the starter sponge (the fermented yeast starter) eliminates any yeasty flavor.
For the flour I used Zopfmehl (farine per tresse) which is a high gluten flour; in the U.S. use bread flour.
I added the grated zest of an orange as well as the zest of a lemon.
Instead of the mixed spice, I used a Lebkuchen spice mix, which has cinnamon, ginger, cloves, nutmeg and star anise in it. You can use a combination of your favorite baking spices here, but cinnamon should be one of them. I think cinnamon, ginger and nutmeg should make a nice mix.
For the dried fruit, I just used some dried cranberries, which I'm rather into at the moment. They'd be just as good with raisins or currants.
So, once you've done the two dough risings, divide it into 12 pieces and round off the 12 pieces. Rest them on your working surface with a clean kitchen towel over them, for at least 10 minutes. This allows the dough to rest and recover, ready for the next step.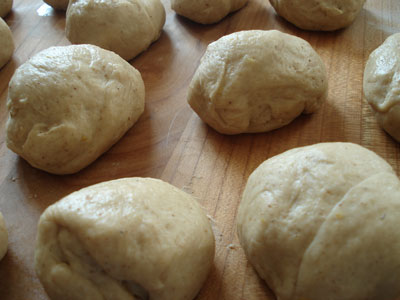 Take a piece, and roll it out into a little sausage, then flatten out the sausage. You could use a rolling pin, but I just use my hands. This dough is nice and buttery so you shouldn't need any flour to stop the dough sticking.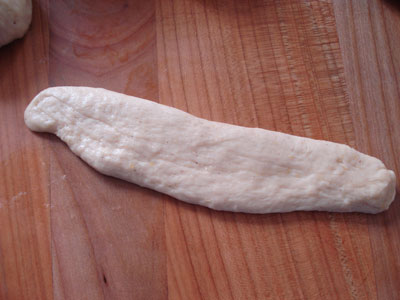 Put a few dried cranberries or raisins etc. on 2/3rds of the dough, and press into the dough.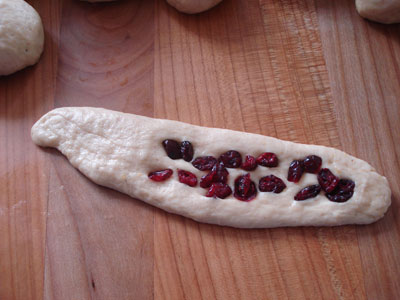 Fold the dough over to cover the fruit.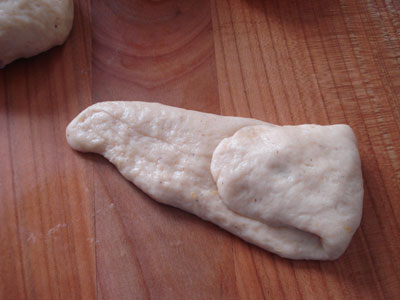 Cut the remaining dough in half, lengthwise, with a sharp knife. These will be the ears.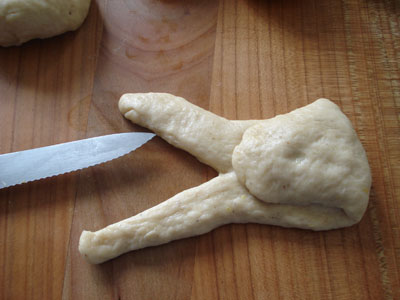 Fold the ears up and over the rest of the dough. Squeeze the dough (the face) so that it's quite narrow.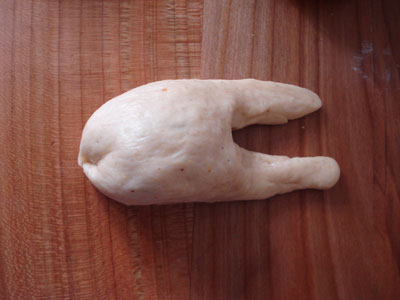 Here's another view of a single bunny.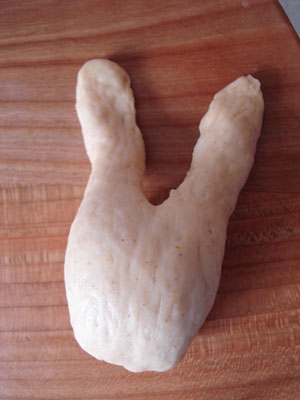 Arrange them on a baking sheet that's been greased or covered with kitchen parchment paper or a silicon baking sheet, far apart so they won't touch after another rising. Cover with clean kitchen towels or plastic film and leave to rise for about 40 minutes. Don't forget to turn your oven on to heat up (to 240°C / 475°F) 15-20 minutes before the rising time is up.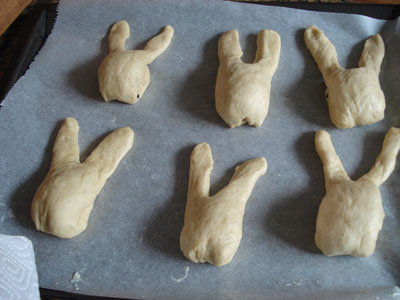 Poke eyes into each bunny face with a chopstick, and poke a piece of cranberry, raisin or currant into the hole. (You can just poke in a hole and omit the fruit if you want.)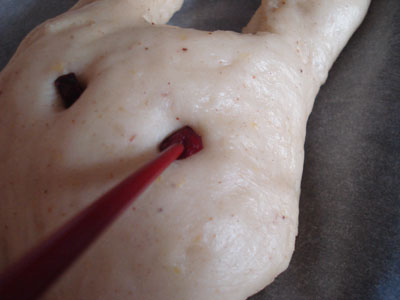 Here's a tray of bunnies with eyes. I have 6 bunny buns per sheet - 2 sheets total. Put both into the oven and set a timer for 5 minutes, then rotate the sheets (so the one on top goes below, and vice versa) and bake for another 10 minutes or so until the buns are a fairly dark golden brown.
Glaze the bunny buns with golden syrup or honey that's been warmed through until very runny, while still hot. I used honey. Serve warm.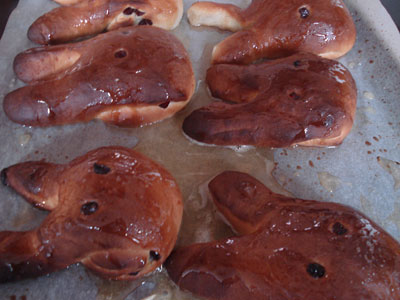 Notes
If you want to make these for Easter Sunday, they are best if you can bake them in the morning. In order to accomplish this without waking up at a ridiculously early hour, you can make the dough the night before, do the first 1 hour rising, and then leave it in the refrigerator in a tightly closed plastic bag. Take it out in the morning and form the cool dough, and do the final 40 minute rising.
Alternatively, you can bake them before and freeze them without the glaze. Warm them through in the oven (at around 160°C/325°F) wrapped in foil for about 15-20 minutes until warmed through, and then glaze.
Bunnies gone bad
It's quite important to make the bunny faces quite narrow as shown. If you make fat faced bunnies, after rising and baking they turn into odd, unbunny-like things, sort of like mutant cousins of Hello Kitty. Here's a batch that didn't work out that well.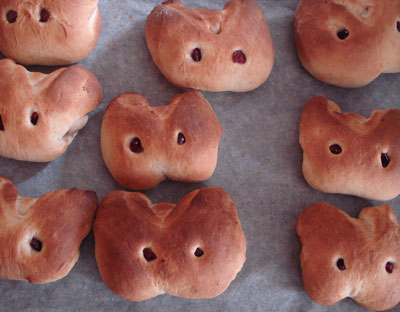 You might wonder, what happened to the Cross part of the Hot Cross Bunny Buns. Well, my initial idea was to apply an icing cross as the mouth of the bunny. But that turned the cute bunny face into something rather reminiscent of Silence Of the Lambs.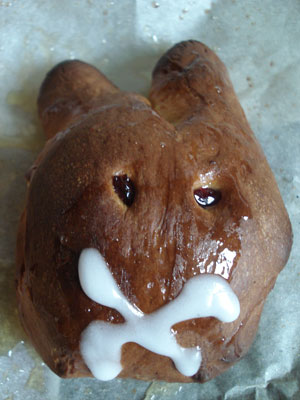 So I left out the cross. I guess you could apply a small cut-in cross with a knife, if you need to keep that religious symbolism in there.
(You could also make half cross buns, and half bunny buns, to satisfy both traditionalists and the disciples of cute.)
Leftovers?
Turn them into the best bread pudding ever.
Submitted by
hungryelf
on 2008-03-18 19:10.
Filed under:
bread
easter
bunny
holidays